Have you visited our store? Click here.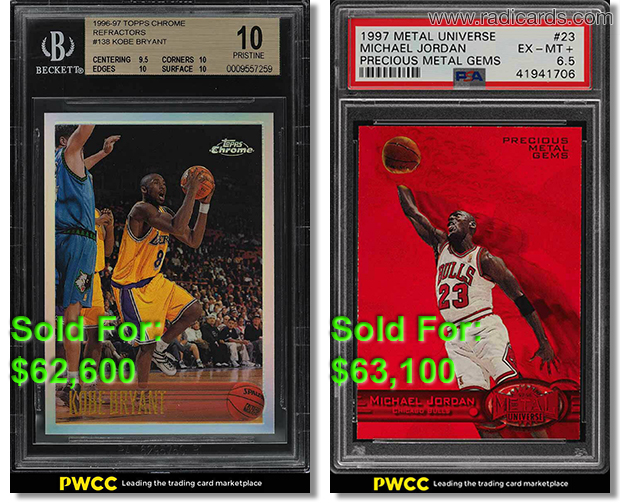 These are two of the most desirable basketball cards in the hobby. For what they are and their associated grades, they make for an excellent comparison. Both of these cards sold in close proximity of each other. Here's the sales data:
Kobe Bryant 1996-97 Topps Chrome Refractor BGS 10
Sold: February 28, 2019
# of Bids: 94
Final Price: $62,600
1996-97 Topps Chrome is a 220-card set and released exclusively via retail, which means production and availability was limited. Packs carried a $2.99 SRP and came with 4 cards. Refractors were inserted at a rate of 1:12. Aside from card #72, to denote their status, all refractors have an "R" next to the card number. The Kobe Bryant is the most notable card in the set.
To view the current eBay auctions for 1996-97 Topps Chrome Refractors, click here.
Michael Jordan 1997-98 Metal Universe Precious Metal Gems Red PSA 6.5
Sold: March 20, 2019
# of Bids: 54
Final Price: $63,100
1997-98 Metal Universe Precious Metal Gems are serial numbered to 100 and parallel the 123-card base set. Serial numbers 1-10 are the Emerald PMGs while serial numbers 11-100 are the Red PMGs. That said, Emeralds carry a print run of 10 copies while Reds carry a print run of 90 copies. The Michael Jordan, in any version, is the most valuable card of them all.
To view the current eBay auctions for 1997-98 Metal Universe Precious Metal Gems, click here.
These two sales got me thinking which of these two cards would collectors rather have so I did some market research with a 1Q poll asking the following question:
Which would you rather have?
Survey Makeup:
Ran from April 3-5, 2019
Marketed on Twitter, Facebook Groups, and Community Forums
# of Responses Collected: 48
Survey Results: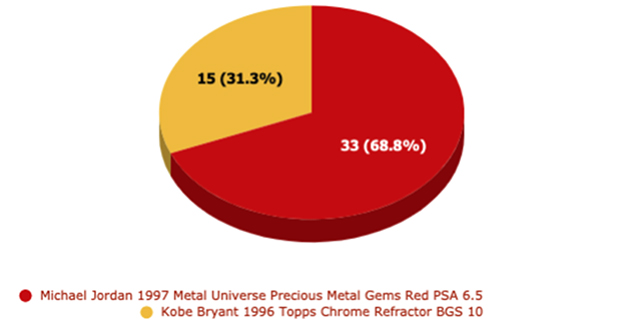 The survey started off collecting significantly more votes for Jordan than Kobe but as time went on, the data began to normalize. When the poll closed, votes were places heavily in Jordan's favor, which tells us a few things:
Michael Jordan cards are much more desirable than Kobe Bryant cards, at least at the time of this poll
Michael Jordan continues to outperform some of the strongest of comparison candidates in terms of investment potential and collectibility
While Kobe Bryant's most valuable rookie card draws significant attention, it's still not as desirable as a rare Michael Jordan parallel from the same decade
In this grade, this Kobe Bryant rookie card is one of, if not the most valuable of all basketball rookie cards of the 1990s
Have something to share? Post your thoughts in the comments area.
Related article: This Michael Jordan 1997-98 Metal Universe PMG Closed at Over $350k