Have you visited our store? Click here.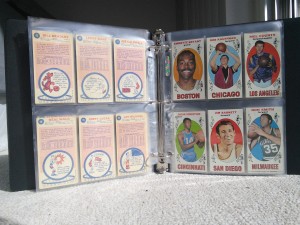 Hello, Radicards® readers! My name is Ryan and it is my pleasure to be a guest poster in the Radicards® community. I hope to add helpful, insightful, and fun content that upholds the superb quality of this blog. First, a little about myself: I'm 23 and I live in beautiful Santa Barbara, California. I grew up in Anaheim so I'm a huge Angels fan and I love collecting Angels cards and memorabilia. Specifically, I'm always looking for Nolan Ryan cards that depict him in an Angels uniform. Ryan is definitely one of my favorite Angels players and I'm always striving to build a quality collection of his cards (luckily there are a lot of them!). My other collecting focus is on Nomar Garciaparra. Over the past two years I've moved into some pretty rare territory and I'm very proud of the pieces I've acquired & you will definitely see some featured in future guest posts. Oddly enough, my first post is not focused on Ryan, Nomar, or the Angels. Please continue reading to find out about an extremely cool vintage basketball cards, something that makes up a smaller, but equally important part of my collection.
After a two year adventure my 1969-70 Topps Basketball set is finally complete! For those of you who don't know, the 1969-70 Topps Basketball
set is a legendary set for basketball enthusiasts, and sports cards collectors in general. This is the first set that Topps made for Basketball and they went all out!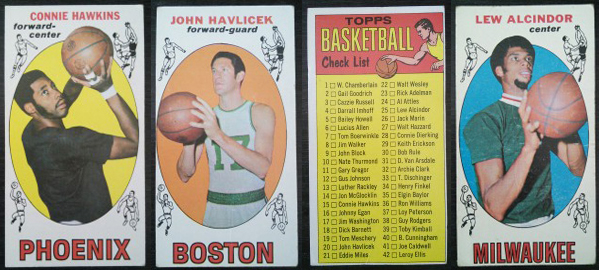 This set is very flamboyant, unique, and eye-catching. That's one of the reasons I decided to complete this set. I saw a few at a shop a long time ago and fell in love with the design and the whole vibe. Here a few of my favorites from the set:
I definitely recommend this set to those collectors out there who are looking into vintage basketball. Obviously, the world of vintage basketball is much more limited than vintage baseball, football, etc. This set is a bit rare, kind of exclusive, but definitely attainable. I put together the majority of this set when I was in college when I had very little money to spend on sports cards. For example, one of the most sought after cards in set, Lew Alcindor (better known as Kareem Abdul-Jabbar) set me back around $45 according to my records. As seen in the picture below, the Alcindor is not in the best shape so the price I paid wasn't too high. Recently, a handful of Alcindor PSA 7's sold on eBay, one for $504.00 and the other for $473. The odd size of the cards must have made them hard to store if you consider the average size of other sports cards at the time, so finding them in good condition is tough. This time around I went for completeness and passed over condition.
Considering how iconic this set is and how many Rookie Cards there are of HOFers it really is a great deal once you have the whole set together.
If you like vintage basketball and aren't sure where to start I would definitely recommend this set because it's relatively affordable, fun to piece together and extremely educational. I was born in 1990, so most of these players were retired by the time I started following pro sports. Collecting this set illuminated a whole world of early basketball players that were very accomplished and I am now very proud to own their cards.
To see what's currently on eBay from 1969-70 Topps, click here.