Blogging & Recruiting Services
We serve entities in the sports/trading cards category. This includes but is not limited to: Auction Houses, Grading Companies, Breakers, and Buyers/Sellers.
Table of Contents:
---
1. Google Front Page Ranks:
During my blogging tenure, I've learned how to rank content on Google's front page, some awarded the coveted #1 spot for its associated search query. A lot of it outranks content from some of the main competitors i.e., PSA, Beckett, and eBay. A strong understanding of Internet marketing strategies such as SEO, Keyword Research, Image Tagging, and Content Optimization are required to produce rank-competitive results. This knowledge comes with experience and I've been doing this since 2010.
From 2014-2015, I taught upper division courses in Internet Marketing at the California State University, Northridge – David Nazarian College of Business and Economics.
Here are six examples of some of my high-ranking content.
My search query is boxed in yellow with the big red arrow pointing to the associated content rank.
---
---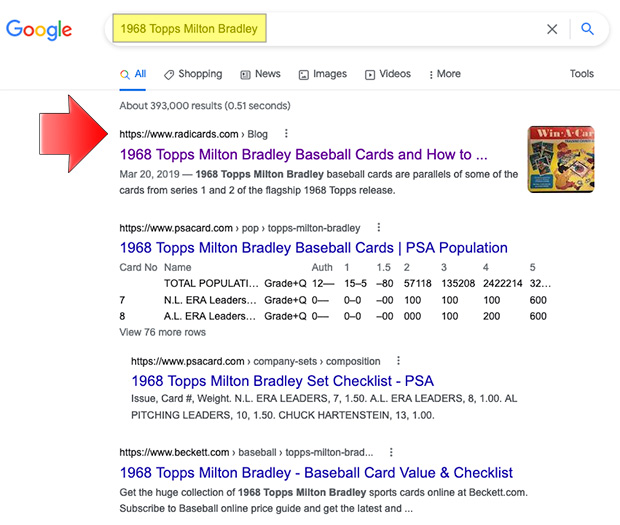 ---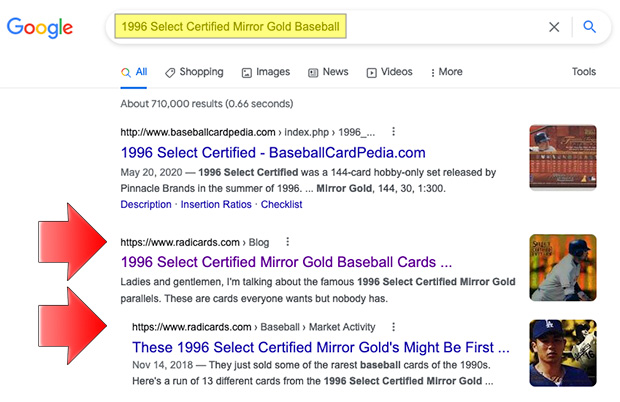 ---
---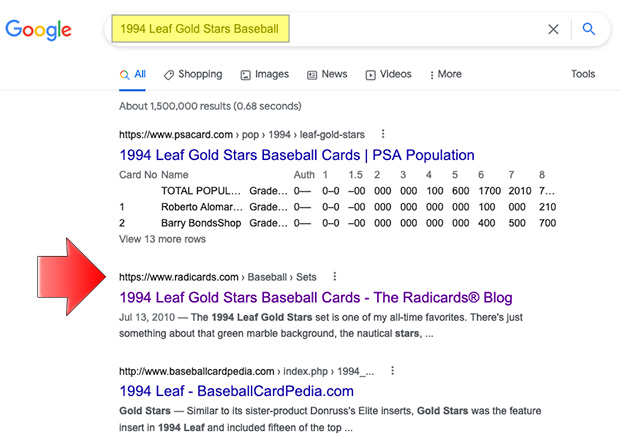 ---
2. Blogging:
Blogging is the act of digital writing and publishing. I've been doing this since July 2010 and have published many hundreds of articles on the topic of sports cards. I've been collecting baseball cards since 1988 and have one of the most extensive Frank Thomas player collections on record. To see it, click here. Need something like this built to showcase your collection? Let me know; I can do that for you too.
2.1. Blogging Service:
I can produce blog content for your company here on www.radicards.com.
Here's what you get per article:
Word length: 300-500
Images: 1-2
Here are the benefits of hiring Radicards, LLC as your content producer:
Access to expert-level SEO/SEM knowledge and skills
Access to best-in-class sports card knowledge
Access to professional writing skills
Exposure from our audience through email, social, and organic traffic (avg. nearly 300k monthly impressions)
Production of rank-rich content to promote your company's associated content i.e., auctions, personal collection pieces, interesting finds, etc.
In 2016, I published a book about business and marketing, which is available on Amazon and through Barnes & Noble. To see the Amazon listing, click here.
2.2. Blogging Compensation:
Hire Type: Contractor
Two payment structures from which to choose:
Salaried: I will produce 3-5 articles for your company per day, M-F for an annual salary of $60,000 paid out in the normal bi-monthly payout schedule: $57/article. ($2280/paycheck)
Per Article: I will produce 3-5 articles for your company per day, M-F on a per-article payment schedule: $60/article.
All production is promoted on our social pages, subscriber list, with some promoted on our videos and podcasts. I'll also forward links to published content to your Social Media Manager or associated.
---
3. Advertising:
We offer a variety of advertising spots. If you retain our services, we will include a clickable banner ad at a discounted rate to promote your company. The Classic, a 324×80 banner, will be published to our right side-bar on our blog feed page at www.radicards.com/blog. The Classic is normally $190/mo. but if you retain our services, it's yours for $150/mo.
If you would like additional spots, see our advertising package.
---
4. Recruitment Service:
I'm very well connected and have managed recruitment and hiring for a variety of companies. If you need a specific talent to join your team who's in the sports/trading card space, I can help you pre-qualify the right candidates. Here's an example of a role and how this works:
Social Media Manager: This person will be responsible for managing your company's social media accounts on a full-time basis, in-house, at your company's headquarters. According to Indeed, the average hourly rate for a Social Media Manager in California is $20.93/hr((Social Media Manager salary in California. www.indeed.com)), which equates to an annual salary of $43,534.40. Allocating somewhere between $40,000-$43,000 for this role would be fair and reasonable.
My services:
I produce the marketing for a Social Media Manager role
I find and interview candidates for the role
I forward candidates to you either once I have a few strong leads or as they are identified
You'll take it from there i.e., interviewing, hiring, processing, etc.
4.1. Recruitment Compensation:
Cost to retain the services of a recruiter often comes with a commission in the form of a percentage of the figure offered to the candidate upon hire but the funds aren't taken from the hire's salary. So for example, if the hire salary is $40,000 and the recruiter commission percentage is 20%, you'd pay the recruiter $8,000, which means your financial commitment to find a candidate using my recruiting services and hiring your Social Media Manager would be $48,000 ($40,000 to the hire, $8,000 to me). The average recruiter commission percentage is 40%((How Do Recruiters Get Paid? www.thestreet.com)).
Commission Percentage to retain my recruiter service: 20%. At this rate, if you hire a Social Media Manager at $40,000, your financial commitment to me would be $8,000 via Check (Preferred; $8250 via PayPal or $8300 via CC. Recruiter payments are typically processed on a Net 30 basis but sooner is always appreciated.
4.2. Training:
For an additional fee, and if needed, I will train your hire. Continuing with the Social Media Manager example: According to GlassDoor, the average salary for a Social Media Trainer is $73,828((How much does a Social Media Trainer make? www.glassdoor.com)), which is about $35.50/hr. Since this won't be a full-time role, this service is yours for just $30/hr.
---
5. After my Services are Retained:
Hire Type: Contractor
Once I'm on-boarded, I'd like to connect with a contact at your company on a regular frequency i.e., weekly, bi-monthly, or monthly via Skype, Phone, or Email, to discuss content objectives. The meeting will act as an opportunity to share content i.e., images, descriptions, notes, etc. about what needs to be covered in the given time frame. Preferred meeting duration allocation: Up to 30 minutes.