Have you visited our store? Click here.
Aftermarket is a term used to describe something that has been altered by a third party, that may or may not contain a license. That third party will add or alter that something in some way in an effort to either deceive and manipulate demand, or promote something else such as an event, or both.
Let's break the term, Aftermarket, down into its components.
After: A time following some other period of time. In this case, a card is altered after it was released.
Market: This word has several meanings but we'll use the verb, to advertise or promote. This might include intentional deception or authentic event marketing.
When we combine both components of the term, Aftermarket, we get a definition that looks something like this: Aftermarket: Something added after it was made to promote something else.
---
Sports cards that have been altered in some way with the inclusion of a stamp, serial number, die cut, or even art, fall into the category of Aftermarket. The inclusion of stamps, die cuts, and art simplify aftermarket identification. Deception is created when standalone serial numbers are added.
Serial numbers are often added to cards that wouldn't otherwise contain them. This may include base cards or unfinished parallels that made their way into the secondary market as is in the situation with 1998 Flair Showcase Legacy Collections, which I've discussed in the past.
Other times, serial numbers are included on cards that, unless you knew it wasn't supposed to be there, might fool you into thinking the card was made with the associated serial number. For these, there are countless examples. Here are some side-by-side comparisons:
Todd Helton 2004 Donruss Classics #128:
There are 7 versions of the Todd Helton 2004 Donruss Classics #128. Three of which are Significant Signatures parallels and three more are Timeless Tributes parallels. The base card is the only one that doesn't contain either parallel title or a serial number. It's also worth noting that all parallels contain serial numbers and all are printed on the bottoms of card backs. That said, spotting the aftermarket version you see here was quite simple. That serial number along the left side shouldn't be there but was added after the card made it into the secondary market. This is just a base card with someone's handy work.
---
Mike Schmidt 2004 Upper Deck Play Ball #21:
The Mike Schmidt 2004 Upper Deck Play Ball can be a bit tricky if you haven't already been exposed to this issue. The thing that sets the aftermarket example apart from its official release is the style of the serial number, which is noticeably different than the style featured on the parallel. If you have seen the serial numbered parallels before, the aftermarket example is pretty easy to spot.
---
Ken Griffey Jr. 2005 Reflections #28:
I've talked about the Ken Griffey Jr. 2005 Reflections issue in the past but it's worth bringing up here because this example is so pronounced. Someone just added a 1 of 1 sticker to the base card to qualify it for aftermarket status. What makes this one so notable is it was graded by SGC and erroneously identified as the Platinum 1/1 parallel, and it's been sold a couple times between my last post about this card and this one. Here's what the legitimate Platinum 1/1 looks like: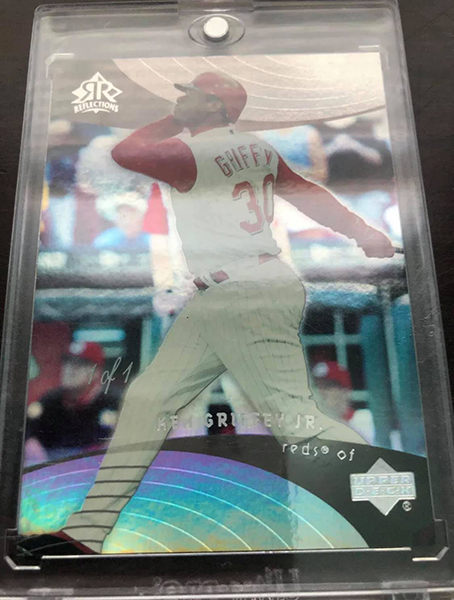 ---
It's important here to make the distinction between counterfeits and aftermarket cards. Here's what to know:
Counterfeit: Card reproduced by an unlicensed entity with the specific intent of deception and profiteering.
Aftermarket: Authentic card altered in some way by an entity, licensed or not, with the specific intent of either deception and profiteering, or honest event marketing.
Aftermarket cards aren't always bad things. The National Convention has produced lots of aftermarket cards over the years with debossed show stamps promoting the show, which are actually pretty cool and make for excellent additions to any PC. Show stamp cards are base cards, parallels, and inserts and contain a variety of different print runs.
Problems occur when there is no show stamp; it's just a random serial number thrown on the card, finished or not. You just have to be careful and research before you buy so you're not left with someone's artistic skullduggery.
Bottom Line:
The biggest takeaway here is that unless you know what to look for and what legitimate examples should look like, you might fall victim to paying hefty sums for cheap art projects. Since a good chunk of illegitimate aftermarket cards contain 1 of 1 stamps, research is especially important whenever in the market for 1/1s. Know what you're buying.
To view the current eBay auctions for Ken Griffey Jr. baseball cards, click here.