Have you visited our store? Click here.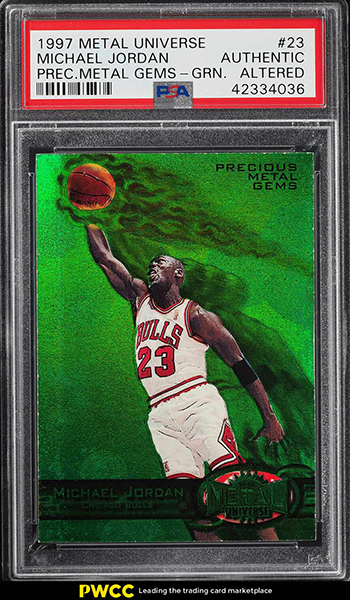 This Michael Jordan 1997-98 Metal Universe #23 Precious Metal Gems Emerald /10 (006/100) just sold for more than what some people pay in full for a nice income property in many states – well above the good ol' quarter million mark.
For those who don't already know, here's the deal with these 1997-98 Metal Universe Precious Metal Gems (PMG). They come in two different flavors – Red and Emerald. The print run stated on all 1997-98 Metal Universe Precious Metal Gems basketball cards is to 100. Cards with the 001-010/100 serial numbers are the Emerald parallels. Those featuring serial numbers 011-100/100 are the Red parallels. To summarize, the Emerald parallels carry a print run of 10 while the Red parallels carry a print run of 90.
This auction represented the sale of a card that was re-listed due to serious shill bidding activity. The first auction didn't last long and was bid up to over $650k before it was pulled. PWCC implemented a stricter bidder qualification process and re-listed the card, which garnered significant attention and returned the following results.
Auction Results:
Sold: February 20, 2019
# of Bids: 130
Final Price: $350,100
Related article: 1997-98 Metal Universe Precious Metal Gems Basketball Cards
This isn't the first time I've seen one of these. I saw the 001/100 example of this card in person at the 2015 National Sports Collectors Convention. BBC Exchange had it on display and eventually auctioned it off. At the time, if I can recall exactly, the closing price of that example was around $89,000. It was immediately re-listed, however, and while I can't say with certainty if the re-list was legitimate, it brought twice the original amount.
To view the current eBay auctions for 1997-98 Metal Universe Precious Metal Gems, click here.