Have you visited our store? Click here.
Someone tried to make a Ken Griffey Jr. 2005 Reflections base card the Platinum 1/1 parallel and unfortunately SGC slabbed it. Here it is:
This is really too bad considering it was slabbed by a credible grading company. However, the story goes, the company is run by people and people make mistakes. In cases like this, I blame the hiring manager, not the company. However and unfortunately, this is the kind of thing that makes the company look bad, not the hiring manager.
The card shown above depicts the gold color theme, which is indicative of base cards, and the "1 of 1" statement printed onto what appears to be a sticker, which officially makes it an aftermarket product. For comparison, here's a legitimate pack-issued base example of the Ken Griffey Jr., which is the same version shown above but without the skulduggery: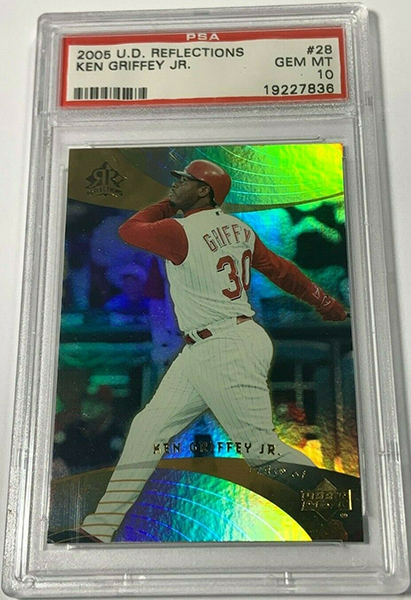 For those new to the release, 2005 Reflections is a 286-card set with each card possessing 7 unique parallels. Each parallel features the same brilliant holofoil but over a different color design theme. The base cards contain the gold theme. Parallel color themes include: Red, Purple, Blue, Turquoise, Green, and Silver. Here's the run of parallels for Ken Griffey Jr.:

In production, it's commonplace to differentiate parallels from their base counterparts by making an identifiable change to some characteristic of the cards. In other words, parallels are almost never just the base card but with an added serial number. Common changes include things like design color, print color, die cut, and sometimes even autographs and relics. For the 2005 Reflections set, the parallels are differentiated by color and print run. That said, any gold version is the base card and the base cards don't possess serial numbers.
The rarest parallel from 2005 Reflections is the Platinum 1/1, which depicts reflective silver holofoil and the statement, "1 of 1" printed directly onto the card. Here's what the authentic pack-issued Ken Griffey Jr. Platinum 1/1 actually looks like: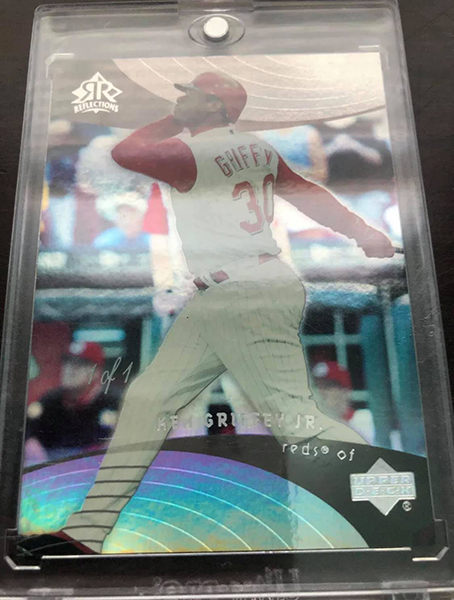 Educate yourself on what you buy. Nobody but you is responsible for looking out for your purchasing decisions.
To see what's currently on eBay from 2005 Reflections, click here.