Have you visited our store? Click here.
The 2001 Donruss Elite Primary Colors set is one of those that falls into the Moderately Tough category. It's not impossible but presents enough of a challenge to often require a number of years to complete if going for a 6-card player run, which consists of three Base and three Die Cut parallels.
The set itself is 40 cards each with three Base color variations and three Die Cut parallels for a total of 240 cards across the different versions. It could be a fun albeit challenging set to build if going for the whole thing.
Base: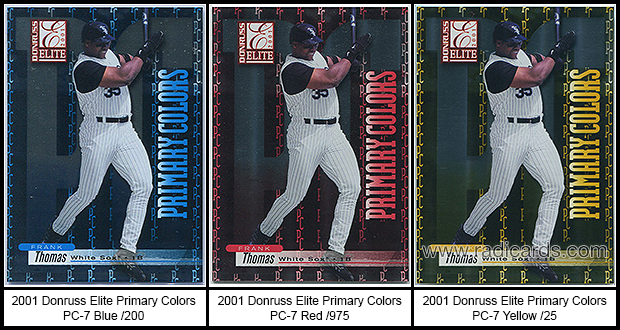 The Base versions feature the three primary colors printed with a flat foil finish. The basic design is appealing overall and makes for a pretty appearance when brought together.
Upon initial review, you might not think it but just pulling the three Base cards together is difficult to do because of that Yellow parallel. While print runs were getting smaller in the early 2000s, a print run of 25 was still considered small in 2001.
Die Cuts:
The Die Cut parallels are much more attractive. The combination of die cut, holofoil, and color selection makes them very appealing and reminisce of a 1990s release, which I always appreciate.
For the obvious reason, the Red is the toughest of the Die Cuts to find. It was the last card I needed to complete this 6-card run. Depending on the player, acquiring Die Cut parallels can be challenging, or relatively painless.
Something else that makes the 2001 Donruss Elite Primary Colors set somewhat interesting is that the print runs appear to be sort of random in a way. When combining the Base and Die Cut parallels, there are 250 Blue, 1000 Red, and 100 Yellow. Thankfully, there wasn't any funny business with the way the serial numbers were stated. Donruss did away with the guessing game and implemented a What-You-See-Is-What-You-Get strategy, which I often admire.
Conclusion:
The 2001 Donruss Elite Primary Colors set is an attractive one to collect. On the rarity spectrum, I'd put it at Moderate given the inclusion of two cards with print runs of 25. Thankfully by 2001, cards with that print run were starting to be found all over the place making any single set less of a focus, which ultimately has a way of diving down costs and to the advantage of collectors and their budgets. Don't be fooled, however, the Base Yellow and Red Die Cut parallels can still be very challenging to find.
To see what's currently on eBay from 2001 Donruss Elite Primary Colors, click here.
---
Set Information:
| Set | Total Cards | Print Run(s) | Odds |
| --- | --- | --- | --- |
| Blue | 40 | 200 | – |
| Blue Die Cut | 40 | 50 | – |
| Red | 40 | 975 | – |
| Red Die Cut | 40 | 25 | – |
| Yellow | 40 | 25 | – |
| Yellow Die Cut | 40 | 75 | – |
2001 Donruss Elite Primary Colors
Checklist:
| Card # | Player(s) | Card # | Player(s) |
| --- | --- | --- | --- |
| PC-1 | Alex Rodriguez | PC-21 | Sammy Sosa |
| PC-2 | Barry Bonds | PC-22 | Tony Gwynn |
| PC-3 | Cal Ripken Jr. | PC-23 | Vladimir Guerrero |
| PC-4 | Chipper Jones | PC-24 | Carlos Delgado |
| PC-5 | Derek Jeter | PC-25 | Jason Giambi |
| PC-6 | Troy Glaus | PC-26 | Andruw Jones |
| PC-7 | Frank Thomas | PC-27 | Bernie Williams |
| PC-8 | Greg Maddux | PC-28 | Roberto Alomar |
| PC-9 | Ivan Rodriguez | PC-29 | Shawn Green |
| PC-10 | Jeff Bagwell | PC-30 | Barry Larkin |
| PC-11 | Todd Helton | PC-31 | Scott Rolen |
| PC-12 | Ken Griffey Jr. | PC-32 | Gary Sheffield |
| PC-13 | Manny Ramirez | PC-33 | Rafael Palmeiro |
| PC-14 | Mark McGwire | PC-34 | Albert Belle |
| PC-15 | Mike Piazza | PC-35 | Magglio Ordonez |
| PC-16 | Nomar Garciaparra | PC-36 | Jim Thome |
| PC-17 | Pedro Martinez | PC-37 | Jim Edmonds |
| PC-18 | Randy Johnson | PC-38 | Darin Erstad |
| PC-19 | Rick Ankiel | PC-39 | Kris Benson |
| PC-20 | Roger Clemens | PC-40 | Sean Casey |
2001 Donruss Elite Primary Colors