Our custom products are made with auction houses, consignment companies, and product breakers in mind.
But we serve anyone. We offer a variety of products that can be made with your logo printed right onto them.
Have an idea for a custom product? Let us know; we can probably make it.
NOTE: Branded products are sold exclusively to the respective brands. For example, we only sell branded Memory Lane Inc. bags to Memory Lane Inc.
Table of Contents:
---
Branded Bags
Does your company ship cards on a routine basis? Make them stand out with our branded bags. We can make any size you want and put your logo anywhere in any size you want. We're very flexible. Just tell us what you need and we'll get you a quote.
Average Delivery Lead Time: About 6 Weeks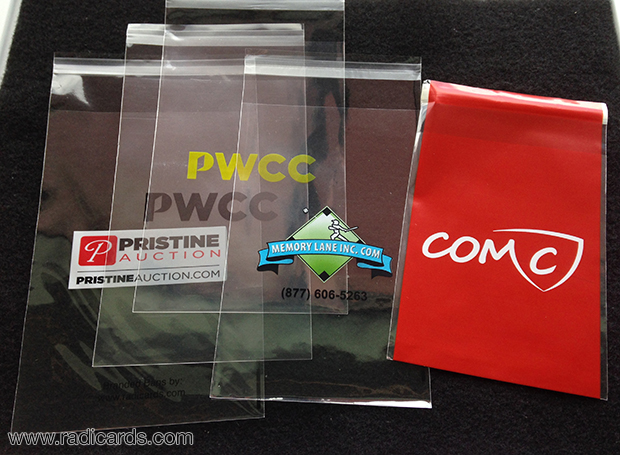 ---
Branded Stickers
Brand your trading card cases with branded stickers. We make two different styles – Standard and Tamper Proof. The most common designs are made for One Touch Magnetics cases but we can make whatever you want. Here are some we've done for clients.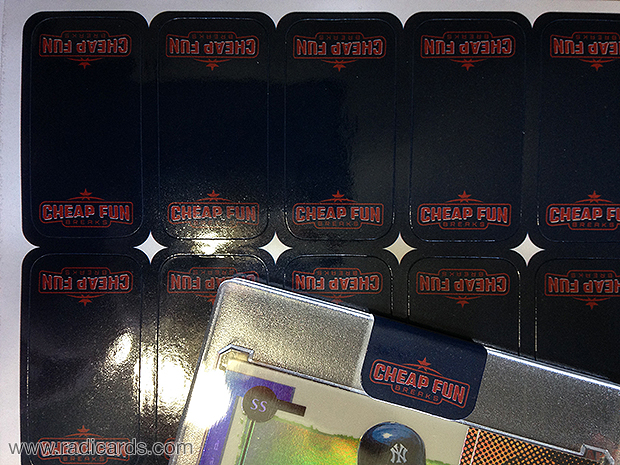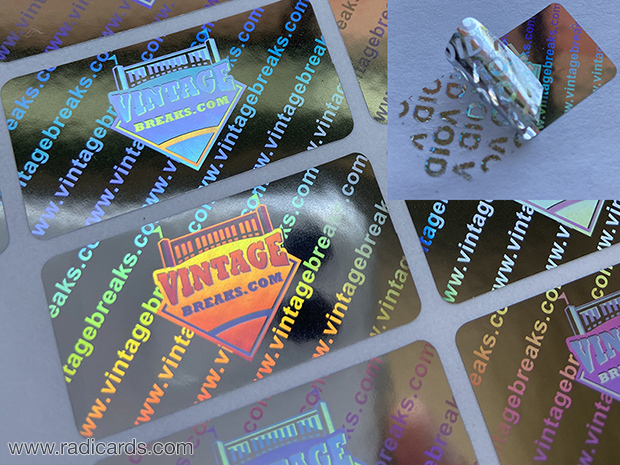 ---
Custom Products
Need a custom product not found anywhere else? We can probably make it.
Lead Times Vary by Product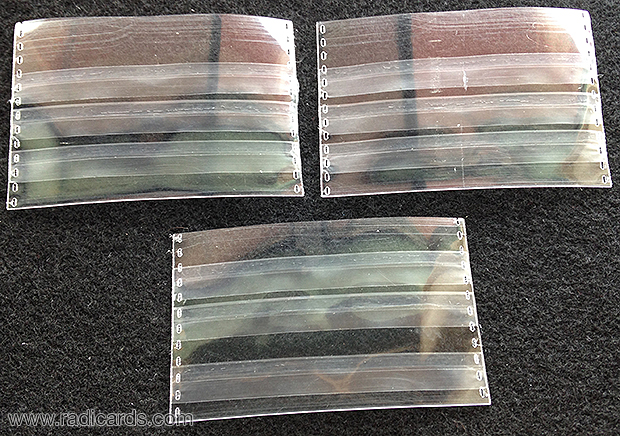 ---
Logo Design Service
We make brand logos for clients. For details and pricing, click here.
---
Legal Restrictions
Unless it's original artwork, we can't legally touch it. This includes any logos not belonging to the client. For example, if your submission includes a request to use the MLB logo, or the Project 2020 logo, your submission will be rejected, unless you can provide written permission from the logo owner. Even then we have the right to reject the project. Also, if your logo looks too close to something already trademarked, your project will be rejected. We can/will only work with client-owned original artwork.
In other words: If you don't own it, we can't touch it.
---
Payment and Next Steps
Prices include shipping anywhere in the United States.
Accepted forms of payment and associated fees:
Check: No fee
Make check out to Radicards, LLC and send to:

Radicards, LLC
P.O. Box 450443
Garland, TX 75045
United States
PayPal: 2.9% fee
Goods & Services. Share your PayPal email address and we'll send you an invoice.
Credit Card: 3.5% fee
Provide CC and CVV #'s, carrier, expiration date, zip, and full name on card.
Sales Tax: 8.25%
As of 2021, all invoices now include a Texas sales tax line item of 8.25%.
International Shipping: If you're outside the U.S., contact us before ordering so we can provide the correct shipping quote. Note: All International orders require USPS Priority Express.

UPDATE 11/24/2021: Due to International shipping restrictions, OUR INTERNATIONAL ORDER PROCESSING OPTION HAS BEEN SUSPENDED INDEFINITELY.
---
How the Order Process Works
The order process is pretty simple; here's how it works:
Once we receive payment, we'll produce a pair of proofs for your review and approval – Preliminary and Studio – the latter of which will go to print. Production and shipping lead times vary by product and quantity but we'll provide tracking number when your order ships.
NOTE: Please look the Studio Proof over carefully as it will be replicated exactly in manufacturing your order. Your approval constitutes your agreement to the way the final product will look. Designing your Preliminary Proof (art) requires time and technical proficiency, which is why we require payment before it's produced. This process is non-negotiable.
---
The Importance of Marketing
Business is about solving problems. But after that, it's about driving conversions. To get conversions, you need exposure. To get exposure, you need marketing.
Marketing → Exposure → Conversions → Business Growth
We know how much work is required to run a profitable business. There are many moving parts and lots of things need to happen in tandem to keep it all going accurately and profitably. To do this, marketing must assume a mission-critical role.
Sometimes we find places in our process chain where we can take advantage of additional promotion opportunities. Additional marketing helps strengthen brand image, market awareness, and mental recall. With the many orders you ship annually, how great would it be if each order was prepared with additional marketing?
We can help you make that a reality.