Have you visited our store? Click here.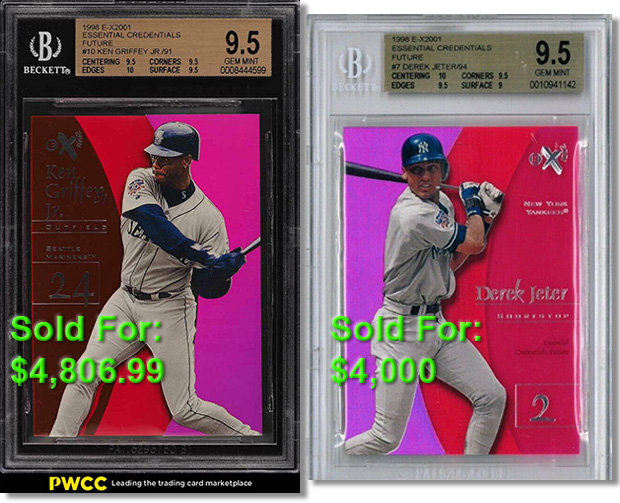 Ken Griffey Jr. and Derek Jeter represent some of the best baseball players MLB has experienced. Their popularity has been strong since day 1 and appears to be ever increasing with each passing year.
For comparison, showcased here are the associated 1998 E-X2001 Essential Credentials Future parallels. These two cards are similar enough that I figured they'd make for good supporting evidence for who's more popular. For good measure, here's the complete sales data:
Ken Griffey Jr. 1998 E-X2001 #10 Essential Credentials Future /91 BGS 9.5
Sold: October 17, 2019
# of Bid: 29
Final Price: $4,806.99
Derek Jeter 1998 E-X2001 #7 Essential Credentials Future /94 BGS 9.5
Sold: January 7, 2020
BIN/OBO: $5,999
Offer Accepted: $4,000
The Ken Griffey Jr. has a slightly lower print run but it was listed by a popular auction house with a big marketing budget. While it's difficult to say if a smaller seller would be able to replicate a similar sale price, we can at least assume it'd likely land somewhere in the $4000-$4500 range, which is where the Derek Jeter falls on the low end. With that in mind, it's probably safe to assume that these two cards have at least similar market valuations overall.
Given sale comparisons like this one, I've been curious how the market feels about which of these two guys is the better total investment. To get a better understanding, I ran a poll.
Survey Makeup:
Ran from January 13-14, 2020
Marketed on Twitter, Facebook Groups, and Community Forums
# of Responses Collected: 64
Survey Results:
Both of these players have very big followings. Ken Griffey Jr. has the '90s crowd who by now are in their 30s and have liquid cash to spend on the inserts they could never afford/find as kids. Ken Griffey Jr. along with Frank Thomas were the two most popular players during their prime years in the 1990s. Derek Jeter, on the other hand, hails as the Yankees Captain for his entire career. As you might already know, the Yankees are the winningest team in all of baseball and as such are a marveled dynasty. As a result, Derek Jeter fans are some of the most loyal in all of sports.
To view the current eBay auctions for Ken Griffey Jr. baseball cards, click here.
As a longtime fan and former collector of Ken Griffey Jr., I was partially expecting his votes to outnumber those for Derek Jeter. A part of me also feels like the Derek Jeter collector base really didn't gain momentum until later in his career when his numbers began to pickup significance. I always knew he was collected but in my youthful memories of card shows, Ken Griffey Jr. and Frank Thomas dominated collector interest. This was just my experience as a collector in the 1990s.
I will say this, however, the most valuable card from the 1990s is a Derek Jeter, the 1996 Select Certified Mirror Gold. No other card from that decade, regardless of player, even tips a hat to that card and it's not even a rookie card! Nearing some of the biggest Derek Jeter sales are Ken Griffey Jr. sales, which sometimes sell even better depending on the card. The 1998 E-X2001 Essential Credentials Future is just one example of many. All in all, however, they're often very close in end price.
Ken Griffey Jr. and Derek Jeter have proven to be, among players like Michael Jordan and Kobe Bryant, some of the most collected in all of sports. It will be interesting to see how cards from these players mature as time passes. Even more interesting is how many of us will likely look back and wish we'd have bought more Griffey's and Jeter's.
Have something to share? Post your thoughts in the comments area.
To view the current eBay auctions for Derek Jeter baseball cards, click here.