Have you visited our store? Click here.
---
Breakdown:
A box of 1999 Metal Universe Baseball
contains 28 packs, each containing 8 cards for a gross total yield of 224 cards. The set consists of 300 cards. The breakdown is as follows:
184/300 cards: % of set complete = 61.3%
Doubles = 2
Inserts = 7 (Boyz With The Wood x1; Neophytes x4; Planet Metal x1; Precious Metal Gems x1)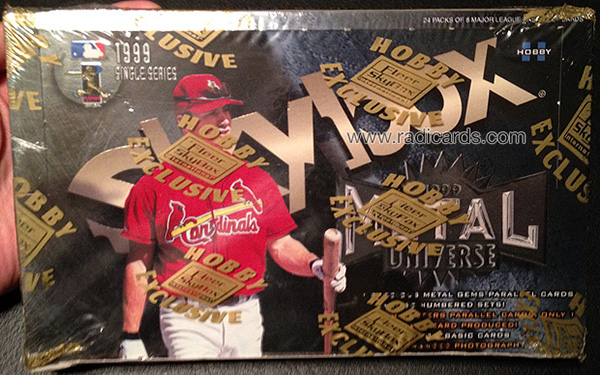 Because I was out of the hobby by the time 1999 rolled around, I didn't enjoy as strong a reflection of nostalgia as I would have with products released in previous years. However, I still very much enjoyed the allowance of opening this box. Ryan was very generous by inviting me to open some of these packs with him.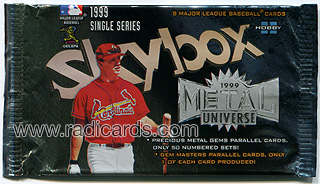 Even though this product was released at the tail end of my favorite decade, it still represents the classic look and feel of designs that were popular for the time. Metal Universe was such an innovative product when it was first released in 1996. It held its significance fairly well throughout its short-lived tenure with its existence under the Skybox umbrella. Like a fine a wine, this product line just got better with age.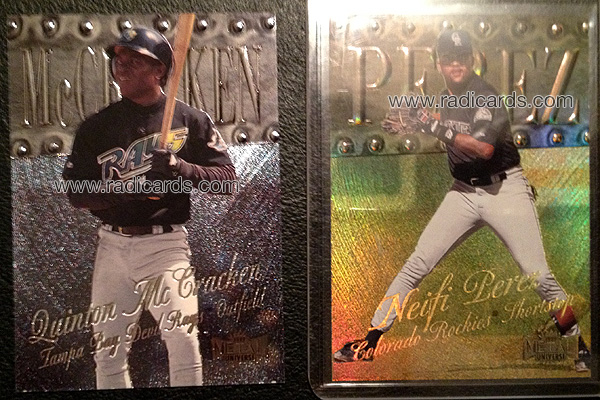 Parallel cards have been around for a while. Some are destined for greatness, some are not. In 1999, Skybox re-introduced its precious Precious Metal Gems
(PMG) parallel likely due to the success of those released in 1998. This time, it utilized a refractor, holo-foil coating. In person, these parallels are just beautiful. Just one PMG was pulled from this box. It's shown below; it's the card on the right.

I like how this design is akin to something of the industrial variety. The metallic-looking etching suites well with the metal buttons that outline the player's last name. The player's full name is depicted in timeless cursive at the footer of the card. This is just a really beautiful design.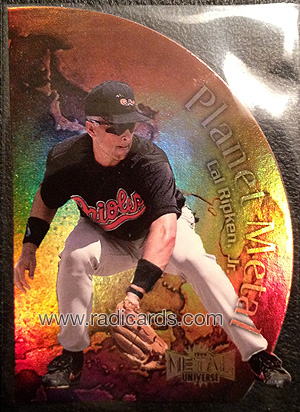 What you see here on the left is an example of the beautiful Planet Metal
insert set. A gorgeous display of holo-foil and die cut technology. This card depicts consecutive game champion, Cal Ripken Jr. in action. The pictures on these cards are incredibly clear, bright and vibrant. It seems like the planets theme was a popular one in the '90's. I always enjoy seeing this sort of thing. I think it has something to do with my interest in outer space, aliens, and time travel.
I wonder how well this product did when it was released. I know I will never be able to see the balance sheets associated with this product line but I am curious to know if this product outsold other products released in 1999. With a market reflection of trends in 1999 and the assumed SRP with respect to inflation, I am going to guess that packs of this stuff were around $3.99-4.99 ea. I'm willing to accept a correction to this assumption; after all, that's all it is.
The pack wrapper indicates insertion ratios. I like how there is no guarantee that you will receive any of these inserts in a single box. While statements like this can legally protect companies, this trend has subsided in more recent years. I prefer not being guaranteed anything. I like the prospect of "maybe" more than I do the notion of "certainty." This is just my opinion.
The Neophytes
set is one that features upcoming talent. The four cards we pulled from this set all feature the horizontal orientation. I like the circular outburst design displayed in the background of these cards. It somewhat resembles the ripple effect found in water when something touches it. Which, if you think about it, is a nice analogy to the concept of rookie baseball players. The rookie player acts as the culprit that, when interacting with the game, creates change that effects the outcome. The hope is that change will be a positive one. As we have seen on many many occasions, results vary. Just a thought.
Related article: 1999 Metal Universe Linchpins Baseball Cards
This next insert card comes from a set released during a time when it was still considered forward-thinking to spell words where the 's' is substituted with a 'z. I kind of just shake my head and chuckle a bit when I see this sort of thing. It's about as kitschy as you can get.
Combine that with images of flames and you are right back to the turn of the previous century. It's reasons like this why I love the '90's. Some designs are aesthetically dynamite, while others are somewhat droll. From a visual standpoint, the Boyz with the Wood
set would probably make pretty good friends with the later category if they met on the field during recess. From a design perspective, however, this set is way ahead of its time. Apparently you can fold these cards into another form entirely. In a hobby where we graded our cards for condition, a concept idea that encourages users to purposely damage their cards blow my mind. Just incredible… Count me out!
So there you have it. A review of a single box of 1999 Metal Universe Baseball
. It was a fun experience overall. I recommend this product to anyone who wishes to remember strongly what Skybox offered during the final year of the 20th century. Purchase a box of 1999 Metal Universe Baseball
.
To see what's currently on eBay from 1999 Metal Universe, click here.