Have you visited our store? Click here.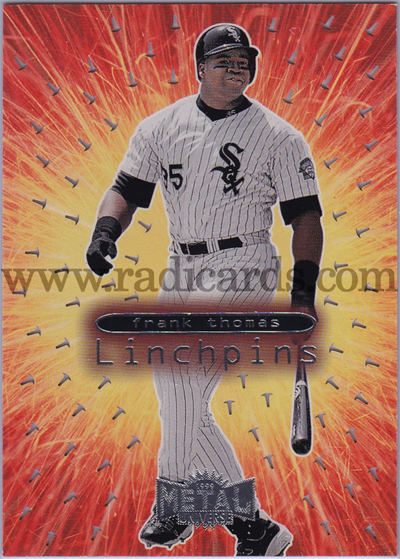 The 1999 Metal Universe Linchpins
are great looking cards. I had never seen these until I stumbled upon this one a few months ago. The die-cuts of the little linchpins in the background really present this card beautifully when viewed in the light. The design is simple yet classic. No nonsense, just a sunburst explosion of yellow, orange and red with the player being the centerpiece. This card isn't serial numbered but given the odds of pulling one of these, I'm assuming a low print run.
Statistics:
There are 10 cards in the set, each with an insert ratio of 1:360 packs. Given secondary market research, let's assume an SRP of $1.49/pack. In order to pull a linchpin of any player with the stated odds and the given SRP/pack, you would have to spend just over $536! Let's extrapolate that to odds of pulling your favorite player, say Mr. Frank Thomas here. In order to pull the Frank Thomas linchpin insert, you would have to buy 3600 packs of 1999 Metal. Cost? $5,364!!! Consider these stats next time you happen to run across a card from the 1999 Metal Universe Linchpins
set and hope you don't have to pay that much.
To see what's currently on eBay from 1999 Metal Universe Linchpins, click here.
---
Set Information:
1999 Metal Universe Linchpins
Checklist:
| Card # | Player(s) | Card # | Player(s) |
| --- | --- | --- | --- |
| 1 | Mike Piazza | 6 | Frank Thomas |
| 2 | Mark McGwire | 7 | Derek Jeter |
| 3 | Kerry Wood | 8 | Chipper Jones |
| 4 | Ken Griffey Jr. | 9 | Cal Ripken Jr. |
| 5 | Greg Maddux | 10 | Alex Rodriguez |
1999 Metal Universe Linchpins