Have you visited our store? Click here.
---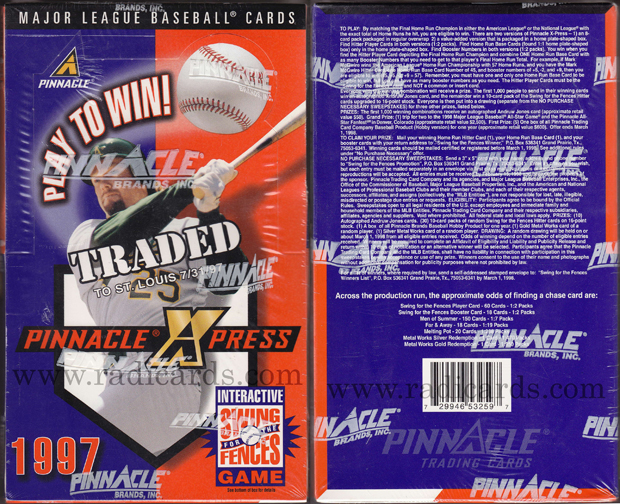 Here's an obscure release from 1997 Pinnacle. It wasn't until just last week that I busted through my first box of 1997 Pinnacle X-Press
. I had never seen an unopened box of this product before picking this one up for a cool $7. For some reason, this release slipped by me back in the late '90's. As stated in previous posts, I've always been partial to buying singles over unopened wax although I do enjoy the occasional affordable box of cards. There are a few reasons why this product sits firmly within the realm of peculiarity. For clarity as to why this product stands alone, let's begin with the packaging.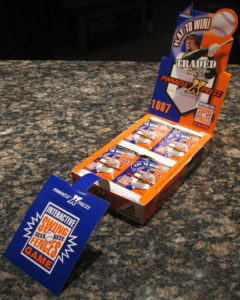 To the right, please view the unique box packaging. There's a little field goal flip-out billboard type of advertisement attached to the box. This blue sign has a big logo for the 'Swing for the Fences' redemption program. It takes up a lot of space and I would presume that it was often cut off before being displayed on counter-tops at local hobby shops upon its release in 1997. But then again… maybe not.
The bright and exuberant two tone colors of blue and orange really add an element of 'pop' to this product. I would imagine that this loud color combination helped attract some attention to this box among the many Pinnacle products released in 1997.
Lastly, notice the big white word, "Traded" on the flip cover. This was a bit misleading for me when I scored this box two weeks ago. I wasn't sure why that was put there; I initially thought that this was some sort of Pinnacle Update set. Upon closer observation, I noticed that it was simply an advertisement for the date that Mark McGwire got traded from the Oakland Athletics to the St. Louis Cardinals. 1997 was a big year for McGwire given the excitement surrounding the HR chase.
Breakdown: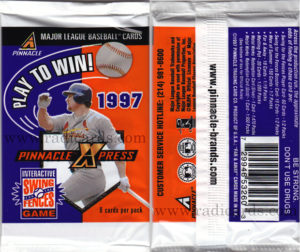 A box of 1997 Pinnacle X-Press contains 36 packs, each containing 8 cards for a gross total yield of 288 cards. The set consists of 150 cards. The breakdown is as follows:
149/150 cards: % of set complete = 99.3%
Doubles = 132
Inserts = 7 (Men of Summer x5; Far & Away x2)
Swing for the Fences – players = 18
Swing for the Fences – booster points = 18
The age of the box provided an environment for cards to adhere to each other over time. Again, I am left to pull the cards apart from one another within each pack. This element left what is often referred to as 'snow flaking' on the cards. When cards are stuck together and then pulled apart, some of the surface finish is often pulled away as well. This type of damage looks like white spotting which resembles snowflakes, hence the reference.

The base design is of the horizontal variety. With action shots and full bleed photos, it presents well. The Peak Performers subset adds a nice touch of variety. I personally prefer the Peak Performers design over the horizontal base type. I'm often partial to vertical designs though. Although this is a sharp base design, it's missing some critical classic Pinnacle elements such as Museum Collection and Artist's Proof parallels. To make up for this little mishap, X-Press includes a foil parallel set called 'Men of Summer.

The Men of Summer
parallels are foil coated with an image of a beaming sun. It's simple by design, nothing too fancy. These were inserted at a rate of 1:7 packs. I pulled 5 out of this box, which is almost exact odds.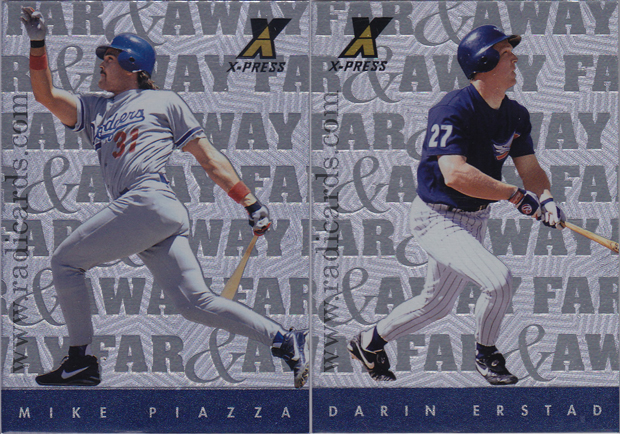 The Far & Away
insert set is a bit more scarce with an insertion ratio of 1:19 packs. I pulled two which is likely the standard. I like this set. It's the silver matte/polished combination that pairs well with the royal blue sparkle name plate. Again, a simple but highly attractive design; a method commonly found in '90's product.
The Swing for the Fences
inserts were seeded at a rate of 1:1. Each pack contained either a player or a booster point. This is another rather confusing redemption program. The program swung to the tone of collecting points, matching them with a player's HR record and sending the pair in for a randomly chosen bundle of Gold upgrades. The Gold upgrade is essentially the same as the card you see here but with the Swing for the Fences logo stamped in gold. The Gold upgrades are likely very difficult to obtain in today's market due in part by the assumption that many of these cards were left unredeemed. As much as I respect a good redemption program, when I was younger, I never paid any attention to them.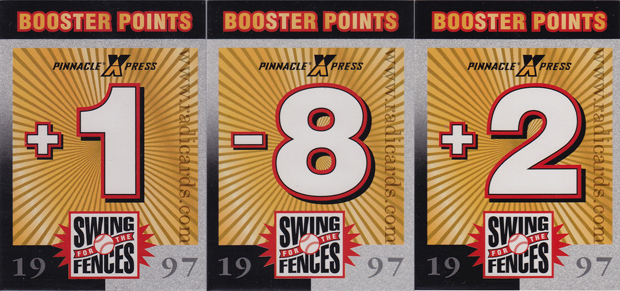 Availability:
I'm not sure how difficult these boxes are to come by because I wasn't looking for them when I found this one. I am confident that the price will be right if/when you do find one. My advice is to scour the local flea markets for former shop owners looking to move the last of their inventory. It's likely these guys will swing you a pretty good deal. Don't quote me on this but my experience was such that I was able to score a box for only a couple of bucks.
Supply & Demand:
I believe supply is likely still relatively high but not abundant do to the era of release. Although production quota in the late '90's was likely still in the millions, I would assume that the total output was still much less than its early '90's counterpart. Based on my assumption of overall remaining supply of this product, I would suggest a correlated low demand for 1997 Pinnacle X-Press
. High supply after 13 years = Low Demand; Low Demand = Low Cost; Low Cost = High Value (especially with Pinnacle). I don't care what Pinnacle brand it is, at a $7/box price point, it's a no brainer. Please note that my assumptions are based entirely on my own experiences as a buyer.
Conclusion:
I enjoyed a relaxing 1/2 hour busting through an old '97 classic with this box. I really like the the 'poppy' (as in bright and vibrant) color combination and general uniqueness of the packaging. The uniqueness of this product alone causes it to really stand out among the rest. The base design, although attractive, looks even better in Men of Summer form. Lastly, the redemption program reminds me of the opportunity I missed to secure a relatively scarce upgrade. This is a lesson learned. Pinnacle X-Press stands alone as a unique Pinnacle release. Additionally, there is over a 99% chance of putting together a full set with the contents yielded by just one box. For the price of only $7, this box was well worth the investment. I recommend this product to all collectors looking to reminisce about what the hobby was like in 1997. Enjoy it!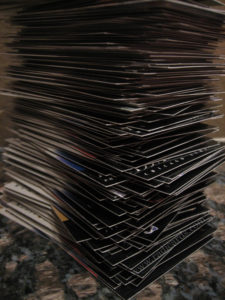 To see what's currently on eBay from 1997 Pinnacle X-Press, click here.