Have you visited our store? Click here.
Once upon a time, former professional baseball player, Dmitri Young collected baseball cards. His focus was PSA 10 examples of all the key rookie cards. His collection was considered one of the best in the world. In 2012, that all changed.
In 2012, Dmitri Young put his entire collection up for bid to raise money for a charity. In the lot were some of the nicest cards you could ever imagine and the returns for them at the time were considered some of the highest for the associated cards. Among them was the single PSA 10 example of the 1990 Topps Frank Thomas rookie card without the name plate, a.k.a. the Frank Thomas 1990 Topps NNOF.
The auction closed with 16 bids at $24,244. I was so impressed by the closing price that I had to get a screenshot and I'm glad I did because 12.5 years later, I can finally use it!
The buyer was former professional football player, Evan Mathis. It turns out, he's a collector too.1
Notice the flip says, "Dmitri Young Collection." After he won the card, Evan had the flip changed out so it reflects the NNOF designation, which while I understand the thinking, I'd have left the pedigree intact since it's part of the historical significance of the card. Alas, it doesn't change the card and that's what matters most.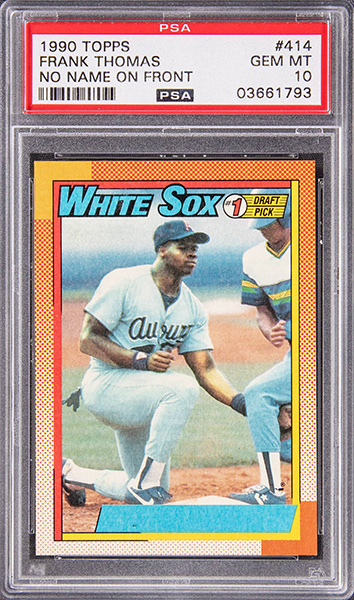 12.5 years later, the card enters a Goldin auction and closes with a return of over 602.8%. This sale makes this card the first from the Junk Wax Era (1986-1993) to achieve a 6-figure return.
Sold: December 17, 2022
# of Bids: 25
Final Price: $170,400
References:
I've met Evan at shows a few times over the years and he's always been super cool and his collection is one of the best I've ever seen. Some of the stuff he's sold has made headlines over the past couple years. ↩︎