Have you visited our store? Click here.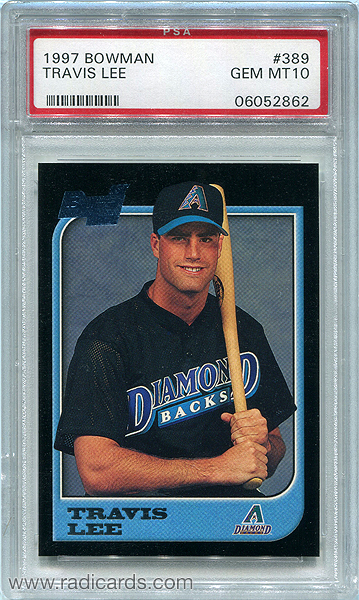 Shortly before I left the hobby in late 1998, Travis Lee was the hottest thing the hobby had going for it. There were a few other guys who came on the seen around that time and prior that were making an impact as well. This included guys like, Kerry Wood, Lance Berkman, and Todd Helton. I was at a card show in a hotel back in 1998 when the McGwire/Sosa HR race was happening and everyone was after the 1985 Topps Mark McGwire
. That card really took off during that time. In hindsight, I should have sold the one copy I had; I could have gotten $250 for it. Nowadays, that same card fetches $5 on its best day, which is kinda sad because it's an iconic card. I can say, however, that elusive PSA10
copies of the 1985 Topps McGwire still bring healthy sums.
Anyway, back to the 1997 Bowman Travis Lee
. While I was at that same show, I bought a raw copy of this card for something like $3-5, which at the time was a lot of money for me. My only source of income at the time was my allowance, which was $5-10/week; a meager sum by today's standards. I saved up between card shows to ensure I had at least $20 for each show. I also picked up three cards from 1993 Topps Traded Baseball: A.J. Hinch, Todd Walker, and Todd Helton. These three guys were becoming popular at the time and their rookie cards were going for $1-5.
This card still holds importance in my collection not because of its value but because of its association with a different time. Looking back, this was a time when hotel card shows frequently existed, and baseball cards had a lively market outside of the interwebs. It was fun to go to shows and see so many people with similar interests. It was easy to connect with locals. I would eagerly await the arrival of the latest issue of Beckett so I could read the show calendar and plan for the upcoming shows. I used to get so excited on the Friday nights before these shows which were typically held on Saturdays. The 1997 Bowman Travis Lee
reminds me of all of that, and that's why I love it.
To see what's currently on eBay from 1997 Bowman, click here.