Have you visited our store? Click here.
This is a story that's very important to me both in this hobby and in baseball in general: The Frank Thomas number retirement.
August 29, 2010 marked a historical day for the baseball world. The Chicago White Sox announced the retirement of Frank's jersey No. 35. To salute the best hitter to ever wear a Chicago White Sox jersey, let's take a minute to reflect on the 9th White Sox player to have his number retired. Big Frank blasted 521 total career Home Runs, 2468 Hits, 1704 RBI's and a .301 career BA. Thomas had 8 consecutive seasons which he fetched above a .300 BA ('90-'97); MVP in both '93 and '94; 5x AS and 4x SS.
Former college football star from Auburn turned MLB megastar, Thomas was one of the best hitters to wear the Sox cloth, if not in the entire game. Aside from being an incredible baseball player, the Big Hurt also has a Big Heart. In 1993, he started the Frank Thomas Charity Foundation which contributed to the Leukemia Society of America. Featuring this foundation were numerous redemption only subsets released within the hobby. Having played with the White Sox for 16 of his 19 seasons in the MLB, Chicago will immortalize Thomas by creating a life-sized bronze statue to be placed in the CF concourse next year. Thomas, although put up his cleats, hasn't left the spirit of baseball. He is now an ambassador for the White Sox and a commentator for SportsNet. Frank is due for a walk into Cooperstown in summer 2014.
Here's some coverage of the Number Retirement event: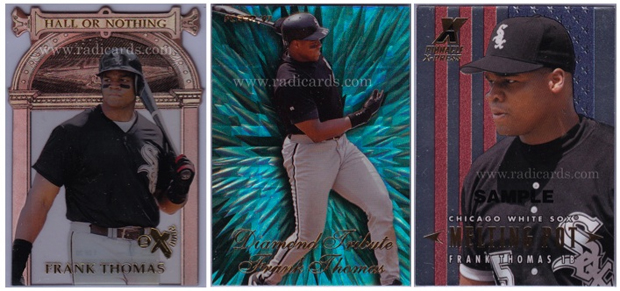 Although he looked sharp sporting green/white and blue/white, Thomas did the most damage while wearing black/white. I'm anticipating the Big Hurt to walk into Cooperstown with a White Sox uniform.
The Hobby: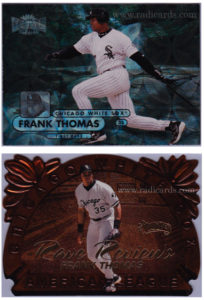 If you ever collected in the '90's, you know that that was Frank's decade. Frank Thomas was featured on more baseball cards in the '90's than any other player. To Thomas collectors, this means a monster but exciting and esthetically appealing task. So many base cards, inserts and parallels came out of that decade featuring our guy that there's always something different for which to search. A personal note, I have been collecting Big Hurt for 20 years and counting and I'm still not out of the water with his '90's run. Some of these cards aren't only tough but unfeasible. With the inception of 1/1's in 1997's Flair Showcase Masterpiece's, the so called, "master collection" has now been demoted from possible to impossible. No matter the strength, the search is somewhat endless but always exciting.
Growing and Collecting #35:
I can remember back in the 90's when I'd have to drop $3 for a common base card of Frank Thomas. I remember specifically going to the card shop in VA back in 1994 and paying $3 for Frank's 1994 Studio base card. That card is still one of my favorites. I remember thinking about how expensive it would be to obtain all of Frank's cards. At the time, $3 was a lot of money for me. I think my allowance allowed for a few packs and maybe some cheap singles at the time. To ease my collecting hunger, my mom would drive me around town to card shops and retail stores. I focused all my efforts on Frank and Griffey at the time. In 1995, I discovered how many cards each of these guys had and upon this realization, I had to make a choice and pick only one. Although this was a tough decision given the popularity of both players at the time, I decided to collect only Frank Thomas cards. I think this decision was prompted in part by the fact that my Frank Thomas collection was larger in comparison to my Griffey collection. Collecting only one guy still remains very tough.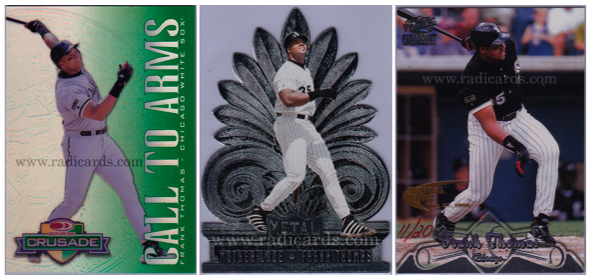 I lived in the southwest for a number of years and I can remember in 2004, I was convinced that I had tapped the entire market for the state of New Mexico and there weren't any more Thomas cards that I didn't have. I literally bought every single Thomas card that I could find. Having only a few shops left in the area, I was (still am) known on a first name basis by most of the shop owners in NM. When I noticed that the Thomas inventory was significantly slimmer than it once was in the '90's when everyone was collecting/buying/selling cards featuring Frank. A part of me lost hope, that is until I discovered online shopping. Okay okay, I knew about online shopping in the very early years of eBay (around 1999) but it wasn't until much later that I made my first purchase. This medium has helped me obtain some of the tougher Thomas cards. I have likely overpaid for one or more Thomas cards purchased online. But you know what, when it's for a card I have looked for for many years, a few extra bucks is well worth it.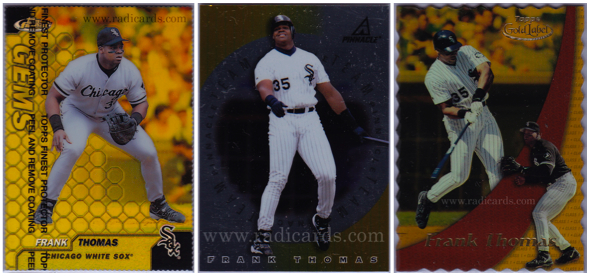 With the many baseball cards, the HOF worthy statistics and the big heart, Frank Thomas will always be remembered not only as a quality player but as a quality person. Hats off to Thomas for his efforts on and off the field. His number, set in stone, will last forever.
Question of the Day:
Who did you collect in the 1990s?
To view the current eBay auctions for Frank Thomas baseball cards, click here.
References:
White Sox honor the Big Hurt. www.mlb.com ↩︎
White Sox retire Frank Thomas' No. 35. www.espn.com ↩︎