Have you visited our store? Click here.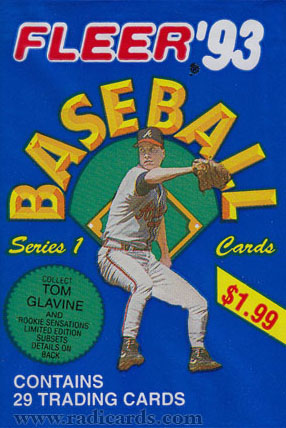 This release takes me back to a time when I lived on the east coast in sunny (and humid) Virginia. I can remember buying packs of 1993 Fleer Baseball Series 1 Jumbo
at what used to be called Giant, which was essentially a SafeWay or a Walgreens. Funny names if you ask me. Let's get back to it. 1993 Fleer is a staple of the time. It was likely one of the last products before Fleer went super high-gloss and featured volumes of shiny insert sets to stay competitive in the ever exploding sports card market for the time. What they did incorporate into this particular release was the chance at a Glavine Auto. Personally, I've never seen one… ever. I've seen the base insert chase set many times but the pack-inserted official autographs? Not once. I've been in this hobby for most of my life and I'm always surprised when I discover something new, especially if it's release date was at any point in the 1990's. With odds like 1:29,000 packs for a Glavine Auto, and a $1.99 SRP per pack, expect to blow through around what it would cost you to purchase a 2011 Hyundai Equus. With ridiculous odds like that, it's no wonder that I've never seen one. I usually equate commodity availability to that of its online surfacing probability and history. The 1993 Fleer pack-inserted Tom Glavine certified autographed cards ranks up there in at least the top 20 in terms of tougher pack pulled autographs from this particular era.
The Packaging:
I actually really enjoy the bright colors here even if it's a complete staple of the time. The rubbery material packaging is a thing of the past. But we've got a flashy combination of red, blue, green, yellow and orange topped off with a Tom Glavine wind-up thumbnail. The overall branding here is actually aesthetically very pleasing. Maybe it's just me but I respect the no fuss, all flash design here, even if it is a total '90's thing.
The Contents:
Check out the disclaimer here on the back of the package. Notice the remark regarding the potential future value of the autograph.
The Base Design:
The base set hosts a simple design with a nice silver frame. The pictures are classic with full color action shots from games gone by.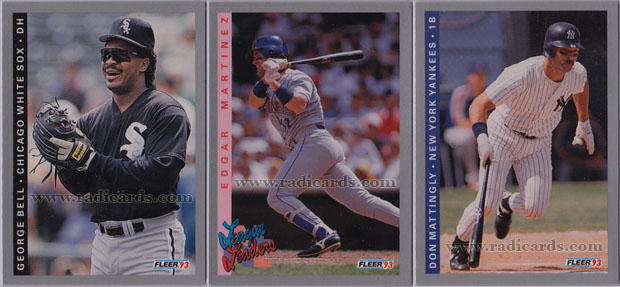 Old school I know but actually not entirely terrible. A significant improvement from the lifeless black and yellow that plagued the 1991 release. The silver frame relates more favorably to the overall aesthetic appeal to that of the soft green found on Fleer's 1992 release. For the time and the price, this wasn't such a bad deal. You get a pile of cards (29) for just a couple bucks.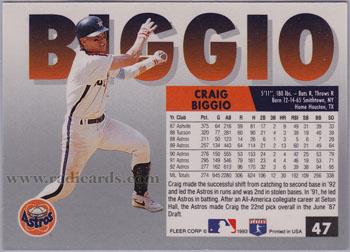 The backs of these cards complement the fronts with a soft silver horizontal gradient with a themed team color gradient over the player's display name. The player action shot and full statistics comprising of the remainder of the cards real-estate. I'd like to see some of that gradient design printed on some of today's products. But then again, there are a lot of implementations I'd like to see happen in much of what's being released in today's market. Call me nostalgic but this old early '90's stuff always leaves me with pleasant memories of years past.
Final Thoughts:
For $1.99 (likely much less these days), you get 29 cards and a chance to pull a mammothly difficult autographed Tom Glavine card and some Rookie Sensations. From packaging to base layout, you also get a reminder of what passed as marketable designs in the hobby back in 1993. I know some collectors loath this era of collecting due to the ever rehearsed discussion on oversaturation but honestly, I don't care. I had fun ripping through this 18 year-old pack of baseball cards.
To see what's currently on eBay from 1993 Fleer, click here.