Have you visited our store? Click here.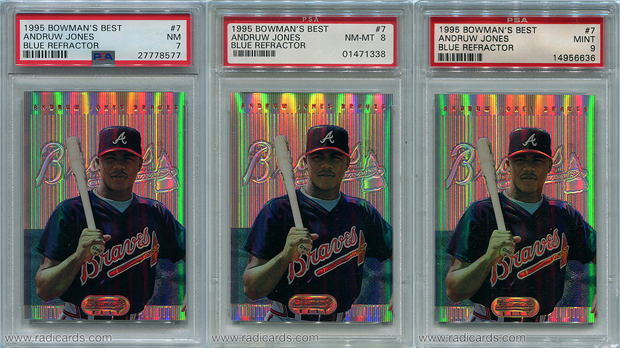 When Andruw Jones first appeared on mainstream cardboard back in 1995, collectors acted in flurries to secure his rookie cards. He showed signs of greatness from the beginning. So much so, in fact, that some thought he was going to be the next Roberto Clemente.
Andruw Jones enjoyed a 17-year professional career (1996-2012). Upon review of Jones' stats, one could conclude he displayed massive HOF potential for the bulk of his career and up into 2007 (age 30). In the 12-year block from '96-'07, his achievements included: 1x Silver Slugger, 5x All-Star, 10x Gold Glove, and was named ML Player of the Year. Additionally, he yearly averaged .258 with 141 hits, and 31 home runs.((Andruw Jones. www.baseball-reference.com)) With those accolades, you could make a case Jones was one of baseball's best fielders and certainly one of the more dominant hitters. Winning a Gold Glove award every year for 10 consecutive years ('98-'07) is a rare thing, and a true sign of greatness. In terms of fielding quality, Andruw Jones trailed Brooks Robinson who played for 23 years and was inducted into the Hall of Fame in 1983.((Brooks Robinson. www.baseball-reference.com)) But Jones was a better power hitter than Robinson.
That is until he reached age 31.
By 2008, Jones' started putting on some weight and his performance began to decline. From 2008 to 2012, he was traded five times and never displayed the same kind of power we saw in his 20s. In that 5-year span, Jones averaged .209 with 50 hits and 14 home runs per year, a drastic difference from his annual averages from years prior. He never won another award and retired with the New York Yankees at age 35. It's this 5-year span that some argue hurt Jones' chances of seeing Cooperstown.
Related article: Regarding the Andruw Jones 1995 Bowman's Best Refractor | Ep. 164
If Andruw Jones retired after the 2007 campaign, we would see him as one of the best players in baseball even with a short 12-year career. But is a solid 12-year career long enough to be considered for HOF admittance? Don Mattingly played professional baseball for 14 years and collected all sorts of accolades and he's not in the Hall of Fame.((Don Mattingly. www.baseball-reference.com)). The argument for Mattingly has always centered at least partially around lack of longevity. So then how many years of productive professional experience is enough? If Don Mattingly didn't get in, then even if Jones retired after the 2007 season, the end of the most productive block of his career, he wouldn't get in either because 12 years wouldn't be long enough for consideration.
Two words that prove longevity isn't the issue – Kirby Puckett
Kirby Puckett was one of the most dominant hitters of his era. His career BA was .318 with his best year being 1988 when he had 234 hits and averaged a rare .356. His career accolades include: 10x All-Star, 6x Silver Slugger, 6x Gold Glove, 2x World Series, Batting Title, ALCS MVP, AS MVP, etc. etc. etc.((Kirby Puckett. www.baseball-reference.com)) He achieved all that in his brief but productive 12-year career (1984-1995) and was inducted into the Hall of Fame in 2001. Puckett is a legend and many wish he would've played longer.
As we can see from the Kirby Puckett argument, 12 years is enough time to be considered for Hall of Fame induction. If longevity isn't the issue, productivity has to be the central point of conversation. So then is Jones' highly productive 12-year span from '96 to '07 worthy enough to make him HOF material?
Despite the low numbers of Jones' last five years, his career OBP((On-Base Percentage)) of .337 is higher than Brooks Robinson's career OBP of .322, which means he got on base more frequently than Robinson. Furthermore, Jones' career SLG((Slugging Percentage)) of .486 is more than Kirby Puckett's career SLG of .477, which means Jones was more productive at the plate than Puckett.
Even with the low yielding numbers Andruw Jones put up in his 30s, he still got on base and was productive at the plate. He also overall out performed some of the game's greats in these particular mission-critical key areas. So the question then becomes, is Andruw Jones worthy of the Hall of Fame?
Can you make a case for or against Andruw Jones making the Hall of Fame? Please share your thoughts in the comments area.
To view the current eBay auctions for Andruw Jones baseball cards, click here.