Have you visited our store? Click here.
Dan G. brings us some epic high-end classic Hockey while my pick is something from the 1994 Upper Deck baseball variety. Let's see what was randomly pulled from our collections on this episode of Radicards® Random Picks.
Dan's Random Pick: Mario Lemieux 2003-04 Be A Player Ultimate Memorabilia
Autographed Sticks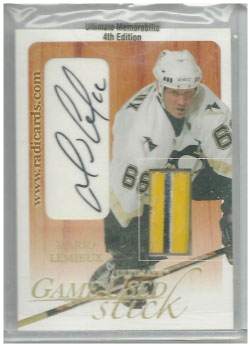 Today, I randomly picked the first Mario Lemieux Autograph that graced my collection. It hails from the 2003-04 Be A Player Ultimate Memorabilia
4th Edition, and is titled Ultimate Memorabilia Autographed Sticks. It is a beautiful piece. Furthermore, I believe this card is an excellent example of why ITG has such a strong following in the Hockey Card world.
When I first picked this card up, I was attracted by the subject of the card (Lemiuex), but as time passed, I grew to like this card because of its design. The Feng Shui is strong. At first glance, the vertical placement of the auto is unique. Second, the proximity of the memorabilia to the autograph creates a well balanced card. Additionally, the quality of the memorabilia piece is superb. The memorabilia is a fragment of Lemieux's stick, and unlike a jersey the stick is an instrument of the game. The color pattern of the stick piece is hot, and brings the feel of the vintage black and gold Penguins jersey to a modern card. My only complaint is the Avery 5159 shipping label sticker used for the autograph. But, in ITGs defense, at least the auto is centered and cleanly placed.
To view the current eBay auctions for Mario Lemieux hockey cards, click here.
Patrick's Random Pick: Manny Ramirez 1994 Upper Deck #23 Electric Diamond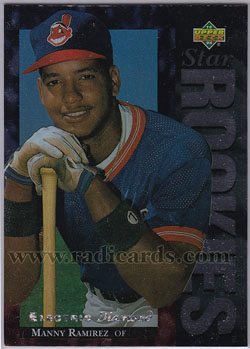 This card takes me right back to 1994. I can remember buying a few packs of 1994 Upper Deck baseball at what's now probably called Sports Authority. These packs were placed right there near the cash wraps, similar in placement to that at Target. I bought a few packs then my mother treated me to lunch at a local diner that was something of the Pizza Hut or Denny's variety. As I sat there eagerly awaiting our meals, I proceeded to open my recently purchased packs of 1994 Upper Deck. 1994 was the year that Upper Deck featured Mickey Mantle as their Heroes icon. I pulled the Mantle header card right there at the restaurant and I was super excited!
I really like this set because it features dark borders and a glossy foil finish. The set also features classic player photos. This on in particular features a healthy young Manny. Additionally, the set provides for a fun chase of Electric Diamond parallels. The Electric Diamond signifier is printed in silver holo-sparkle text and looks amazing against the glossy darkened finish. This set was very popular in 1994 due to the chance of pulling Michael Jordan. 1994 was the year MJ tried his hand at the sticks. I can remember buying packs of this stuff specifically in hopes of pulling the Jordan Electric Diamond parallel. It wasn't until just a few months ago that I finally secured a copy of that card. Many years later, 1994 Upper Deck Baseball
still holds as a classic release in my book.
To view the current eBay auctions for Manny Ramirez baseball cards, click here.