Have you visited our store? Click here.
It's been months since I've posted and for that I apologize. I've been juggling several personal and professional deliverables that have required my immediate attention. All in all, I am very fortunate to have my health, an amazing family, and yes, cardboard.
I have been rigorously focusing my efforts on my Frank Thomas collection. You might know, that's where I possess the majority of my interest. That and '90's inserts. Paired together, they are dangerously desirable. This past year has been incredibly fruitful in the Thomas department. I have acquired some of the more boutique examples of which I have been searching for for many years. I don't presently possess scans of many these cards but will likely share them in future posts. To hold you over…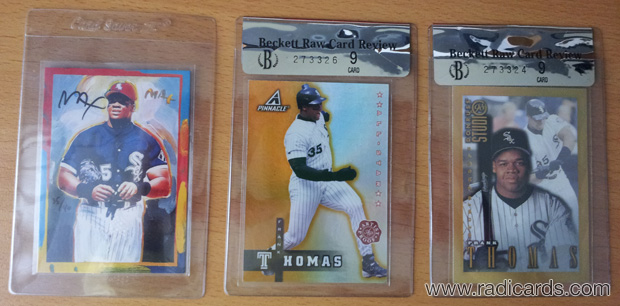 Another area of focus has been in acquiring PSA 10 graded examples of all of the cards in my rookie card collection. You might know that aside from Frank Thomas, I collect baseball rookie cards. Yes, I know it's not anything new. I am just another collector who collects Gem Mint copies of rookie cards. There are some very famous collections out there of this exact nature. While I don't typically have the funds required to entertain some acquisitions due to the dramatic increase in price from 7's to 8's, I do dabble in the more affordable junk wax era where PSA 10's are more abundant but always lovable.
I recently completed my first online trade which meant parting with a number of cards from my PC. Some of these cards were Frank Thomas cards. I know it's a complete surprise but you know what, the day I sent those cards through the mail to be loved by another collector, I re-purchased them online. Something I've grown to understand in this hobby is that a lot of cards we have grown to love are and will always be routinely available online. At any given time during the day, there are at least 20-30 copies of high grade examples of the '90 Score Frank Thomas RC on eBay with BIN's settling in the cool early $20's price point. It's a cake walk to acquire these if I need them. This arrangement can be generalized across a number of years, products, and cards. What I'm saying here is that all of the cards I traded can be had online any time I want to welcome them back into my collection. I know I'll include them again at some point and they will likely all be added in as PSA 10's.
A few months ago I had to relieve some strong interest in building a base set. My problem was I couldn't figure out which set I wanted to build. I knew that I wanted to do something vintage but didn't want the hassle of dealing with a huge set and wasn't interested in something that was routinely available. I also didn't want to break the bank. So, I decided to very casually collect, over the course of the rest of my life, the entire 1909-11 T206
master set in low grade but fully intact condition. I realize this set is 527 cards but with just a small pile of tobacco size pocket Ultra Pro pages, I'm able to easily fit the whole set in a 1-inch binder. I am content with having RP's of the big four: Magie error, Plank, Doyle Nat'l, and of course, the god card – The Wagner. The rest of the cards in the set fall into the category of "obtainable." This is a very feasible goal. Here's one…
To see what's currently on eBay from 1909-11 T206, click here.
I've also decided to tackle a few modern sets. One of which is the 1995 Select Certified Mirror Gold. These cards, unlike their mythical '96 counterpart, are available and affordable. I'm aware that I previously indicated a specific interest in collecting sets that aren't available but this one is unique in that it's available at just the right frequency. Not too much, not too little. This is also a very feasible goal.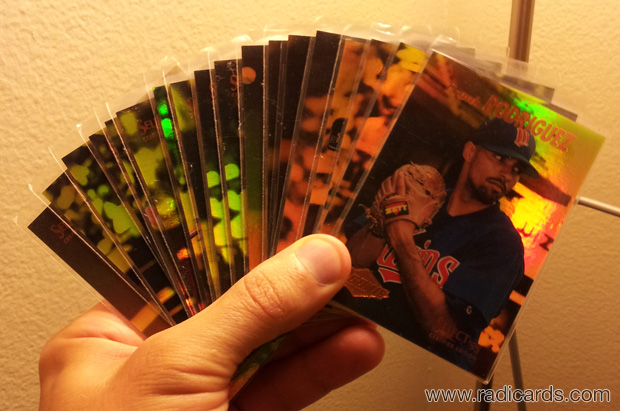 To view the current eBay auctions for 1995 Select Certified Mirror Gold parallels, click here.
I wasn't able to attend the 2013 National Convention but for good reason. I met some great people at the 2012 National and look forward to running into them again in the future.
Lately, I have been toying with the idea of including a "Shops" section into the Reviews category. I have been taking pictures of shops for the past few months and would like to start writing about my shopping experiences. There's something rather romantic about spending hours at a physical space looking through inventory and getting to know the people behind the counter. I hope that shops will be around for as long as I am because this is something I very much enjoy.
Once things get a little more settled on my end, I will look forward to sharing with you more frequently. Until then, be well and in touch.