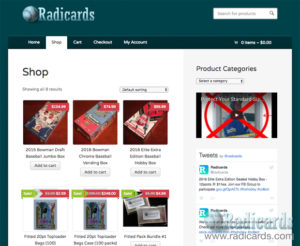 That's right, folks; we sell stuff now!
Visit our store @ www.store.radicards.com
It all started with an idea I had to create a better look for your collection. It started with the Fitted Toploader Bags. I had the idea for these in 2010 but implementation didn't happen until 2016. Granted, it wasn't three weeks between sitting down and designing them from the sale of our first pack. That said, let's get to it.
We carry proprietary supplies to help you better enjoy your collection.
After Business School, I went on to study process efficiency and product quality in a Project Management Certificate program at UCLA. It wasn't shortly thereafter graduation that I felt ready to bring my idea to market. I've always wanted my collection (as well as yours) to look amazing. I'm not using the term, "amazing" in reference to price or quality of collection (although both of which can be amazing); no, I'm using it in reference to the way it looks. More specifically, I'm using the term in reference to they way I want you to appreciate your collection.
Let's admit it; you've put a lot of time and money into building your collection and you deserve for your collection to look amazing when you stand back and appreciate it for what it is.
This is why I designed the Fitted Toploader Bags. With these bags, you can enjoy a snug, fitted look with the similar fold-over flat with adhesive peel and seal. You can now take relief from confidence in knowing that your toploaders are protected from scratching and dust while at the same time doing away with all of the annoying bunching associated with team bags.
You can buy our Fitted Toploader Bags and Fitted PSA Graded Cards Bags directly and securely from our online store at www.store.radicards.com.
We Pride Ourselves on Fast Shipping Times.
Outside of holidays and Sundays, we always aim to ship next day so you can enjoy your purchase as soon as possible. Check our FAQ page for helpful answers.
Stop by our store and enjoy a purchase!