Have you visited our store? Click here.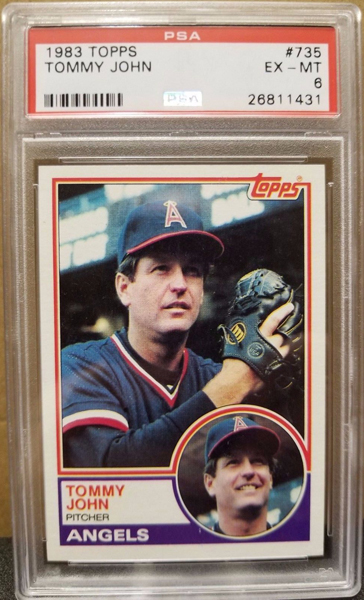 The 1983 Topps Baseball set is a classic. Many collectors remember this set for three important reasons: Ryne Sandberg, Wade Boggs, and Tony Gwynn. Significantly fewer collectors think of the set because of Tommy John. By the end of this article, you'll have knowledge on one of the hobby's most elusive variations from the 1980s.
Put your thinking caps on and get ready to dive right into the world of unicorns. »
Tommy John is a 4x All-Star and pitched for 6 teams over a lengthy 26-year career (1963-1989).1 Longevity like that, especially for pitchers, is a thing of the distant past. John is also known in the medical industry for he being the first to enjoy the then innovative and now common ligament relocation surgery that bears his name known as Tommy John Surgery.2
The following is a rundown of the team for which John played:
Cleveland Indians: 1963-1964
Chicago White Sox: 1965-1971
Los Angeles Dodgers: 1972-1978 (Didn't play in 1975)
New York Yankees: 1979-1982
California Angels: 1982-1985
Oakland Athletics: 1985
New York Yankees: 1986-1989
Late in the 1982 season, John was traded from the Yankees to the Angels, which is why we see John depicted in an Angels uniform on his 1983 Topps card. Here's where it gets interesting.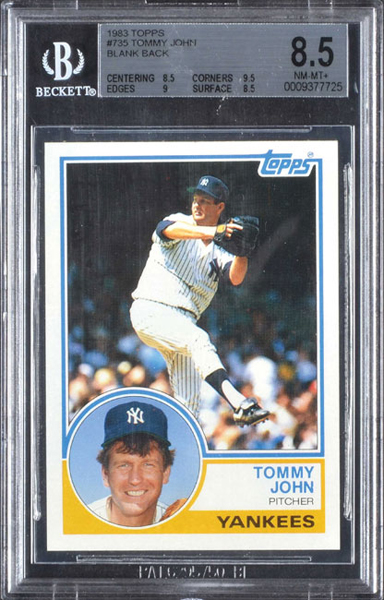 In preparation for the flagship 1983 set, Topps had images of John in a Yankees uniform. Since Topps intended to include John in the set, it used one of these images on the first run of printed proofs. However, when the Yankees traded him to the Angels near the end of the 1982 season, Topps had to readjust its plans accordingly so the image depicted the player representing the current team.
What you see here is one of the rarest variations in the entire hobby. It's unknown how many copies exist but since this variation wasn't intended for public release, the number is likely significantly small if even at all beyond one copy.
For Yankees and Error/Variation collectors, this is likely to make the Most Wanted list. The example shown here was sold through REA in its Spring 2017 Auction.3 Who knows when the hobby will see another.
To see what's currently on eBay from 1983 Topps, click here.
References:
Tommy John. www.baseball-reference.com ↩︎
Tommy John Surgery. www.webmd.com ↩︎
1983 Topps #735 Tommy John Blank Back Proof Card – Rare Unissued Team Change! www.robertedwardauctions.com ↩︎