Have you visited our store? Click here.
2003 was a milestone for me. It was the year that I got back into the hobby after a 5-year hiatus. That summer I frequented Target often to buy packs of recently released products. This particular version of the product was a hobby shop exclusive hence the signifier term "Hobby" found on the front of the package. It's October 2011 as I write this and this is my first pack of 2003 Upper Deck MVP Baseball
. I have to be honest, this is a nice little release. But then again in my opinion Upper Deck almost always released quality products. I miss Upper Deck being a part of the baseball market.
The Packaging:
With the All-American combination of red, white and blue, this design does exactly what it's intended to do, grab attention. The market fad of game-used themed cards was really starting to take root in the hobby during this time and many products included taglines or pack insertion announcements on their packages in hopes of stimulating demand. That said, these product plugs took up some amount of real-estate on the layout. See one plug just to the left of Sosa's left leg and another in red just below the MVP logo. This concept isn't a new one, however. Another note here is the full-color, classic action shot of Sammy Sosa. In my eyes, it's shots like this that really capture the action of baseball.
The Contents:
This product hosts the probability of pulling a nice variety of inserts and parallels. Notice the very first sentence regarding the general contents. I guess some collectors still need reminders that packs are comprised of a *random* selection of cards.

Depending on which route you take, Retail or Hobby, expect to spend around $30-40 for a box of 2003 Upper Deck MVP baseball.
The Base Design: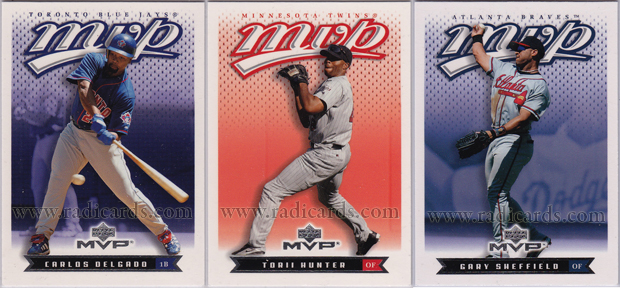 The base design is an eye catcher. Another class-fully done gradient background with the cleverly stroked MVP logo. I really like this one. The droplets on the top half present an added bonus in terms of eye appeal. This is a simple but delightful design. The popular team color theme found here presents incredibly well against the full color player photos. The ribbon-strip name plates are subtle yet appropriate in terms of allowing your eye to notice it's there but not take away from the general focus. This is a strong design.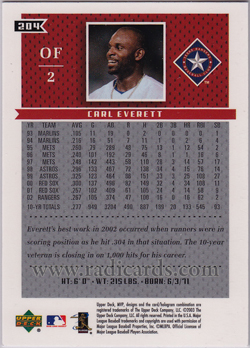 The backs (right) are still color themed with the added bonus of full player statistics. A top-centered, drop-shadowed head-shot and team logo gives this layout some pop. The name and number strip and droplet back display compliments the feel of the front of the card. This is a simple but consistent approach.
Final Thoughts:
Upper Deck did it again with another quality release. The packaging pops off the shelf with the all-American colors and Sammy Sosa action photo. 2003 Upper Deck MVP hit the ground running with a wealth of variety in terms of inserts and a classic base design. The warm gradient background and vibrant colors provide for an inviting collecting experience. Upper Deck had a track record of designing quality products and 2003 Upper Deck MVP Baseball
is no exception.
To see what's currently on eBay from 2003 Upper Deck MVP, click here.