Have you visited our store? Click here.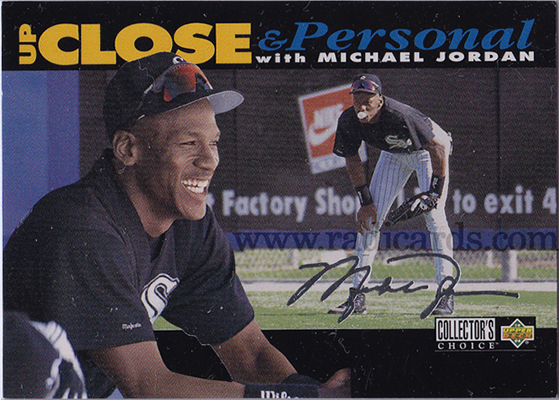 Ahh, the days when Michael Jordan suited up in a White Sox uniform. I remember being pretty excited to know he was playing on the same team as Frank Thomas. I also remember busting packs of 1994 Collector's Choice
in the hope of pulling a Jordan baseball card. Good days, good memories. Okay, enough nostalgia, let's get to the meat of the discussion. The base card you see here has a black strip along the bottom of the card just under Michael Jordan's feet. The Silver Signature parallel however has this same stripe but in Silver to compliment the facsimile signature.
To summarize:
Base card = black strip
Silver Signature parallel = silver strip
These Up Close & Personal sub set cards all had the silver strip on their silver sig parallels. Depicted is the same card but a combination of the base and silver parallel. This card has the silver signature but not the complementary silver strip to accompany. It's unclear as to the origin of this error but my theories are as follows:
Theory #1:
This card was part of a test run of the product that was under review prior to its release. Since 1994 was Collector's Choice's inaugural year, perhaps these cards were sent to the employees as samples and thus never intended for public release.
Theory #2:
These black strip signature variations were a result of an error in the manufacturing process. If this is the case, this error must have been discovered and corrected early on in the production phase and hence was never recognized as a legitimate error in any price guide.
To my knowledge, these black strip silver signature variations are extremely scarce and that many hobby enthusiasts are unaware of them. Keep an eye out for these mysterious gems.
To see the current eBay auctions for the 1994 Collector's Choice Michael Jordan, click here.