Have you visited our store? Click here.

For some reason, Hank Conger rookie-era cards intrigue me. Hank Conger has 2 rookie cards, each with a list of parallels and both come from 2005 Bowman AFLAC products, the base and the chrome. Hank Conger wouldn't actually play his first professional game until 2010 and would only play 13 games that season. 2011 was the year his popularity grew and some people believe his 2011 cards to be his rookie cards. His 2010 and 2011 cards may both be considered his rookie year cards, but they aren't his true rookie cards. The 2005 Bowman AFLAC cards are his true rookie cards because they are the first cards depicting Conger that hold the required licences from MLB and MLBPA. This is another instance where the term, Rookie Card gets a bit foggy.
Hank Conger was featured in some really interesting releases between 2005 and 2009 with most of the more popular cards being from 2006 and 2007. He had a few signed cards in 2006 Bowman Sterling, and 2007 Bowman. Interest became more mainstream when his 2011 cards appeared on the market bearing the "RC" symbol. Given all of the previous years leading up to 2011 with mainstream sets featuring Conger cards, it can make identifying his true rookie cards somewhat difficult and confusing. Don't feel bad.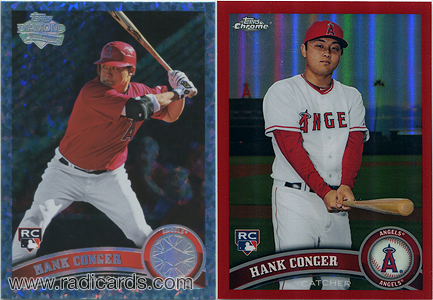 Depicted above are some of his more important cards from 2005, 2006, and 2011. His 2011 cards are generally considered his rookie cards even though he recorded his first professional year in 2010. Anything earlier falls into the Prospect category. To me, the 2005 and 2006 Bowman stuff is much more interesting. Alas, I'm extremely picky with which Conger cards to add.
Conger attended Huntington Beach HS. I lived in HB between 2009 and 2010 and Huntington Beach HS was right around the corner from my apartment. Fun fact: there used to be a famous skate park on the property of Huntington Beach HS that now houses the athletic field ticket booths. I can remember skating there on a few visits to HB during Spring Breaks when I was in Business School. I can also remember being pretty sad when I learned that they had torn it down. So much amazing footage from professional skateboarders was filmed there over the years.
Back to it: Conger has had an interesting career. He's had difficulty hitting and catching. As a catcher, he's struggled to throw out base runners. It's the hope that he's able to develop over the years as a more reliable catcher. Whatever happens, however, I'm happy to have these cards in my collection.
Who can you remember being popular in sports in 2011?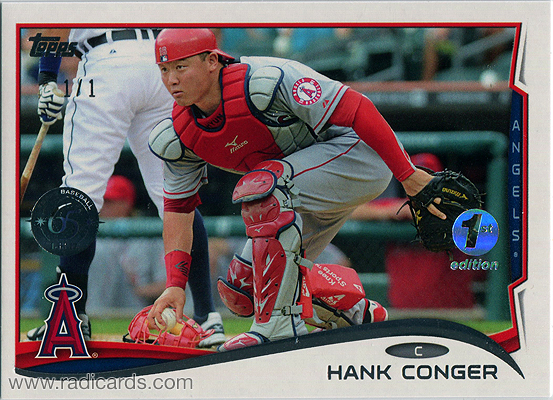 To view the current eBay auctions for Hank Conger baseball cards, click here.