Have you visited our store? Click here.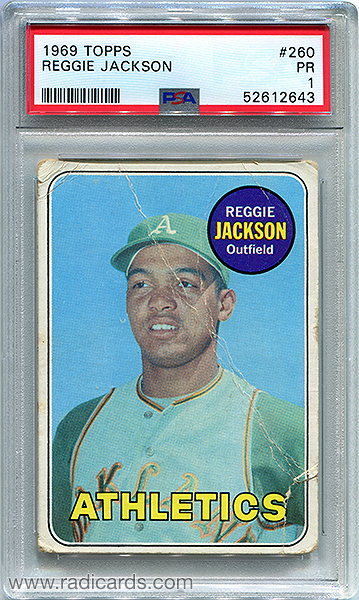 I grabbed this 1969 Topps Reggie Jackson RC for $65+4 shipping, which fittingly made it $69 shipped. I've always wanted this card and have seen countless examples over the years and have noticed one thing – nearly all of them suffer from centering issues. While this example isn't pretty, it's got great eye appeal.
1969 Topps is a 664-card set with the standard 2.5×3.5 dimensions and like many sets before it, comes with a number of variations that, included, put the master set at 727 cards. The name plates on a number of cards in the 440-511 block can be found in two separate versions, yellow letters, and the more rare and valuable white letters. All-Star cards 426-435, when placed together, form an image of Pete Rose. This was the final year Topps issued cards in 5-card nickel wax packs. Cards were also sold in 36-card rack packs for $0.29. Key RCs include Graig Nettles, Rollie Fingers, and Reggie Jackson.
To see what's currently on eBay from 1969 Topps, click here.