Have you visited our store? Click here.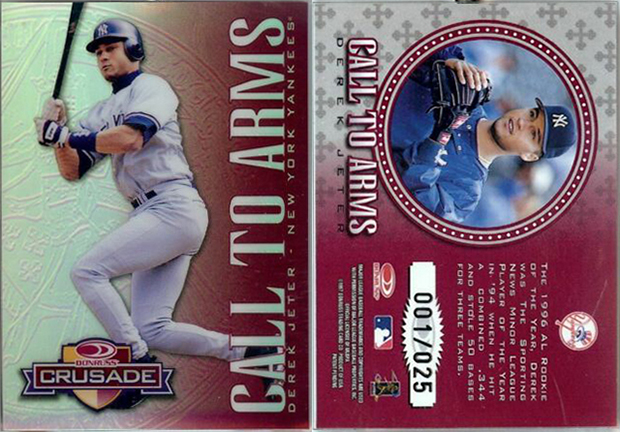 Sold: January 2, 2020
# of Bids: 7
Final Price: $13,122.22
The 1998 Donruss Crusade set represents the top-tier of most-collected insert sets from the 1990s. The parallels come in three different colors: Green, Purple, and Red with the Red being the rarest with a print run of just 25 copies. It's because of the Red parallel that this 3-card rainbow is one of the most difficult to achieve. For those fortunate enough to pull together all three cards of their player, they can often go years before ever seeing their Red parallel. It's more common to find collectors missing the third and final piece of the run – the Red parallel.
Serial number significance has become popular among collectors. The first, last, and jersey number numerators are seen by many to be the most desirable. This Derek Jeter 1998 Donruss Crusade Red possesses one of the three desirable serial numbers – 001/025. Although in situations like this where rarity completely nullifies any serial number significance, this kind of things is really just icing on the cake. Cards like this draw serious attention regardless of what serial number exists. It's the same reason why condition flaws on cards in this category are often excused. Just adding an example in any condition is a major feat!
To see the current eBay auctions for 1998 Donruss Crusades, click here.