Have you visited our store? Click here.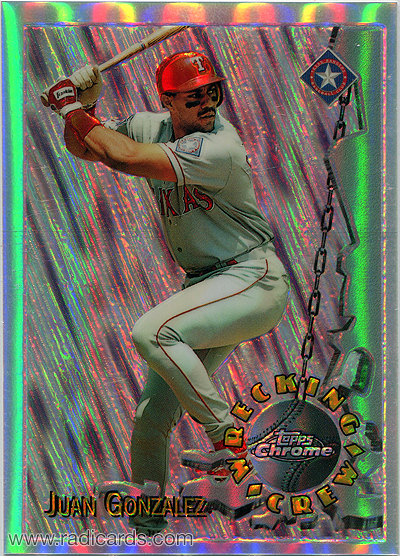 The 1996 Topps Chrome Wrecking Crew Refractor set is one of those buried gems from the more interesting later half of the 1990s. This set is found in the inaugural release of Topps' flagship product. Singles from this 15-card set were inserted into packs of 1996 Topps Chrome at a rate of 1:72. It's a beautiful set. The etching on the diagonal lines in the background really makes the design feel like it pops off the card. That feature coupled with the refractor finish make this an excellent product. I just love this set. This is one of those Spot On occasions. You know the type, the Done Right type. Yep. This is one of those.
There are times in this hobby when something captures my visual sense with fierce attention and firm commitment. As years pass, even time can't break the silence in the space between my eyes and a card. Upon each encounter, I'm stunned time and time again. I suppose a lot of that can be chalked up to my passion for the hobby. But I do find beauty in design and the 1996 Topps Chrome Wrecking Crew Refractor set showcases this presentation classfully. Sometimes I think that some releases were produced years ahead of their times. While it still happens, I see this much less frequently in today's market. It's as if there was once a time when careful precision was carried out to such a strategic degree that the very product produced has no title to be assigned other than amazing.
I can remember stopping by the card shop on my way to school in 2007. I had this card with me through the day and remember enjoying it in my office under the fluorescent light shining down from below my desk shelf. I remember breaking from time to time from my studies to enjoy the appeal of this particular Juan Gonzalez card from the 1996 Topps Chrome Wrecking Crew Refractor set. Even today, it's worth breaking for.
What's one card by which you're consistently impressed?
To view the current eBay auctions for 1996 Topps Chrome Wrecking Crew Refractors, click here.
---
Set Information:
| Set | Total Cards | Odds |
| --- | --- | --- |
| Base | 15 | 1:24 |
| Refractor | 15 | 1:72 |
1996 Topps Chrome Wrecking Crew
Checklist:
| Card # | Player(s) | Card # | Player(s) |
| --- | --- | --- | --- |
| WC1 | Jeff Bagwell | WC9 | Ken Griffey Jr. |
| WC2 | Albert Belle | WC10 | Fred McGriff |
| WC3 | Barry Bonds | WC11 | Mark McGwire |
| WC4 | Jose Canseco | WC12 | Mike Piazza |
| WC5 | Joe Carter | WC13 | Frank Thomas |
| WC6 | Cecil Fielder | WC14 | Mo Vaughn |
| WC7 | Ron Gant | WC15 | Matt Williams |
| WC8 | Juan Gonzalez | | |
1996 Topps Chrome Wrecking Crew