Have you visited our store? Click here.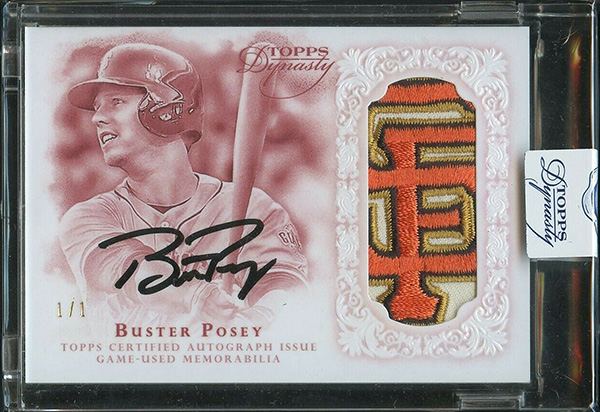 Release Date: 12/16/2015
Availability: 1 card per box; 5 boxes per case
Price: $455+ per box
2015 Topps Dynasty consists of 448 cards and is the second year of the installment. Each card is autographed, features a complex patch, and comes in a hard case. Every card was made in three different colors: Blue, Emerald, and Red – each with 5 different photo variations for a total of 15 unique cards for each player in the set.
The cards are printed on high gloss paper with a pearl finish and all autographs are on-card. The price point for this product is high with an average cost north of $450. What you get for that price is one card. 2015 Topps Dynasty offers an excellent player roster that includes Bryce Harper, Mike Trout, Sandy Koufax, Ken Griffey, jr., Cal Ripken Jr., and Will Ferrell just to name a few.
In addition to the Autograph Patch cards, you can also find Dual Relic Greats Autographs, which are serial numbered to 5 copies but can also be found as 1/1 parallels and includes names like Hank Aaron, Ozzie Smith, and Sandy Koufax.
Also available are Cut Signatures, and Dual Relic Cut Signatures, which feature big names like Babe Ruth, Honus Wagner, Ty Cobb, Ted Williams, Joe DiMaggio, and Roberto Clemente.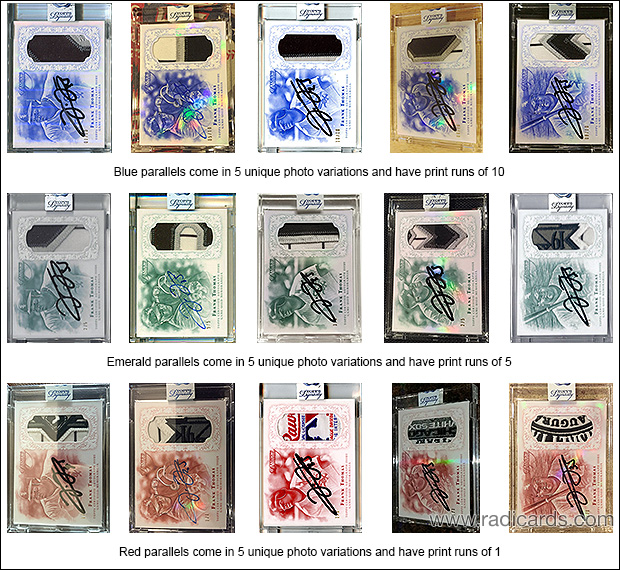 To see what's currently on eBay from 2015 Topps Dynasty, click here.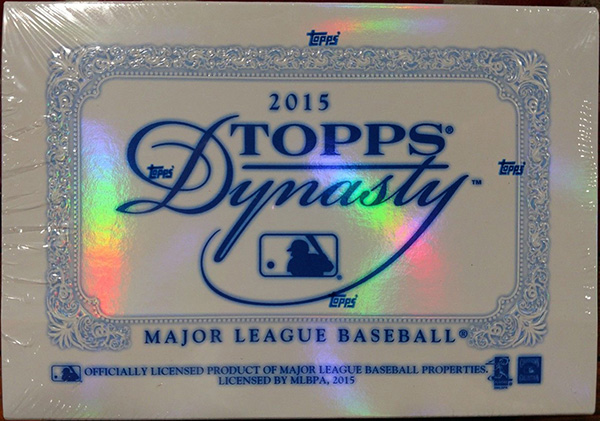 ---
Set Information:
| Important Date(s) | |
| --- | --- |
| December 16, 2015 | Release Date |
| December 31, 2017 | Exchange Deadline |
2015 Topps Dynasty
| Set | Total Cards | Print Run(s) | Odds |
| --- | --- | --- | --- |
| Autograph Patches | 448 | 10 | 1:1 |
| Autograph Patches Emerald | 448 | 5 | – |
| Autograph Patches Red | 448 | 1 | 1:17 |
| Cut Signatures | 99 | 1 | 1:77 |
| Dual Relic Cut Signatures | 10 | 1 | 1:755 |
| Dual Relic Greats Autographs | 35 | 5 | 1:38 |
| Dual Relic Greats Autographs 1/1 | 35 | 1 | 1:189 |
2015 Topps Dynasty