Have you visited our store? Click here.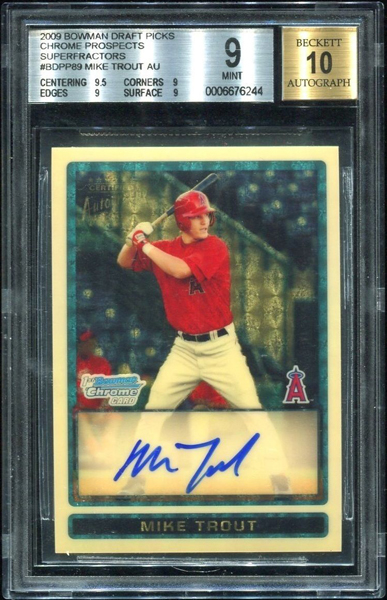 The hobby's most valuable card of the sport's most popular active player makes another market appearance, this time with Goldin Auctions. In a previous post, I covered the initial acquisition of this card by Dave Oancea a.k.a. Vegas Dave, for a then astounding $400,000.
Vegas Dave bought the Mike Trout 2009 Bowman Chrome Superfractor in May of 2018 and has decided to part with the card just 26 months later. In that time, the opening bid for this current auction is over twice what he paid for it.
Also in that time, Mike Trout has collected his third MVP Award, a feat achieve by very few and he still has 10 years left on his contract with the Anaheim Angels. There aren't any limits to what Mike Trout can accomplish. Just 9 years into his professional baseball career and his accolades already rival those of some of baseball's all-time legends. It's no wonder his hobby presence is of colossal significance.
In a recent Goldin Auctions lot, the Red Refractor brother of this card sold for $922,500 and that card has a print run of 5. With the always impressive singular print run of most Superfractors, one could argue the Superfractor is 5x more valuable than the Red Refractor, which would bring its estimated current value to over $4.6 million. We all know that while the math checks out, it rarely if ever equates to realized hobby closing prices. However, I wouldn't be surprised if this card closed at an even higher figure. If so, it would make the Mike Trout 2009 Bowman Chrome Superfractor the most valuable modern trading card in existence. And if Mike Trout continues his barrage of performance wonder at the same pace over the remaining years of his career, this card is sure to annihilate sale records time and again for years to come.
You just don't come across the stuff of legends everyday. It's the perfect social inventory for campfires and bedtime stories. Get ready to witness history.
Click here to see the auction.
To see the current eBay auctions for the 2009 Bowman Chrome Mike Trout, click here.