Have you visited our store? Click here.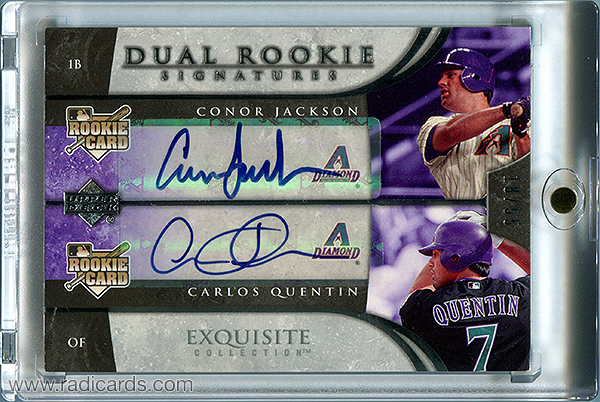 I think this is my first card from 2006 Exquisite Collection and it was purchased intentionally. Conor Jackson and Carlos Quentin both had rookie years in 2006 so their official rookie year cards were issued that year. This one features both players and while their autographs are on stickers, they present quite well on this particular specimen.
I like the colors on this card. The purple, gray, black, with blue ink seems to work. The ink on this card appears to feature some small amount of deterioration as the blue color has gotten darker. It has been 16 years to the day since this card was issued so this is probably normal. Given that it's now stored away and out of exposure to light, I expect it to remain unchanged from its current state. Never leave signed cards out on display; autographs are guaranteed to fade over time.
To see what's currently on eBay from 2006 Exquisite Collection, click here.
---
Set Information:
| Important Date(s) | |
| --- | --- |
| January 1, 2007 | Release Date |
2006 Exquisite Collection
In 2006, Upper Deck launched its inaugural release of Exquisite Collection baseball cards. It was one of the last 2006 products to be issued and one that found its release date the following year albeit the first day of said year. 2006 Exquisite Collection was issued during the prime relic era with cards featuring relics, autographs, or both. It's considered a high-end product with a small total production output and premium per-pack price point, which have been flagship staple characteristics of this ultra prime product. Exquisite Collection has become, and continues to be, a collector favorite.
2006 Exquisite Collection is an interesting issue that's likely to collect attraction for those new to the issue. Thing is, because of its strict focus on relics and autographs, it feels a lot like many of the other high-end issues from the same era, which makes it difficult to feel unique. What sets it apart is its low print runs throughout and super high quality presentation across the board. The price point is also in a different stratosphere, which means it targets a specific income level. All in all, however, 2006 Exquisite Collection is a nice introduction to the baseball market.
To see what's currently on eBay from 2006 Exquisite Collection, click here.