Have you visited our store? Click here.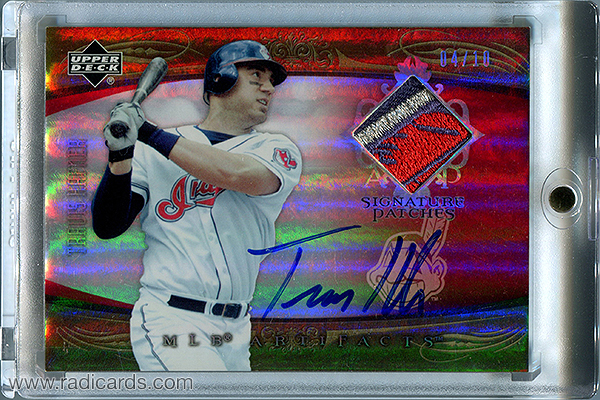 I found this Travis Hafner 2005 Artifacts Signature Patches in a bargain bin at a show this year and thought it'd make an excellent image for this set. I got this card for less than $10, which is amazing considering it contains a small print run, complex patch, and an on-card autograph. 2005 Artifacts is a treasure by design but ultimately, that's the only thing that sets it apart from competing manufacturers of its era. The release contains 22 different sets, 16 of which feature the GU/AU concept. The upside: it provides player collectors ample opportunities to add interesting cards to their collections. The downside: sometimes too many options can diminish desirability. All in all, 2005 Artifacts is a very attractive release with lots of interesting cards.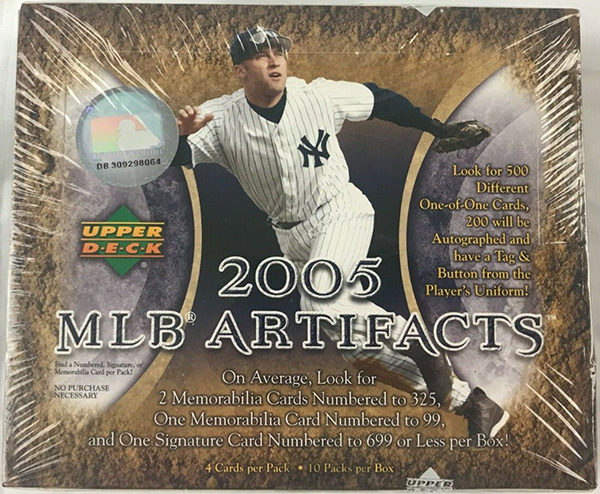 ---
Set Information:
| Important Date(s) | |
| --- | --- |
| April 2005 | Release Date: Cards 1-200 |
| February 2006 | Release Date: Cards 201-285 issued in 2005 Upper Deck Update |
| April 11, 2008 | Exchange Deadline |
2005 Artifacts
2005 Artifacts was issued in 4-card packs, which came 10 packs per box, and 20 boxes per case. Cards 1-100 feature active veterans, cards 101-150 feature prospects, and cards 151-200 feature retired stars. High series (cards 201-285) were issued in packs of 2005 Upper Deck Update. It's a beautiful set aesthetically with many parallels containing a holofoil finish, which over gradient backgrounds really makes these cards pop. In-hand, they are stunning.
2005 Artifacts was issued during the prime era of GU/AU cards. This is a supreme example of a set that overused the concept with 16 different insert sets containing one of these characteristics and set counts upwards of 100 cards. Minor differences from set to set make a lot of this stuff look the same. Given the depth of the release, general odds are provided as a blanket over all GU/AU cards.
The benefit to this set, however, is if you collect a guy who's featured somewhere in it, you have a chance to chase some really interesting cards. These cards are beautiful and they scan really well.
To see what's currently on eBay from 2005 Artifacts, click here.
Set
Total Cards
Print Run(s)
Odds
Base
285
1-100 /-
101-150 /1350
151-200 /1999
201-285 /799
1-100: 4:1
101-150: 1:5
151-200: 1:3
201-285: Issued in '05 UD Update
Rainbow Blue
285
100
1-200: Overall Parallel Odds: 1:10
Rainbow Red
285
50
1-200: Overall Parallel Odds: 1:10
Rainbow Gold
285
25
1-200: Overall Parallel Odds: 1:10
Rainbow Platinum
285
1
1-200: Overall Parallel Odds: 1:10
AL/NL Artifacts
99
100-325
Overall GU Odds: 1:3
AL/NL Artifacts Rainbow
99
50-99
Overall GU Odds: 1:3
AL/NL Artifacts Signatures
100
30
Overall AU Odds: 1:10
AL/NL Rare Artifacts Signatures
93
1
Overall AU Odds: 1:10
Autofacts
100
15-699
Overall AU Odds: 1:10
Autofacts Rainbow
100
1
Overall AU Odds: 1:10
Dual Artifacts
100
44-99
Overall GU Odds: 1:3
Dual Artifacts Rainbow
100
25
Overall GU Odds: 1:3
Dual Artifacts Signatures
100
10
Overall AU Odds: 1:10
Dual Artifacts Bat
12
25
Overall GU Odds: 1:3
MLB Apparel
100
100-325
Overall GU Odds: 1:3
MLB Apparel Rainbow
100
50-99
Overall GU Odds: 1:3
MLB Apparel Autographs
100
30
Overall AU Odds: 1:10
MLB Rare Apparel Autographs
96
1
Overall AU Odds: 1:10
Patches
94
3-50
Overall GU Odds: 1:3
Signature Patches
96
4-10
Overall AU Odds: 1:10
UD Promos
100
–
Only made for cards 1-100
2005 Artifacts