Have you visited our store? Click here.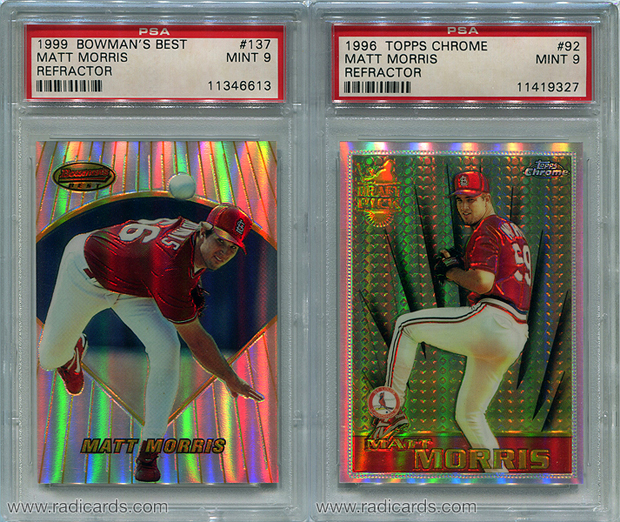 Back in 2008 or thereabouts, I spent whatever free time I had at a then running local baseball card shop. In between long study sessions on campus during the week or at home on the weekends, I'd stop by this shop to dig through the various dollar boxes. There were many and all were separated by sport and the contents within them was cherry. It was a primary reason why I'd go there. Some days I'd go and sit for 3.5 hours just digging through these boxes. It's easy to spend money in situations like this especially when the inventory is top quality and the prices are so dang good. At almost every instance, I'd walk away with some excellent pieces.
Something happens when I dig through so many cards at once. While going through so many thousands of cards, I'd see so much different stuff. After I pull a stack and hit the cash register, I'm left with my thoughts, which are there to marinate. I think of some of the cards I didn't buy and perhaps would like to add. When this happens, I write them down to the best of my abilities and plan a return visit in an effort to find and acquire the missing pieces.
This is typical behavior with me when it comes to dollar boxes. I see so much and for the price I'm left with thoughts of stuff I didn't buy. After some small amount of time, I begin to want more from those boxes. So I go back and dig until I find what I'm after.
This is what happened on this day at the card shop in 2008. I stopped by one evening and pulled a stack, paid, and returned home. During that visit, I came across examples of the only two base refractors from 1996 depicting Matt Morris – Bowman's Best and Topps Chrome. Thing is, I didn't buy 'em in the first round. When I got home, after some thought I decided I would actually like to have them.
Back in 1996, the Beckett price guide was very influential to the way I collected. If a rookie card was of paramount significance in the set, say as the high dollar card, I'd make it a point to get an example into my collection. At the time, the Matt Morris rookie card was that card.
These two refractors reminded me of that year and that time, that era. I wanted to have them because of their connection to my youth. In 1996, I was just 8 years into collecting and really getting to know my stuff when it came to what to collect. When I wasn't player collecting Frank Thomas or Ken Griffey Jr., I focused on rookie cards of key players. In a lot of ways, not much has changed. However, I no longer PC Griffey and I'm a lot more selective.
On my return visit to the card shop with the specific intention of adding the two aforementioned Matt Morris Refractor rookie cards, I sat and dug carefully through each of the baseball dollar boxes. I didn't see any Matt Morris cards this time. So I went through the boxes a second time – still no Matt Morris. I asked the owner if he'd be willing to help sift through the boxes with me. So there we were, two guys going through thousands upon thousands of cards in Card Savers looking for two $1 cards. Some would argue this is an incredibly poor use of time. I didn't care though; I had fun going through the cards but was getting antsy. After a number of hours, we called it quits and I accepted they'd been found and purchased by another customer in between my visits. I was somewhat disappointed that I didn't take these cards more seriously during my first visit. I vividly remember how I felt at the time. I was kicking myself.
Over the years, this memory would wash ashore and I'd remember those dollar boxes. I'd remember the two Matt Morris cards that got away for such an incredible price. I'd remember not taking my searches more seriously. I've gotten better about this over the years and it's because of these two cards.
While doing research for an article on misidentified graded cards, I came across a mislabeled PSA 9 example of the Matt Morris 1996 Bowman's Best Refractor. When I saw it, I figured I'd go ahead and watch it and if it didn't pop too high, I'd see if I could add it. While waiting, I had a look at the sellers other items. To my delight, a PSA 9 example of the Matt Morris 1996 Topps Chrome Refractor was also available. I won both for a nominal price, not $2 but not much more.
Depicted are the two cards that eluded me in 2008 but were finally captured in 2017. This pair of cards serves as a constant reminder of the importance of taking searches seriously when shopping the dollar bins or anywhere else for that matter.
To view the current eBay auctions for 1996 Topps Chrome refractors, click here.