Have you visited our store? Click here.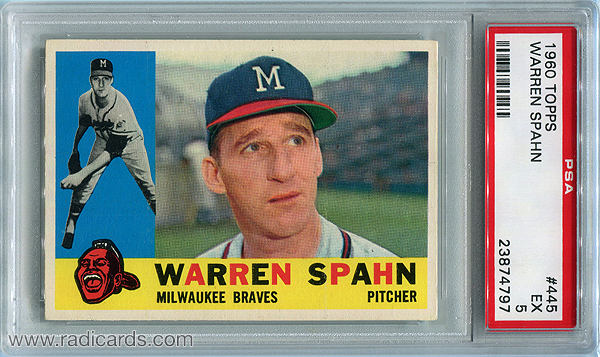 If there's a takeaway to learn from collecting vintage from 1948 forward it's that everything is available any time you want it. Online shopping makes this possible. What this does is allow for significantly more scrutiny with every acquisition. If there's literally no end to the availability of any card from this era, we have the luxury of being as selective as we want to be. For me, I'm extremely selective when I'm in the market for vintage sports cards. I tend to prefer PSA graded examples and I pay more attention to the eye appeal of the card itself rather than the assigned grade. I care much less about the grade.
What I have here is a 1960 Topps Warren Spahn
. It's a PSA5 but when I saw this card, that didn't concern me. This card stood out because of its incredible centering. I've never seen such gorgeous centering on a PSA5; it just doesn't happen. Even more impressive is that this card comes from a set that suffers from notoriously bad centering. These are the things that catch my eye. I'd rather have low grade but great looking baseball cards over high grade examples with poor eye appeal. This card showcases that preference.
To see what's currently on eBay from 1960 Topps, click here.