Have you visited our store? Click here.

Sometimes you can look at a product and immediately identify it with some high form of quality. 2003 Timeless Treasures baseball cards fall into this category. When I got back into the hobby, I had a lot of learning to do to get caught up. This set came out right around the same time I jumped back into the market as a buyer. It wouldn't be until late 2011 that I'd be able to pull this 4-card run together. Granted, given the amount of information I had to learn leading up to 2011, there was plenty to keep me busy.
I love the design shown here. The artistic rippled background with the lines on either side drawn along the y-axis and the foil or holofoil areas really make these cards come to life. The Timeless Treasures name was, at the time, owned by Donruss. Being a long time advocate of the brand, I immediately appreciated 2003 Timeless Treasures. The set features former and then current players alike. The 100-card set is loaded with megastars almost exclusively.
2003 Timeless Treasures was released in July of 2003. The SRP at the time was $100 per tin. This price point hasn't changed to any significant degree with the many Timeless Treasures releases under the Panini umbrella. This was, and still is, a high-end product. With just four cards per tin, you're looking at $25 per card. That's a lot! But again, much like the price point, the quality of these cards is also high.
Let's go through it here. The base card is found with three additional parallels for a total of 4 unique versions of any single card in the 100-card set of 2003 Timeless Treasures baseball cards. If you player collect any one guy in the set or just wanna put together a full run of a player depicted on your favorite team, here's what to expect:
Base: These cards feature flat gold foil on the card fronts, a gray color theme, and hold a stated print run of 900 copies.
Silver: These cards feature silver holofoil on the card fronts, a silver color theme, and hold a stated print run of 50 copies.
Gold: These cards feature gold holofoil on the card fronts, a gold color theme, and hold a stated print run of 10 copies.
Platinum: These cards feature blue holofoil on the card fronts, a blue color theme, and hold a stated print run of just 1 copy.
This isn't an easy run to pull together. The parallels have very small print runs making them rare to mythic rare. I love the set, however, and believe that any version of these cards would make an excellent addition to any collection. This set also features a variety of inserts featuring autographs and memorabilia. If you're looking to mix it up with something simple, yet high quality, grab some 2003 Timeless Treasures.
To see what's currently on eBay from 2003 Timeless Treasures, click here.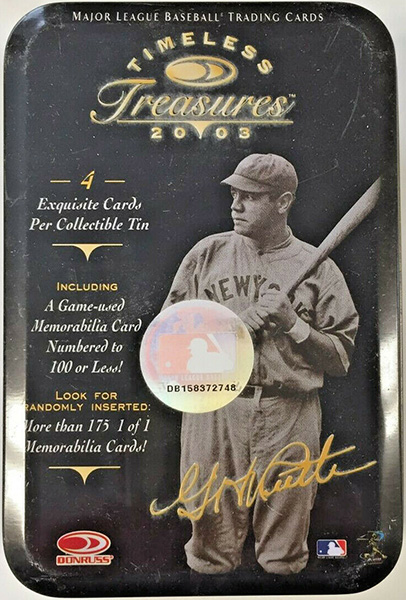 ---
Set Information:
| Important Date(s) | |
| --- | --- |
| July 2003 | Release Date |
2003 Timeless Treasures
2003 Timeless Treasures is a 100-card set issued in 4-card tins with an SRP of $100.00. There are 15 tins per case. The checklist was made alphabetically by the player's first name.
| Set | Total Cards | Print Run(s) | Odds |
| --- | --- | --- | --- |
| Base | 100 | 900 | 4:1 |
| Silver | 100 | 50 | – |
| Gold | 100 | 10 | – |
| Platinum | 100 | 1 | – |
| Award | 11 | 50-100 | – |
| Award Autographs | 8 | 5-15 | – |
| Award Prime | 6 | 15-50 | – |
| Award Prime Autographs | 6 | 1 | – |
| Award MLB Logos | 2 | 1 | – |
| Classic Combos | 35 | 100 | – |
| Classic Combos Autographs | 26 | 5-50 | – |
| Classic Prime Combos | 35 | 25 | – |
| Classic Prime Combos Autographs | 26 | 1 | – |
| Game Day | 11 | 20-100 | – |
| Game Day Autographs | 11 | 1-25 | – |
| Game Day Prime | 4 | 5-75 | – |
| Game Day Prime Autographs | 4 | 1 | – |
| HOF Cuts | 4 | 1 | – |
| HOF Combos | 15 | 25-100 | – |
| HOF Combos Autographs | 10 | 1-25 | – |
| HOF Prime Combos | 11 | 5-25 | – |
| HOF Prime Combos Autographs | 9 | 1 | – |
| HOF Induction Year Combos | 10 | 25 | – |
| HOF Induction Year Combos Autographs | 4 | 5 | – |
| HOF Letters | 11 | 5-25 | – |
| HOF Letters Autographs | 11 | 1 | – |
| HOF Logos | 18 | 1-35 | – |
| HOF Logos Autographs | 15 | 1 | – |
| HOF Materials | 50 | 25-100 | – |
| HOF Materials Autographs | 36 | 5-50 | – |
| HOF Numbers | 20 | 5-50 | – |
| HOF Numbers Autographs | 16 | 1 | – |
| Home Run | 12 | 20-100 | – |
| Home Run Autographs | 12 | 1-25 | – |
| Home Run MLB Logos | 2 | 1 | – |
| Material Ink | 58 | 25-100 | – |
| Milestone | 5 | 24-100 | – |
| Milestone Autographs | 4 | 1 | – |
| MLB Logo Ink | 22 | 1 | – |
| Past and Present | 11 | 100 | – |
| Past and Present Autographs | 6 | 5-25 | – |
| Past and Present Letters | 6 | 25-75 | – |
| Past and Present Letters Autographs | 3 | 1 | – |
| Past and Present Logos | 9 | 5-75 | – |
| Past and Present Logos Autographs | 4 | 1 | – |
| Past and Present Numbers | 9 | 5-75 | – |
| Past and Present Numbers Autographs | 4 | 1 | – |
| Past and Present Patches | 5 | 5-20 | – |
| Past and Present Patches Autographs | 4 | 1 | – |
| Post Season | 12 | 25-100 | – |
| Post Season Autographs | 6 | 5-15 | – |
| Post Season Prime | 9 | 5-75 | – |
| Post Season Prime Autographs | 6 | 1 | – |
| Prime Ink | 51 | 5-50 | – |
| Rookie Year | 31 | 50-100 | – |
| Rookie Year Combos | 7 | 25-50 | – |
| Rookie Year Combos Autographs | 5 | 1 | – |
| Rookie Year Autographs | 19 | 10-25 | – |
| Rookie Year Letters | 11 | 15-35 | – |
| Rookie Year Letters Autographs | 6 | 1 | – |
| Rookie Year Logos | 18 | 10-50 | – |
| Rookie Year Logos Autographs | 10 | 1 | – |
| Rookie Year Numbers | 17 | 15-50 | – |
| Rookie Year Numbers Autographs | 9 | 1 | – |
| Rookie Year Parallel | 24 | 42-99 | – |
| Rookie Year Patches | 5 | 10-15 | – |
| Rookie Year Patches Autographs | 4 | 1 | – |
2003 Timeless Treasures