Have you visited our store? Click here.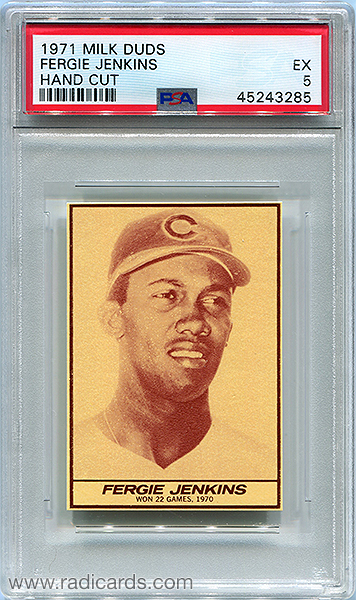 1971 Milk Duds is a 69-card set released on the backs of 5-cent boxes of the Milk Duds candy. The sepia box color gives these cards a classic vintage presentation. Accurate hand cuts put these cards at about 1.81″x2.63″ in size. The set contains cards of 32 AL and 37 NL players. Full uncut boxes carry higher premiums than their hand cut back panel, or individual card counterparts but they sell well in any format. While card backs are blank, card numbers appear on the Milk Duds box flaps. Each box number can be found featuring one of three different players as indicated in the following checklist. While the cards are the same, Pete Rose, Harmon Killebrew, and Brooks Robinson were each printed on two separate numbered boxes and together bring the master set to 72 unique boxes.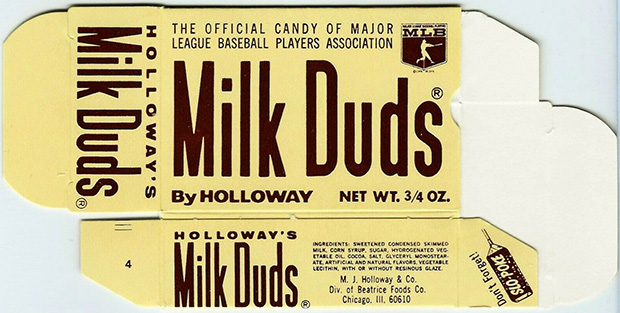 To see what's currently on eBay from 1971 Milk Duds, click here.
---
Checklist:
| Card # | Player(s) | Card # | Player(s) |
| --- | --- | --- | --- |
| 1a | Frank Howard | 13a | Dave Johnson |
| 1b | Fritz Peterson | 13b | George Scott |
| 1c | Pete Rose | 13c | Tom Seaver |
| 2a | Johnny Bench | 14a | Bill Freehan |
| 2b | Rico Carty | 14b | Bud Harrelson |
| 2c | Pete Rose | 14c | Manny Sanguillen |
| 3a | Ken Holtzman | 15a | Bob Gibson |
| 3b | Willie Mays | 15b | Rusty Staub |
| 3c | Cesar Tovar | 15c | Roy White |
| 4a | Willie Davis | 16a | Jim Fregosi |
| 4b | Harmon Killebrew | 16b | Catfish Hunter |
| 4c | Felix Millan | 16c | Mel Stottlemyer (Stottlemyre) |
| 5a | Billy Grabarkewitz | 17a | Tommy Harper |
| 5b | Andy Messersmith | 17b | Frank Robinson |
| 5c | Thurman Munson | 17c | Reggie Smith |
| 6a | Luis Aparicio | 18a | Orlando Cepeda |
| 6b | Lou Brock | 18b | Rico Petrocelli |
| 6c | Bill Melton | 18c | Brooks Robinson |
| 7a | Ray Culp | 19a | Tony Oliva |
| 7b | Willie McCovey | 19b | Milt Pappas |
| 7c | Luke Walker | 19c | Bobby Tolan |
| 8a | Roberto Clemente | 20a | Ernie Banks |
| 8b | Jim Merritt | 20b | Don Kessinger |
| 8c | Claud Osteen (Claude) | 20c | Joe Torre |
| 9a | Stan Bahnsen | 21a | Fergie Jenkins |
| 9b | Sam McDowell | 21b | Jim Palmer |
| 9c | Billy Williams | 21c | Ron Santo |
| 10a | Jim Hickman | 22a | Randy Hundly |
| 10b | Dave McNally | 22b | Dennis Menke (Denis) |
| 10c | Tony Perez | 22c | Boog Powell |
| 11a | Hank Aaron | 23a | Dick Dietz |
| 11b | Glen Beckett (Glenn) | 23b | Tommy John |
| 11c | Ray Fosse | 23c | Brooks Robinson |
| 12a | Alex Johnson | 24a | Danny Cater |
| 12b | Gaylord Perry | 24b | Harmon Killebrew |
| 12c | Wayne Simpson | 24c | Jim Perry |
1971 Milk Duds