Have you visited our store? Click here.
I've specifically singled out baseball cards here because we're comparing two versions of the same card depicting arguably the most collected modern baseball star so results may vary by sport.
Coincidentally, in their inauguration, baseball cards were manufactured in much smaller or otherwise very difference dimensions than the common 2.5 x 3.5 dimension we've all come to recognize as the industry standard. Conversely and in current times, different dimensions have come to realize varying degrees of collectibility when compared to that of standard-sized baseball cards. In my experience, difference sized cards often come with storage inconveniences, which is likely why many collectors prefer the standard issue over the mini or jumbo.
Let's compare two listings that showcase this claim to some degree in the modern era. For this exercise, we're going to compare two different Platinum parallels of Mike Trout 2013 Topps #27: standard-size and mini.
Here are the auction results for the standard-sized Mike Trout 2013 Topps Platinum 1/1:
Sold: October 17, 2019
# of Bids: 26
Final Price: $1,228 (+$20 Shipping)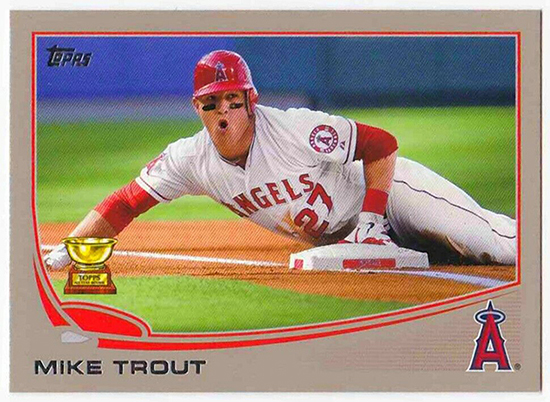 Meanwhile the Mike Trout 2013 Topps Mini Platinum 1/1 goes unsold at a $1299 BIN/OBO with Free Shipping. It's important here to note that the price was originally $1499 BIN.
Btw, if you ever see two of the same 2013 Topps Platinum 1/1s on eBay listed at the same time and one doesn't state that it's a mini, take a look at the placement of the 1/1 stamp. Stamps are located on the fronts of standard-sized cards while the stamps are printed on the backs of minis.
To see the current eBay auctions for the 2013 Topps Mike Trout, click here.