Have you visited our store? Click here.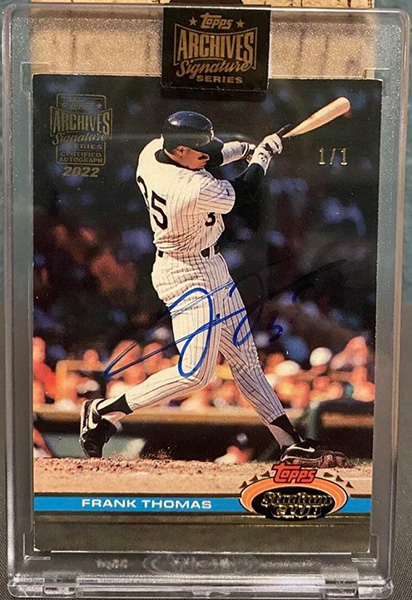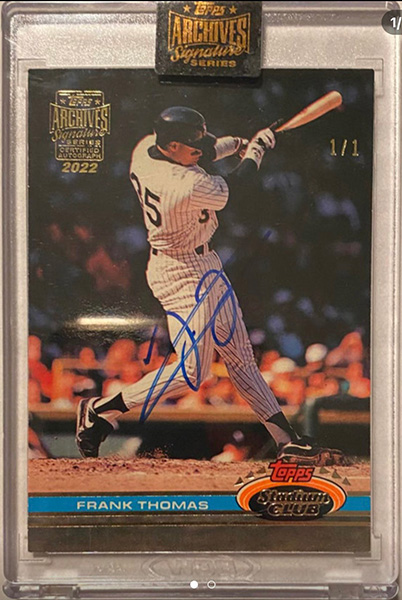 In 2015, Topps released its inaugural run of Archive Signature Series, an issue made exclusively of buybacks and since then, the release has watered down the concept to the maximum extent possible. Not all players from previous years get representation from year to year but when they do, the card overlap throughout is very similar and for some cards, it's identical.
For example, if Topps offered a buyback of the 1990 Topps Frank Thomas RC one year and that one is serial number to 5 copies, they could do it again the following year with another or same print run. This is the kind of thing that can really defuse excitement for the product upon release. It can be fun, however, to pull cards of our favorite players albeit rare instances unless, of course, one collects guys like Marquis Grissom, John Olerud, and Carlos Baerga who all coincidentally had rookie years in 1990.
For a product that offers a single card per pack and an $80 price point on average, one would hope to pull something a little better than these dudes from 1990 who's cards, while nice in their own right, aren't worth $80.
In 2022, the Frank Thomas run from 2022 Topps Archive Signature Series is varied like previous years but for some reason, Topps issued two examples of his famous 1991 Stadium Club card. To be fair, there are, in fact, two versions of this card: C* and D* in the copyright area on card backs. I doubt this much thought was put into it when Topps reps selected these two cards. No, but I do have a pretty good idea for why it happened.
My guess is that more than one person was responsible for acquiring the buybacks and since this is such a popular card, two of them selected it. This problem could've been avoided by doing a quick per-player review of the buybacks to check for duplication before they were sent to the players to be signed. That we see two of the same card proves this process didn't actually happen in the 2022 release. The reason for that could be attributed to working quickly to meet project milestones. This kind of working style can lead to substandard final products such as this one.
Alas, shown are the two known examples of the 1991 Stadium Club Frank Thomas card in 2022 Topps Archive Signature Series and both contain 1/1 stamps.
To see what's currently on eBay from Topps Archive Signature Series, click here.