Have you visited our store? Click here.
The other day, I was talking with my buddy, Tim Dehring and I thought that it might be fun for he and I to collaborate on a post. My idea was for each of us to pick a card from our collections completely at random (without looking) and write about them. The following are our random picks.
Patrick's random pick: Manny Ramirez 1994 Upper Deck Next Generation #15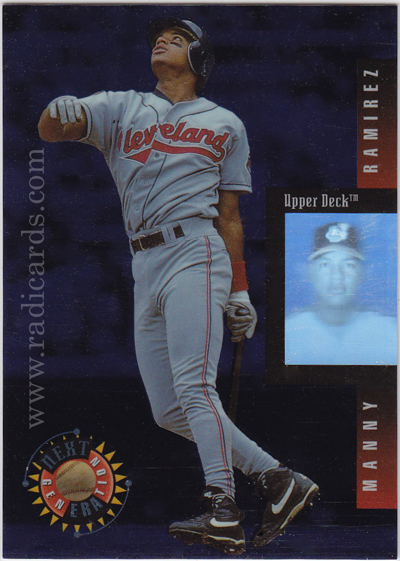 I closed my eyes, reached into my box and grabbed a card at random. The result: a Manny Ramirez from '94 Upper Deck Next Generation. This card is actually beautiful by design. It kinda reminds me of a 1994 SP Holoview, which is what I initially thought it was once I opened my eyes. The simple use of a portrait hologram and foil coating is a staple of the 90's. I really like the Nex Gen baseball logo at the bottom left; it resembles something out of a scrapbook. These Next Gen cards were inserted into packs of 1994 Upper Deck series 2 at a rate of 1:20. Since there are 18 cards in the Next Gen set, the odds of pulling Manny are: 1:360 packs or 1:10 boxes.
I can remember buying a few packs of this stuff at some sporting goods retail chain back in '94. After I cashed out, mom took me out for lunch. I couldn't wait to eat pizza and open my new packs of baseball cards. As we sat in the red-cushioned booths waiting for our pie, I ripped through my packs. I pulled the staple guys, such as Mattingly, Maddux, Glavine, Clemens, Griffey and Thomas. I was stoked to have pulled Frank Thomas. A few packs in there it was… the Mantle header card! I couldn't believe I pulled the Mantle header! I was so excited, I yelled to mom, "I pulled a Mantle!!!" She could tell I was excited and she was excited for me. As soon as I got home, I looked up the card to see how much it was worth. At the time, the card was worth $8 and for a pre-teen collector, that was big bucks!
Back to Manny… I never did pull a Next Gen card in '94 and it wasn't until many years later that Manny entered my collection.
Does Manny still weigh 195lbs? This card depicts Manny in his prime and he still looking like a normal ball player. With those gnarly dreadlocks, today he looks more like the Predator. He can still hit, that's not the issue, he just looks much larger than he did in the mid-90's. PED? Not too sure. You make the call.
To view the current eBay auctions for Manny Ramirez baseball cards, click here.
Tim's random pick: Barry Bonds 1995 Ultra Power Plus #5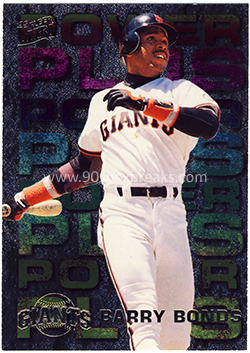 Barry Bonds was a hell of a player, regardless of his link to PEDs or steroids or whatever you want to call it. And it seems that I wasn't alone in thinking that, because he was featured in an insert in 1995 Ultra called Power Plus.This six-card standard-size set was inserted one in every 37 first series packs. The six players portrayed are not only sluggers, but also excel at another part of the game. Unlike the 1995 Ultra cards and the other insert sets, these cards are 100 percent foil. The cards are numbered on the bottom right as "X" of 6 and are sequenced in alphabetical order by league.
On the back of this card, it reads: "With all the talk surrounding the Griffeys, Bagwells, and Thomases in '94, the late season resurgence of this three-time NL MVP went almost unnoticed." Well, I don't recall much about Bonds really, mainly because I was one of the 14 year old fans that admired Frank Thomas and Ken Griffey, Jr., much like most of the collecting world. So it seems as if that first sentence was written just for me.
But anyway, getting back to this card and why I chose it. Well, my 3 year old picked it out of the box and so I went with it. The card front is all foil, and so the cards are very condition-sensitive. Very simple fronts and the backs featured a small bio of the player. Very simple but very eye-catching nonetheless.
Only 6 cards in this set, but being inserted at a rate of 1:37 meant that every other box would contain one. Now if you wanted to find a specific player, you're looking at 1:222 packs, or roughly 6 boxes.
They may not be rare by any means, but still a tough find.
To view the current eBay auctions for Barry Bonds baseball cards, click here.
Conclusion:
Upon review of our random picks, I noticed that both cards depict players that are thought to have taken PED's. I find this very interesting. What are the odds? (Likely very high).
Question of the Day:
Who do you think is next on the list for PED accusations?