Have you visited our store? Click here.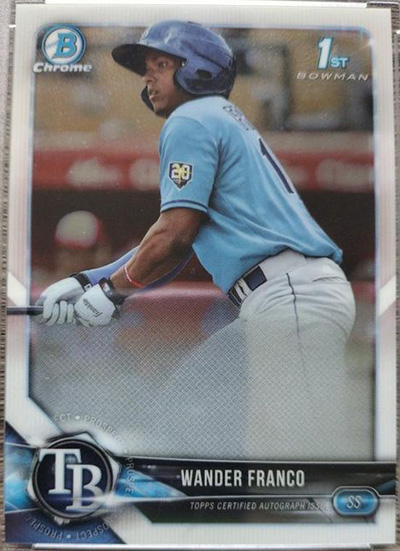 A collector brought this card to my attention and since it's a first appearance for me, I figured it'd be nice to chronicle its existence here for you to see.
This is likely a prototype.
No known example of a Wander Franco 2018 Bowman Chrome Prospects exists in any mainstream database. And yet here we are. So you're probably asking, "If no record exists, why do I see it here?"
Every year, there are always a small hand full of young guys who are prospected heavily. Wander Franco was a key prospect in the 2018 and 2019 seasons.
Companies will often produce prototypes of releases for the purpose of design review, which is done internally. Cards like this typically feature characteristics that wouldn't otherwise be there for the sake of seeing how things will look in mass production.
For example, the card might include the RC logo/symbol, or boilerplate statements to show how text will appear, and the text itself isn't always accurate. But accuracy isn't the point.
For example, the statement on the bottom right of the back of this card says: "*2018 Will be First Professional Season." This is false as Wander Franco made his MLB debut in 2021. Accuracy here doesn't really matter. The point is just to see how things will look.
Prototypes often feature players who are hot at the moment of production. This concept dates pretty far back. In 1989, Upper Deck produced prototypes featuring two Anaheim Angels players: DeWayne Buice and Wally Joyner.
To view the current eBay auctions for 1989 Upper Deck promos, click here.
So here is a prototype of a 2018 Bowman Chrome Prospects featuring Wander Franco, who was a hot prospect at the time. It's unknown how many copies of this card exist but likely very few.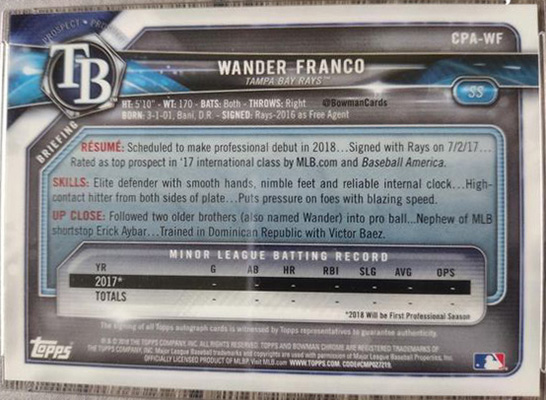 To view the current eBay auctions for Wander Franco baseball cards, click here.
Have more information on this card? Please share in the comments area below.