Have you visited our store? Click here.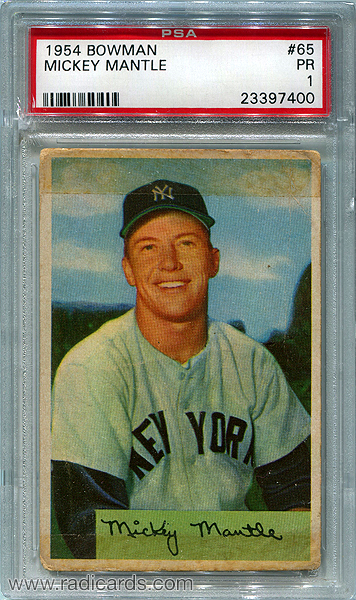 1954 Bowman is a 224-card set featuring the still larger dimension of 2.5″x3.75," and was released in two unique runs: Series 1: 1-128, and Series 2: 129-224. Due to a contractual issue the Ted Williams (#66) was pulled from production very early on in the print run and was replaced with Jimmy Piersall, who is also #210. This caused the Ted Williams card to become one of the scarcest, most valuable cards in the postwar era. The set contains 40+ variations involving things like printed names and minor statistical errors, many of which were corrected but both varieties appear to hold similar values as they were printed in similar quantities. The set was released in 7-card nickel packs offered 24 per box, and 1-card penny packs offered 120 per box. Key RCs include Harvey Kuenn, Don Larson, and the original Frank Thomas.
To see what's currently on eBay from 1954 Bowman, click here.
---
Checklist:
| Card # | Player(s) | Card # | Player(s) |
| --- | --- | --- | --- |
| 1 | Phil Rizzuto | 109 | Roy Smalley |
| 2 | Jackie Jensen | 110 | Red Schoendienst |
| 3 | Marion Fricano | 111 | Murry Dickson |
| 4 | Bob Hooper | 112 | Andy Pafko |
| 5 | Billy Hunter | 113 | Allie Reynolds |
| 6 | Nellie Fox | 114 | Willard Nixon |
| 7 | Walt Dropo | 115 | Don Bollweg |
| 8 | Jim Busby | 116 | Luke Easter |
| 9 | Dave Williams | 117 | Dick Kryhoski |
| 10 | Carl Erskine | 118 | Bob Boyd |
| 11 | Sid Gordon | 119 | Fred Hatfield |
| 12A | Roy McMillan (551/1290 At Bat) | 120 | Mel Hoderlein RC |
| 12B | Roy McMillan (557/1296 At Bat) | 121 | Ray Katt RC |
| 13 | Paul Minner | 122 | Carl Furillo |
| 14 | Gerry Staley | 123 | Toby Atwell |
| 15 | Richie Ashburn | 124A | Gus Bell (15/27 Errors) |
| 16 | Jim Wilson | 124B | Gus Bell (11/26 Errors) |
| 17 | Tom Gorman | 125 | Warren Hacker |
| 18 | Hoot Evers | 126 | Cliff Chambers |
| 19 | Bobby Shantz | 127 | Del Ennis |
| 20 | Art Houtteman | 128 | Ebba St. Claire |
| 21 | Vic Wertz | 129 | Hank Bauer |
| 22A | Sam Mele (213/1661 Putouts) | 130 | Milt Bolling |
| 22B | Sam Mele (217/1665 Putouts) | 131 | Joe Astroth |
| 23 | Harvey Kuenn RC | 132 | Bob Feller |
| 24 | Bob Porterfield | 133 | Duane Pillette |
| 25A | Wes Westrum (1.000/.987 Fielding Avg.) | 134 | Luis Aloma |
| 25B | Wes Westrum (.982/.986 Fielding Avg.) | 135 | Johnny Pesky |
| 26A | Billy Cox (1.000/.960 Fielding Avg.) | 136 | Clyde Vollmer |
| 26B | Billy Cox (.972/.960 Fielding Avg.) | 137 | Al Corwin |
| 27 | Dick Cole RC | 138A | Gil Hodges (.993/.991 Fielding Avg.) |
| 28A | Jim Greengrass (Birthplace: Addison, NJ) | 138B | Gil Hodges (.992/.991 Fielding Avg.) |
| 28B | Jim Greengrass (Birthplace: Addison, NY) | 139A | Preston Ward (.961/.992 Fielding Avg.) |
| 29 | Johnny Klippstein | 139B | Preston Ward (.990/.992 Fielding Avg.) |
| 30 | Del Rice | 140A | Saul Rogovin (7-12 W-L 2 Strikeouts) |
| 31 | Smoky Burgess | 140B | Saul Rogovin (7-12 W-L 62 Strikeouts) |
| 32 | Del Crandall | 140C | Saul Rogovin (8-12 W-L) |
| 33A | Vic Raschi (No Trade) | 141 | Joe Garagiola |
| 33B | Vic Raschi (Traded to St. Louis) | 142 | Al Brazle |
| 34 | Sammy White | 143 | Willie Jones |
| 35A | Eddie Joost (Quiz A: 8) | 144 | Ernie Johnson RC |
| 35B | Eddie Joost (Quiz A: 33) | 145A | Billy Martin (.985/.983 Fielding Avg.) |
| 36 | George Strickland | 145B | Billy Martin (.983/.982 Fielding Avg.) |
| 37 | Dick Kokos | 146 | Dick Gernert |
| 38A | Minnie Minoso (.895/.961 Fielding Avg.) | 147 | Joe DeMaestri |
| 38B | Minnie Minoso (.963/.963 Fielding Avg.) | 148 | Dale Mitchell |
| 39 | Ned Garver | 149 | Bob Young |
| 40 | Gil Coan | 150 | Cass Michaels |
| 41A | Alvin Dark (.986/.960 Fielding Avg.) | 151 | Pat Mullin |
| 41B | Alvin Dark (.968/.960 Fielding Avg.) | 152 | Mickey Vernon |
| 42 | Billy Loes | 153A | Whitey Lockman (100/331 Assists) |
| 43A | Bob Friend (20 Shutouts in Quiz) | 153B | Whitey Lockman (102/333 Assists) |
| 43B | Bob Friend (16 Shutouts in Quiz) | 154 | Don Newcombe |
| 44 | Harry Perkowski | 155 | Frank Thomas RC |
| 45 | Ralph Kiner | 156A | Rocky Bridges (320/467 Assists) |
| 46 | Rip Repulski | 156B | Rocky Bridges (328/475 Assists) |
| 47A | Granny Hamner (.970/.953 Fielding Avg.) | 157 | Turk Lown |
| 47B | Granny Hamner (.953/.951 Fielding Avg.) | 158 | Stu Miller |
| 48 | Jack Dittmer | 159 | Johnny Lindell |
| 49 | Harry Byrd | 160 | Danny O'Connell |
| 50 | George Kell | 161 | Yogi Berra |
| 51 | Alex Kellner | 162 | Ted Lepcio |
| 52 | Joe Ginsberg | 163A | Dave Philley (No Trade 152 Games) |
| 53A | Don Lenhardt (.969/.984 Fielding Avg.) | 163B | Dave Philley (Traded to Cleveland 152 Games) |
| 53B | Don Lenhardt (.966/.983 Fielding Avg.) | 163C | Dave Philley (Traded to Cleveland 157 Games) |
| 54 | Chico Carrasquel | 164 | Early Wynn |
| 55 | Jim Delsing | 165 | Johnny Groth |
| 56 | Maurice McDermott | 166 | Sandy Gonsuegra |
| 57 | Hoyt Wilhelm | 167 | Billy Hoeft |
| 58 | Pee Wee Reese | 168 | Ed Fitzgerald |
| 59 | Bob Schultz | 169 | Larry Jansen |
| 60 | Fred Baczewski RC | 170 | Duke Snider |
| 61A | Eddie Miksis (.954/.962 Fielding Avg.) | 171 | Carlos Bernier |
| 61B | Eddie Miksis (.954/.961 Fielding Avg.) | 172 | Andy Seminick |
| 62 | Enos Slaughter | 173 | Dee Fondy |
| 63 | Earl Torgeson | 174A | Pete Castiglione (.966/.959 Fielding Avg.) |
| 64 | Eddie Mathews | 174B | Pete Castiglione (.970/.959 Fielding Avg.) |
| 65 | Mickey Mantle | 175 | Mel Clark |
| 66A | Ted Williams | 176 | Vern Bickford |
| 66B | Jimmy Piersall | 177 | Whitey Ford |
| 67A | Carl Sheib (.306 Pct. Two Lines under Bio) | 178 | Del Wilber |
| 67B | Carl Sheib (.306 Pct. One Line under Bio) | 179A | Morris Martin (44 ERA) |
| 67C | Carl Sheib (.300 Pct.) | 179B | Morris Martin (4.44 ERA) |
| 68 | Bobby Avila | 180 | Joe Tipton |
| 69 | Clint Courtney | 181 | Les Moss |
| 70 | Willard Marshall | 182 | Sherm Lollar |
| 71 | Ted Gray | 183 | Matt Batts |
| 72 | Eddie Yost | 184 | Mickey Grasso |
| 73 | Don Mueller | 185A | Daryl Spencer RC (.941/.944 Fielding Avg.) |
| 74 | Jim Gilliam | 185B | Daryl Spencer RC (.933/.936 Fielding Avg.) |
| 75 | Max Surkont | 186 | Russ Meyer |
| 76 | Joe Nuxhall | 187 | Vern Law |
| 77 | Bob Rush | 188 | Frank Smith |
| 78 | Sal Yvars | 189 | Randy Jackson |
| 79 | Curt Simmons | 190 | Joe Presko |
| 80A | Johnny Logan (106 Runs) | 191 | Karl Drews |
| 80B | Johnny Logan (100 Runs) | 192 | Lew Burdette |
| 81A | Jerry Coleman (1.000/.975 Fielding Avg.) | 193 | Eddie Robinson |
| 81B | Jerry Coleman (.952/.975 Fielding Avg.) | 194 | Sid Hudson |
| 82A | Bill Goodman (.965/.986 Fielding Avg.) | 195 | Bob Cain |
| 82B | Bill Goodman (.972/.985 Fielding Avg.) | 196 | Bob Lemon |
| 83 | Ray Murray | 197 | Lou Kretlow |
| 84 | Larry Doby | 198 | Virgil Trucks |
| 85A | Jim Dyck (.926/.956 Fielding Avg.) | 199 | Steve Gromek |
| 85B | Jim Dyck (.947/.960 Fielding Avg.) | 200 | Conrado Marrero |
| 86 | Harry Dorish | 201 | Bobby Thomson |
| 87 | Don Lund | 202 | George Shuba |
| 88 | Tom Umphlett RC | 203 | Vic Janowicz |
| 89 | Willie Mays | 204 | Jack Collum RC |
| 90 | Roy Campanella | 205 | Hal Jeffcoat |
| 91 | Cal Abrams | 206 | Steve Bilko |
| 92 | Ken Raffensberger | 207 | Stan Lopata |
| 93A | Bill Serena (.983/.966 Fielding Avg.) | 208 | Johnny Antonelli |
| 93B | Bill Serena (.977/.966 Fielding Avg.) | 209 | Gene Woodling UER (Rev.Neg.) |
| 94A | Solly Hemus (.476/1343 Assists) | 210 | Jimmy Piersall |
| 94B | Solly Hemus (.477/1343 Assists) | 211 | Al Robertson RC |
| 95 | Robin Roberts | 212A | Owen Friend (.964/.957 Fielding Avg.) |
| 96 | Joe Adcock | 212B | Owen Friend (.967/.958 Fielding Avg.) |
| 97 | Gil McDougald | 213 | Dick Littlefield |
| 98 | Ellis Kinder | 214 | Ferris Fain |
| 99A | Peter Suder (.985/.974 Fielding Avg.) | 215 | Johnny Bucha |
| 99B | Peter Suder (.978/.974 Fielding Avg.) | 216A | Jerry Snyder (.988/.988 Fielding Avg.) |
| 100 | Mike Garcia | 216B | Jerry Snyder (.968/.968 Fielding Avg.) |
| 101 | Don Larsen RC | 217A | Henry Thompson (.956/.951 Fielding Avg.) |
| 102 | Billy Pierce | 217B | Henry Thompson (.958/.952 Fielding Avg.) |
| 103A | Stephen Souchock (144/1192 Putouts) | 218 | Preacher Roe |
| 103B | Stephen Souchock (147/1195 Putouts) | 219 | Hal Rice |
| 104 | Frank Shea | 220 | Hobie Landrith RC |
| 105A | Sal Maglie (Quiz A: 8) | 221 | Frank Baumholtz |
| 105B | Sal Maglie (Quiz A: 1904) | 222 | Memo Luna RC |
| 106 | Clem Labine | 223 | Steve Ridzik |
| 107 | Paul LaPalme | 224 | Bill Bruton |
| 108 | Bobby Adams | | |
1954 Bowman