Have you visited our store? Click here.
Dan G. and I bring you another set of random picks. If you're a new reader, let me reiterate; we randomly choose cards from our personal collections (PCs) to showcase and discuss. Let's see what's in the mix on this addition of Radicards® Random Picks.
Patrick's Random Pick: Jake Peavy 2001 Upper Deck Prospect Premieres #61
First off, I think it's gnarly that I randomly grabbed this card out of my box because I just acquired this guy only two weeks ago and I just added this to my box today. Usually what I'll do is wait until I have a pile before processing everything into the collection. At any rate, I think it's nuts that of all the variety that I have in my box, I chose this card. Ha! Anyways, let's talk about it. I think that at one point, I want to say in 2008ish, this card was worth quite a bit. I can remember almost purchasing this card in its non-autographed base form during that time. Well, as I said, I picked this card up just two weeks ago in a $1 box at a dealer booth at a local card show. All good things. I can remember being pretty excited about finding it and for only a buck. An excellent choice. A young kid with a nice looking signature. I can't vouch for the signatures authenticity to any degree but I think I can trade a buck for this guy and walk away unscathed.
There was a Mike Piazza card that I put away that I was hoping not to pull because he's in the same P? class identifier. The only reason why I was hoping not to pull it is because with my eyes closed I have to be much more careful when I randomly pick cards that are only protected with penny sleeves. The process can be a bit nervy when I've got some Piazza rookie cards sitting pretty in close proximity to this here Peavy rookie. The reason for why I use penny sleeves is because they save a ton of space and when I'm the only one handling my cards, it shouldn't really matter. Anyways, let's get back to this card. From what I know, this is actually considered to be Peavy's XRC (extended rookie card). To me, this makes no sense and I'll tell you why.
The term extended rookie card was originally derived from the notion of update sets or follow-up releases offered only in factory set form being the only way to get a player's rookie card. These sets comprised of players who've been traded since the end of the season and young guns who just got called up and hence were featured on their very first cards. The rookies in these extended sets are considered XRCs because they are yet to be featured in base sets that could be collated via pack breaks from flagship products. Hence, the only way to get a certain rookie was to buy the factory update set. Additionally, an XRC can only be defined as a player's rookie card that's only found in a products extended set. If the the player had a rookie card in the base set and again in the extended set, the base version would be the player's RC and the extended set version wouldn't be anything. My confusion here is due to the fact that 2001 was a pack offered release, no update or extended series. So technically speaking, this dood should really just be considered an RC, not an XRC. So there you have it, a little bit of theory on Jake Peavy's rookie card from 2001 Upper Deck.
To view the current eBay auctions for Jake Peavy baseball cards, click here.
Dan's Random Pick: Mike Williams 2004 Ultra #209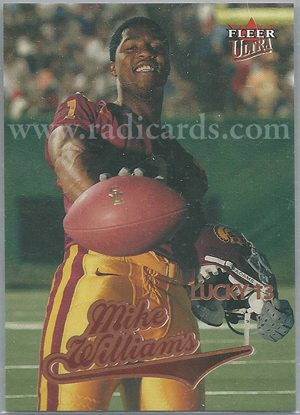 This edition of Random Picks from Dan's PC is highlighted by a card that I title When Prospecting Goes Wrong. The card is the rare 2004 Fleer Ultra Mike Williams Lucky 13 SP Rookie #ed 090/500. Now the card is not so special, but the story is why it is in my PC.
In 2003 Mike Williams was a monster for the Trojans of USC. At 6'4″, 230 lbs, Mike was projected to be a first round pick wide out in the 2005 NFL Draft. He was amazing, and for those of you who never got a chance to see him play, YouTube him. However at the end of his sophomore year, Mike declared the end of his collegiate career with his entry into the 2004 NFL draft. This decision was made on the heels of Maurice Clarett's entry into the draft and a federal judge's ruling that temporarily allowed college sophomores to enter the pro ranks. Mike's choice turned out to be a poor decision when an appeals court overruled the federal ruling making him ineligible for the NFL draft until his junior season at USC.
In 2004 before the federal ruling was overturned, a few early card releases included rookie cards of Mike Williams. The rarest of these rookies is the featured card. As soon as the appeals court made their decision, all card companies pulled Mike Williams from their later sets. These 2004 early releases have since been reclassified as XRCs.
When I realized that Mike would have limited rookie cards, I snatched up as many as I could get. I saw these rookie cards as an investment because of the quality of player, the legal situation, and the relative scarcity. I purchased his cards in bulk and had a pretty good stock pile, but there was one card I could not find or afford. The card that eluded me was of course the Ultra Lucky 13. In a desperate attempt to acquire one, I did what no collector should do, I bought a wax box of cards in the hope of pulling the card I wanted. It was a gamble of epic proportions. The odds of pulling a Lucky 13 rookie were one in four boxes. The odds of pulling the rookie you wanted were one in three cases. But, despite the odds I bit the bullet and bought a box. Long story short, three packs deep into the box I find the card. Joy and satisfaction consumed me. The feeling that my investment was destined to pay off was solidified.
We are now in the year 2011, and sadly I am still waiting for the investment to pay off. I should have liquidated my collection of Mike Williams XRCs years ago, but I decided to keep them around as a reminder that if you are in this hobby as investor you're in the wrong hobby.
To view the current eBay auctions for Mike Williams football cards, click here.