Have you visited our store? Click here.
---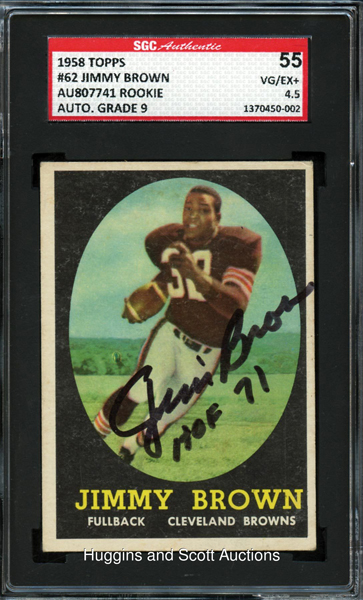 There are some cards in this hobby that fall into the elusive but always impressive category known as "keys." The 1958 Topps Jim Brown rookie card is certainly a seasoned veteran and category leader. Those who followed his career know he was one of football's greatest fullbacks. With just a 9-year professional tenure, he managed to bring in some mega numbers and equally incredible highlights. During his time with the Cleveland Browns, he managed to amass the following: 9x Pro Bowl, 8x All-Pro, 1x NFL Champ, 3x MVP, and he was elected into the National Football Hall of Fame in 1971.1 He's a monster, a legend, and with greatness forever woven into football history. As such, his rookie card is an excellent addition to any collection.
This particular example of Jim Brown's rookie card features his signature along with an accompanying inscription showcasing his election year. While the 1958 Topps Football set suffers from centering issues, this example features common centering placement. Regardless, however, a signed copy of Jim Brown's rookie card is often considered desirable in any condition. This one is no exception.
This item has been graded by SGC and is offered by Huggins & Scott Auctions. Click here to see the listing.
To see the current eBay auctions for the 1958 Topps Jim Brown, click here.
---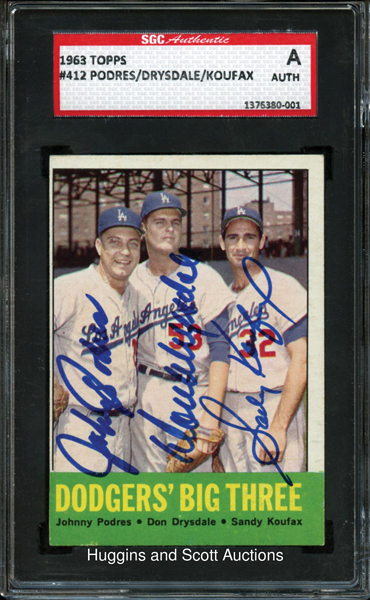 For those of us familiar with the Los Angeles Dodgers roster of the early 1960s know that the pitching staff was nothing short of extraordinary. The trio depicted is made of Johnny Podres, Don Drysdale, and famous lefty, Sandy Koufax. It was a different time and the Dodgers were a force to be challenged. This trio consistently made things interesting and to see them all together on any artifact of sports memorabilia is an instant fan favorite.
This 1963 Topps card on its own without any signatures is an excellent piece to own. This one is signed by the magnificent trio. Each signatures is bold and rich with a fitting blue ink to match the team color. The placement of each autograph couldn't be better with each written vertically along the poses of each player. There are few times when such variables exist to allow something so special to occur. In this case, we're looking at a vintage baseball card featuring the three key pitchers for the Los Angeles Dodgers of the 1960s and one that has been touched by each of the three fellas. It's a truly beautiful example of baseball history and one that will play exceptionally well as an addition to any Dodgers collection.
This item has been authenticated by SGC and is offered by Huggins & Scott Auctions. Click here to see the listing.
To see what's currently on eBay from 1963 Topps, click here.
---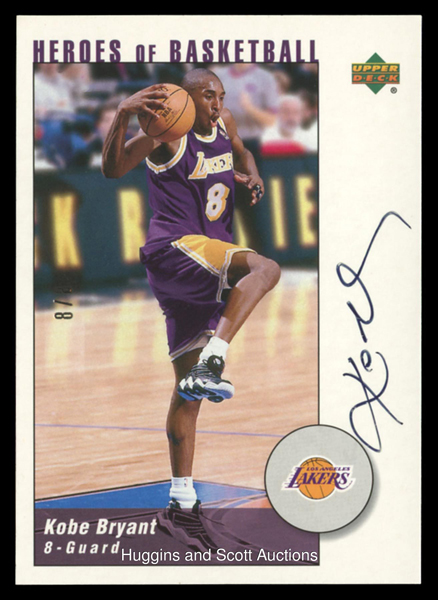 It's commonly understood that Kobe Bryant is one of basketball's all-time greatest players. He was drafted right out of high school and spent his entire career with the Los Angeles Lakers. Bryant's accolades are many and they include the following: 18x All-Star, 15x All-NBA, 1996-97 All-Rookie, 2x Finals MVP, 12x All-Defensive, 4x AS MVP, 2007-08 MVP, and 5x NBA Champ.2 Some might argue that Bryant's legacy is near that of Jordan's and his collectibility has approached similar heights.
This card hails from the 10-card parallel autograph set from 2002-03 UD Authentics Heroes of Basketball. Each of the 10 cards feature Kobe Bryant and all are serial numbered to his jersey number, which in this case is 8. What makes this particular example so special is that the numerator of the serial numbered is also 8, Bryant's jersey number. This being 8/8 is the most desirable of the 8 copies of this particular card in the set.
Bryant auto's are highly desirable. This one was released during a time when pulling signed cards from packs was a monolithic task, which makes it that much more scarce and collectible. These are getting harder to find with each passing year as many of these early Upper Deck pack-issued autographs are ending up in permanent collections. Those looking to add an ultra elusive Kobe Bryant auto to their collection will be sure to appreciate this fine gem.
This item is offered by Huggins & Scott Auctions. Click here to see the listing.
To view the current eBay auctions for Kobe Bryant basketball cards, click here.
***AUCTIONS ENDED***
References:
Jim Brown. www.pro-football-reference.com ↩︎
Kobe Bryant. www.basketball-reference.com ↩︎