Have you visited our store? Click here.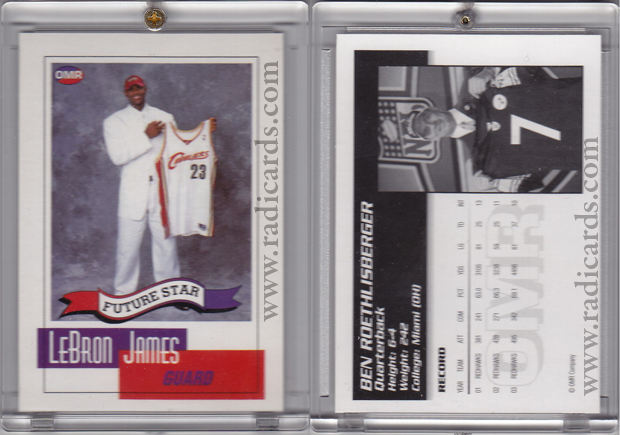 I recently picked this card up on a whim. It's an interesting variation of the 2004 OMR LeBron James
. There are a few different reasons why I like this error:
Front and Back depict two different players.
Both players are from different sports.
Both players have been involved in some type of social commotion in their athletic careers.
Both players were rookies in '03-'04.
The front was printed in color while the back was printed in black/white.
There's no noticeable number on the card.
Although front/back mis-matching was common in the '80's and '90's, I don't see this stuff nearly as often in today's market so when I do, I'm always interested. I think what I like best here is the fact that Ben and James both experienced extensive media coverage in 2010. James for switching teams and Ben for sexual assault. Whatever the case here, both of these individuals are superb athletes and both being depicted on an error is, in my opinion, a bit of an anomaly. I dig anomalies (as long as nobody gets hurt). On that note, keep your eyes open.
To view the current eBay auctions for LeBron James
basketball cards, click here.