Have you visited our store? Click here.
---

The January 2022 installment of the Dallas Card Show was as fun as ever. I contracted something on Thursday and by Sunday felt very sick so I left early. It took me two weeks to recover from whatever I contracted but I'm all better now. Until I started feeling ill on Sunday, I managed to scoop up some really excellent pieces at this show.
I decided to change up the article showcase this time. In previous reviews, I did the fan-out display of all the difference categories of stuff I collect. For this one, I've covered very specific pieces within each category, which I think is a cleaner approach to content review. Let's get into it here.
---
Vintage:
I finally added a Luis Aparicio RC
I've wanted a Luis Aparicio RC for years but never made it a point to prioritize this particular card. It was always more of a nice-to-have kind of item. Well, I found this low grade example and couldn't pass it up at $20. This is a surprisingly popular card as examples sell well online in pretty much any condition. Upon review, the price I paid for this example is considered a bargain in the current market. I don't need high grade examples of vintage cards to be happy. Despite the creases, this card has great eye appeal and it checks the box on this card for me.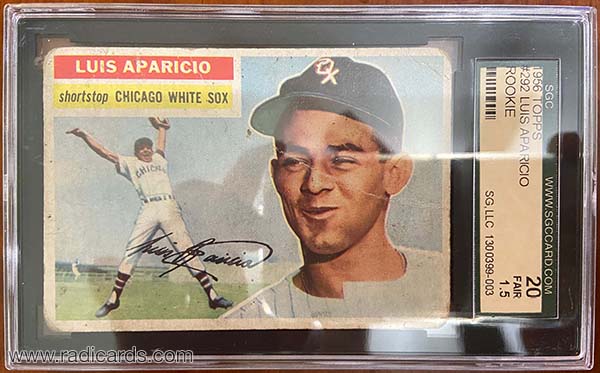 To see the current eBay auctions for the 1956 Topps Luis Aparicio, click here.
Where do you file a piece of a Hank Aaron card?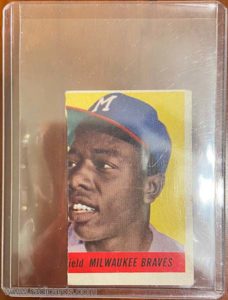 One seller had a stack of vintage card fragments. While I didn't have any interest in the whole stack, I did find one particular fragment somewhat interesting. It was a piece of the 1955 Topps Hank Aaron. For this item, he wanted $2. Normally, I wouldn't need time to think on something like this but in this instance, I took my time. That evening, while at dinner with some friends, I ran it by them. It was sort of a what-do-you-think kind of conversation. One of my friends couldn't understand why I needed time to think about buying even a piece of a Hank Aaron card. He was so adamant that he said if I wasn't going to buy it for myself to buy it for him and he'd pay me back. We're talking $2 here so it's really not a big deal. Some restaurants charge more than that for a soda. The reason for my hesitancy, however, was lack of understanding as to where this item would fit into my collection. I don't buy card fragments but now that I have one, I have to put it somewhere. If nothing else, at the very bare minimum, it's a funny talking point.
My second 1981 TCMA Cal Ripken Jr.
This is the second time I've acquired the 1981 TCMA Cal Ripken Jr. I purchased my first copy at the 2012 National and that one came with a period signature. Ever since I added that example, I've wanted an unsigned copy, so here we are. This is the nicest PSA6 of this card I've ever seen. Upon close inspection, I believe what made it a 6 is the slight yellowing along the top edge of the back of the card, which is common with this release. For what this is – a minor league card of baseball royalty – It's surprisingly affordable in any grade. His mainstream RCs are more common but also more popular. I love them too but have always appreciated the image on this 1981 TCMA Cal Ripken Jr. When I found this card in a dealer showcase on Friday, I came back and bought it the next day. Even though this was the most expensive purchase at the show, it wasn't much more expensive than a nice meal out with a date at a casual restaurant. I figured this card is the better investment and its presentation value is just stunning.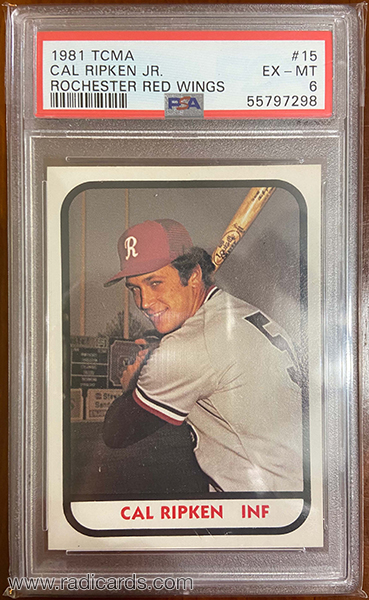 To see the current eBay auctions for the 1981 TCMA Cal Ripken Jr., click here.
Junk Wax:
Have you ever seen a better looking PSA4 of the 1984 Fleer Don Mattingly?
The following three cards were cherry-picked over the weekend. These three constitute my favorite pickups from the Junk Wax Era. While the Mark Grace is a buyback, it still fits here due to its origin.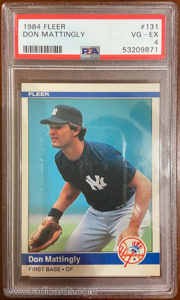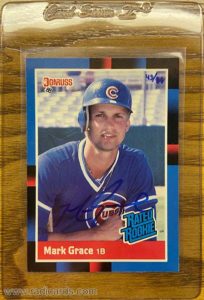 Have you ever seen a better looking PSA4 of the 1984 Fleer Don Mattingly? Yea, me neither. This card is absolutely beautiful in every way except one – there's a small discoloration on the bottom right corner of the front of the card, which is likely the reason for its downgrade. Every other aspect of this card is flawless and had it not been for the yellowing in the stated area, this card would've had a strong chance at a PSA10. This was the best $10 I've ever spent on a Don Mattingly RC.
To see the current eBay auctions for the 1984 Fleer Don Mattingly, click here.
Settling on a price for a PSA10 1986 Fleer Update Andres Galarraga
The 1986 Fleer Update Andres Galarraga was acquired just prior to the Aparicio from the same dealer. He had some excellent well-priced pieces. I actually inquired about the Galarraga on Saturday but the seller wasn't physically available to handle my request. Come Sunday, however, he was and after an unsuccessful attempt at finding comps on this card, we settled at $20, which I thought was fair. This was a serendipitous buy since I wasn't specifically after it when I found it but it fits nicely into my collection and the price was very attractive. I just love the design of 1986 Fleer and it's loaded with excellent low-value rookies and stars. The dark blue border is a favorite characteristic of these cards.
Mark Grace buyback RC finds its way into my collection
The 1988 Donruss Recollection Collection Mark Grace was found in a random box of whatever that appeared to be completely ignored by everyone but me. This box, however, contained tons of excellent cards. Among the many cards I grabbed in that box was this Mark Grace buyback. The asking was $20 but we settled on $10, which I thought was reasonable considering it hails from a popular buyback release. It's such a cool piece; I just love this card.
Finally bought those bricks of early 1990s Upper Deck RCs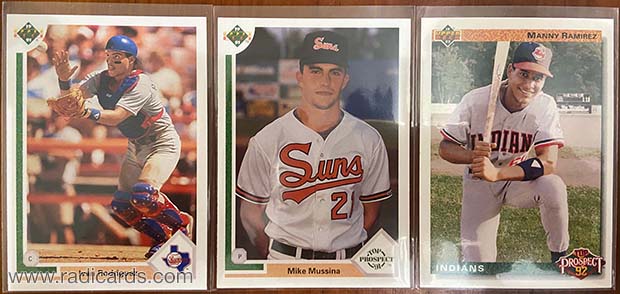 I finally purchased the bricks of these Upper Deck RCs. They'd been sitting in their respective boxes since I first discovered them many shows back. This time, I decided to add them since I'd built enough rapport with the sellers to get them to come down a bit on their per-card price if I bought them all. I'd pulled these cards out at every show since I first saw them but just couldn't bring myself to close on them since we couldn't agree on prices but that all changed this time and I was able to bring these lots home. Here are the numbers:
1991 Upper Deck Ivan Rodriguez x25
1991 Upper Deck Mike Mussina x51
1992 Upper Deck Manny Ramirez x41
1990s Inserts & Other:
Bargain Bin Highlights go to…
Each of the following three cards was purchased for no more than $0.25. I had to dig around a while to unearth these gems, however. These were among many cards I pulled from the bargain bins but they are the highlights from the 1990s+ Era. I don't think I'll ever be able to beat these prices for these cards.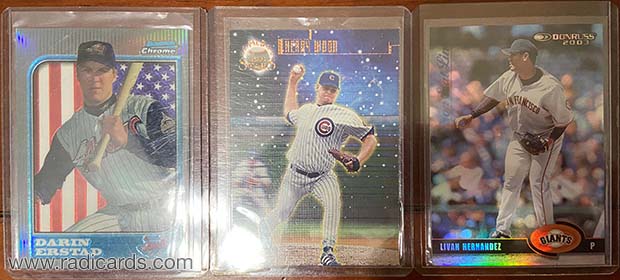 1997 Bowman Chrome International Refractor Darin Erstad
1998 Topps Stars Gold Rainbow /99 Kerry Wood
2003 Donruss Stat Line Season /12 Livan Hernandez
Ken Griffey Jr. slides into the home plate spot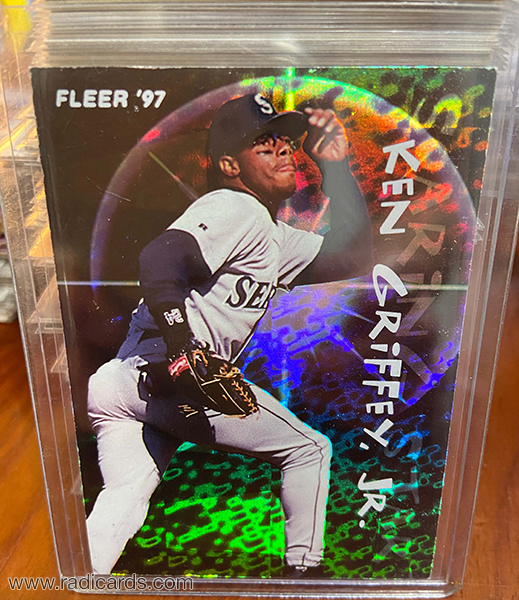 From a price to value ratio, this is the most significant add of the show: 1997 Fleer Soaring Stars Glowing Ken Griffey jr. This card was found in the same box as the Mark Grace. These Glowing parallels feature a brilliant vibrant shine, the characteristic of which is believed to have been added to just 10-20% of the total print run of these 1997 Fleer Soaring Stars. They're quite difficult to find even online. I bought this Ken Griffey Jr. in the open market not too long ago and paid quite a bit more than the $5 I paid for this one. It was a pleasant surprise to find this card in the wild. This set is highly condition sensitive so edge chipping is very common.
To see what's currently on eBay from 1997 Fleer Soaring Stars, click here.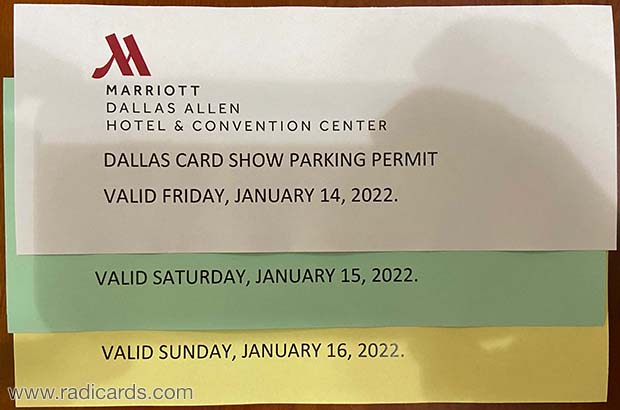 The Marriott got wise to the fact they could make ancillary dollars by charging show attendees for parking. It's now $5 per day, which is very reasonable to use their parking structure.
---
In Conclusion:
As with other Dallas Card Shows, this one was just as fun even though I brought home a fever. I'm glad to have access to a show like this multiple times a year and I look forward to the next one. Of the cards I discussed here, do you have a favorite? Share your thoughts in the comments area.