Have you visited our store? Click here.
So there we were, sitting on the blue line coming into O'Hare and the train stops abruptly to our surprise. There he was, the criminal, hoping the railways in an attempt to flee from the authorities. Trailing just behind him was a heavily armored police officer followed by an artillery unit. I thought this sort of suspense only existed in the movies. Nope, it's real life; it's Chicago.
We arrived at our hotel just in time to drop our things off and head over to the Wednesday night sneak peak of the 2015 National Sports Collectors Convention.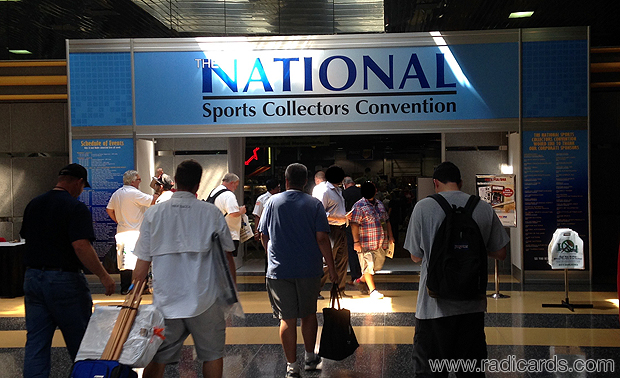 We were pretty hungry so you can imagine how relieved we were to find delicious complimentary pizza. My buddy, Dan G. and I walked into the Free Autograph and Raffle session happening in one of the side rooms and while we didn't secure autographs from Rollie Fingers and Catfish Hunter, we still enjoyed a nice meal on the floor outside in the hallway. We sat and ate and watched the line grow leading to the showroom. We finished our meal and got right in line as it started moving immediately.
By 3ish give or take, we were in the showroom. The Donald E. Stephens Convention Center is a pretty big place and we accepted that we weren't going to cover the floor in a half day. We did walk fast as if we were kids being told not to run around the pool. Up and down the alleys I went as I perused the display cases in search of high-end Frank Thomas cards I didn't already have. There were plenty, but I had all of the ones I say with the exception of a few modern autographs from the past year or so. Those are produced each year so I'm pretty picky about the one's I purchase.
I did see a really interesting pair of cards featuring a sports legend. Each signed with his former and current name respectively. Here they are: Cassius Clay and Muhammad Ali. Rad! Note: I didn't buy these, I just appreciated them so I took a photo.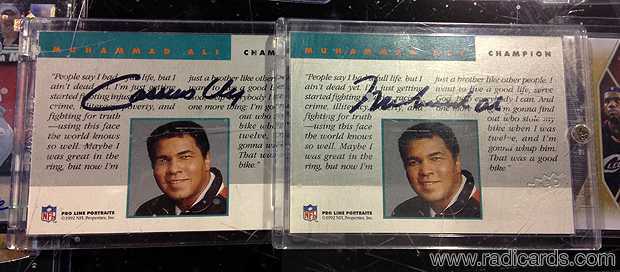 Another fella had these two beauties sitting in his display case for a cool $5 each. I mean, what am I gonna do, just let 'em sit there? Absolutely not. Enter:
Steve Finley 1997 Flair Showcase Legacy Collection Row 2 /100
Mo Vaughn 2000 SPx Radiance /100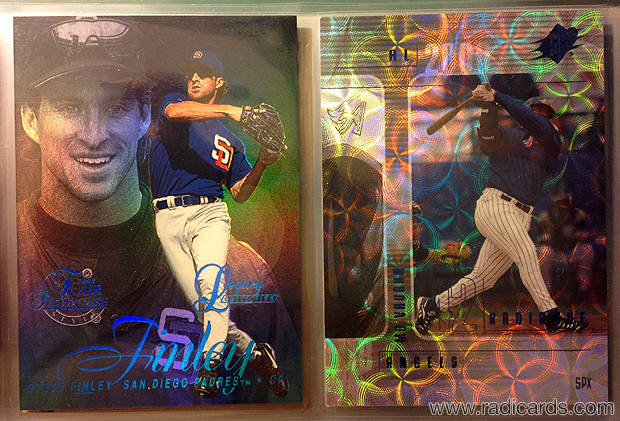 Strangely I found a few Frank Thomas RC's with varying degrees of damage and wear. The '90 Bowman depicts record color fading; the '90 Score shows a gnarly print defect just above the left eye (our left), and the '90 Topps was the card in the pack that was pressed against the hard stick of stale bubblegum.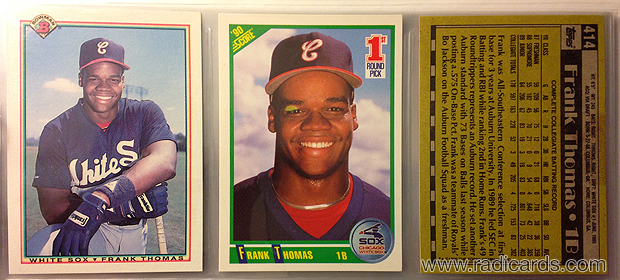 Finally, as I was barrelling through hundreds, literally thousands of cards in the many many dollar boxes, I overheard someone in a distant conversation mention Frank Thomas. I walked over to see what they were talking about. I walked away with the 2015 Leaf National Redemption Auto Set Cyan Printing Plate (middle). Lesson of the day: be a good listener;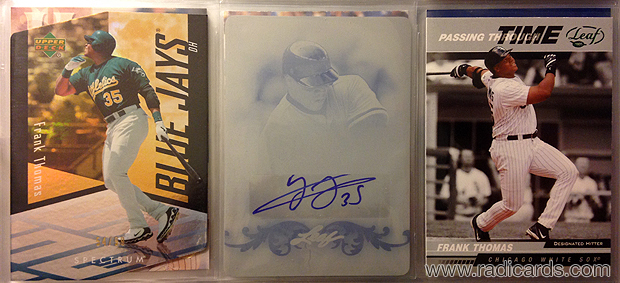 To view the current eBay auctions for 2015 National Convention Promos, click here.