Have you visited our store? Click here.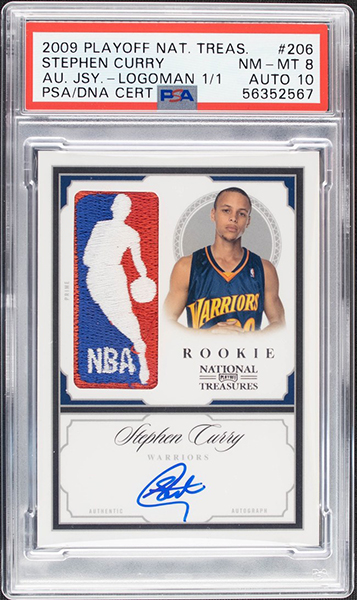 Another card, another record sale price. This time, Stephen Curry 2009-10 Playoff National Treasures Rookies Black 1/1. This is essentially his best RC. It's got everything: Logoman Patch, AUTO, and 1/1 Print Run.
The card was recently purchased by Alt, a sports card investment platform for a record-breaking $5.9 million.
This sales takes the ranks from the then LeBron James 2003-04 Exquisite Parallel that sold in April of this year for $5.2 million, which matched the sale price of a Mickey Mantle 1952 Topps PSA 9 that sold in January. The Luka Doncic 2018-19 National Treasures Logoman 1/1 sold in April for $4.6 million, which was the previous record for a National Treasures Logoman.
It's difficult to predict the future but all of this market activity drives excellent exposure to the hobby and in doing so, helps bring more people to it.
To view the current eBay auctions for Stephen Curry basketball cards, click here.