Have you visited our store? Click here.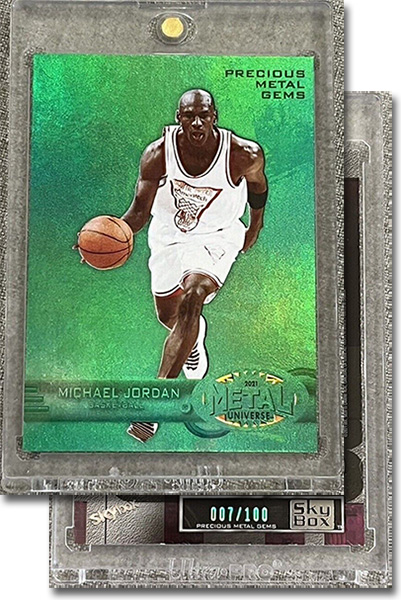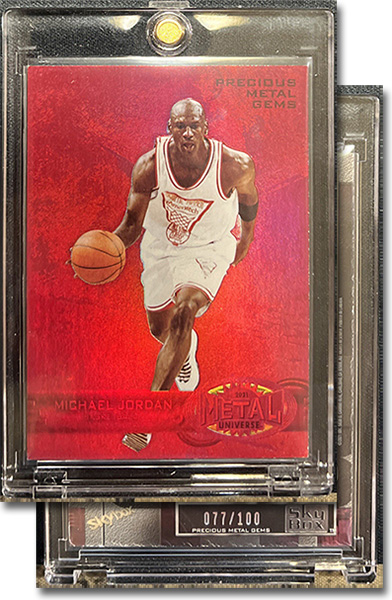 2021 Metal Universe Champions produced 8 unique Precious Metal Gems Michael Jordan cards. Depicted above are the two Retro PMGs that feature design elements from the 1997-98 Metal Universe PMG parallels.
In addition to the re-purposed design elements, the serial number scheme is the same with the first 10 in the print run to 100 being the Green PMGs and the remaining 90 being the Red PMGs. It's quite beautiful.
Regarding value, we have to remember that a 1997-98 Metal Universe Green PMG Michael Jordan closed back in Q1 of 2019 for north of $350k, which if listed today would very likely break into the 7-figure mark. As the time of the publication of this article, the 2021 Green PMG was listed on eBay with a $423k asking price. Even with sticker shock, some might consider this a smart buy even if the BIN price is probably way above the current actual market value, which is likely somewhere between $50-100k.
Post-career cards don't often produce the same level of engagement as career-year stuff but there are exceptions to this rule and this may be one of them. That and it's Michael Jordan; his stuff sells well no matter what. Given the popularity of Precious Metal Gems parallels, these cards are expected to perform well at auction so it's understandable why sellers list them at such high prices if not running them as auctions.
To see what's currently on eBay from 2021 Metal Universe Champions, click here.
For good measure, here are three of the Michael Jordan PMGs from the base set of 2021 Metal Universe Champions. Notice the modern design. Not shown: Pink/75, Blue/25, and Purple/1.