Have you visited our store? Click here.
In many circles, this is considered old news since this sale occurred in July of last year. However, I wanted to talk about it. While this card currently holds the top spot for highest amount paid for a LeBron James card, it's very likely this card will loose its place in the record books by other LeBron James cards, or even a future sale of this very card with time. That said, however, let's enjoy it right now.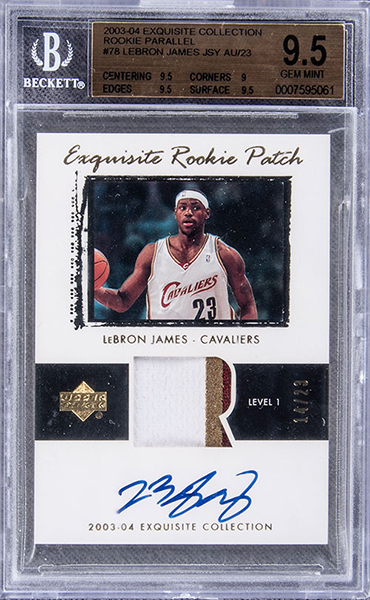 Sold: July 18, 2020
Price: $1,845,000
It doesn't really get much better than this in terms of rookie card significance. I can remember seeing the Beckett listing for this card about 11 years ago and being floored by the list price of $22,000. Here's the kicker – that was the valuation for the base version of this card, the one serial numbered to 99! This is the parallel serial numbered to 23. This is considered by many to be The LeBron James card and rightly so. Here's why:
It comes from the most expensive product of its era – Upper Deck Exquisite
It's an RPA of the most productive basketball player since Michael Jordan
It's the parallel
It's graded BGS 9.5
To see the current eBay auctions for the 2003-04 Exquisite LeBron James, click here.