Have you visited our store? Click here.
---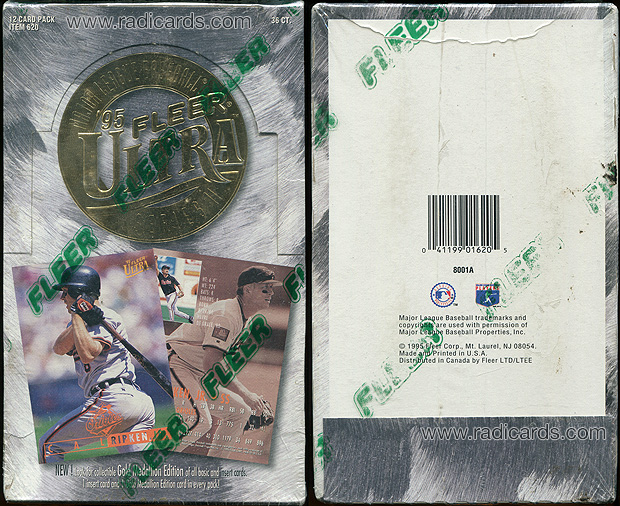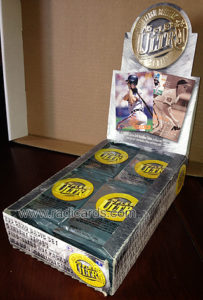 A box of 1995 Ultra Series 2 Baseball
is full of inserts. I pulled one complete set of the Strikeout Kings insert set, as well as a series of other cards from the various insert sets found in this product. This was quite the incentive program, and definitely a great way to ensure collectors they would get the best value for their dollar.
I also put together a complete base set from the packs in this single box. Additionally, I pulled enough doubles to make a healthy start to a second set. With just 200 cards in this set and a box containing 432 cards, the likelihood of replicating this outcome is richly in your favor.
This product offers the chance to pull a Hot Pack,' which is a single pack containing only insert cards. These Hot Packs' were inserted at a rate of 1:72. I had only heard about these in years past and always considered them as somewhat mythical. To my surprise, I pulled one out of this box.
Back in 1995, I opened a modest amount of these packs. I remember pulling some inserts and being excited about that given that I had limited funds and it was nice of Fleer to provide something in return as a guarantee as opposed to a probability. Like any newly minted teenager, I had a short attention span so the inserts helped maintain my interest.
Let's look at what was pulled from this single box of 1995 Ultra Series 2 Baseball
.
Breakdown: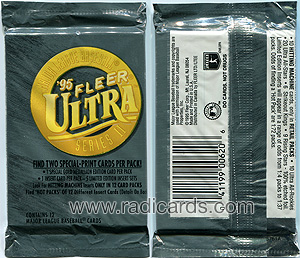 A box of 1995 Ultra Series 2 baseball cards contains 36 packs, each containing 12 cards for a gross total yield of 432 cards. The set consists of 200 cards. The breakdown is as follows:
200/200 cards: % of set complete = 100% (without Gold Medallion parallels)
Doubles base: 150
Doubles inserts: 16
Gold Medallion base: 35
Gold Medallion inserts: 4
One Hot Pack'
Inserts: In the video, I said that I'd share a list of players pulled from these insert sets but decided instead just to share percentages of complete sets pulled. Those percentages are as follows:
All-Rookie: 8/10, 80%
All-Star: 9/20, 45%
Hitting Machine: 3/10, 30%
Rising Stars: 1/9, 11.11%
Strikeout Kings: 6/6, 100%
This set has an attractive and colorful base design. With borderless action shots, foil print, and team themed name plates, these cards in and of themselves are pleasing through which to sort.
Ultra was always one of Fleer's more premium product lines. Throughout its existence, Ultra released a series of strong sets and attractive inserts and 1995 represented a year when they were just getting warmed up.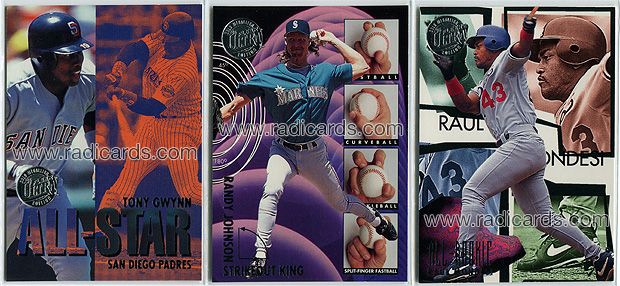 I really like how Ultra incorporated the Gold Medallion
(GM) parallel concept into the 1995 insert sets. This is something that was very forward thinking for the time. Even more interesting is that not all of the GM icons on the insert sets are gold. This, to me, is a very pleasant detail.

The back of a pack of 1995 Ultra Series 2 Baseball
indicates, not specifically, however, the odds of pulling insert cards. I pulled exactly one Rising Stars insert card, featured on the left in the directly above scan. Given this fact, I'm going to assume an insertion ratio of 1:36 packs (1/box).

Availability:
I'm pretty certain this was a widely produced and distributed product in 1995. These boxes are still abundantly available on the secondary market today. Back in 1995, single boxes likely held an SRP of around $29.99. These days, you shouldn't have to pay more than $10-15 for a single box. While the prices have decreased, the value has remained the same, if not increased. The price to value ratio is dependent entirely on your interpretation of the value concept.
Supply & Demand:
Due to the age of these boxes, they may not be readily available at your local hobby shop. With the advent of popular auction sites, you can get a box relatively easily. The only catch with ordering this product online is the shipping cost, which will greatly offset the price to value ratio. If you're patient, you might just keep your eyes out at your local hobby shops. This is a preferred method for cost savings. This isn't one of those, go-out-of-your-way-to-acquire products, but more of an impulse buy. That said, your patience will serve you well. Many hobby shops don't carry a lot of this old '90's product because, generally speaking, unless you're like me and have a reserved excitement for '90's product, these boxes hold low demand.
Conclusion:
A box of 1995 Ultra Series 2 offers an attractive price-value ratio. The base design and various insert designs are all attractive, even if somewhat dated. If you're thinking of completing a set, all you need to do is buy a single box as the probability of pulling a complete base set, at least with this particular box, is 100% guarantee. For a cool $10, this is a fun way to spend a good half hour. Purchase a box of 1995 Ultra Series 2 Baseball
.
To see what's currently on eBay from 1995 Ultra, click here.