Have you visited our store? Click here.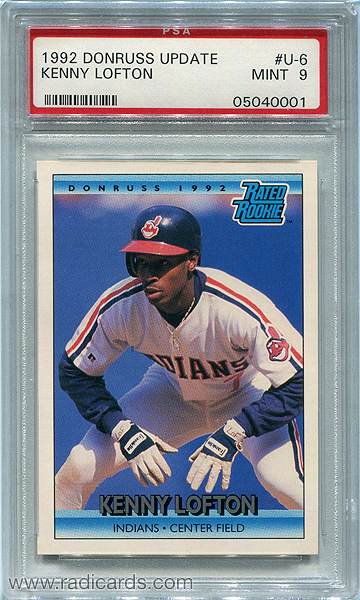 The 1992 Donruss Update is the first time Kenny Lofton appears on cardboard in a Cleveland Indians uniform.
This is probably Lofton's toughest card from the Junk Wax era. This card comes from the somewhat elusive 22-card Update set from 1992 Donruss Baseball. What makes this card so difficult to find is that it was only found in 4-card packs inserted into retail factory sets of 1992 Donruss. Two different versions of factory sets of 1992 Donruss Baseball were made available; each containing 4-card packs from two different sets:
1992 Donruss Baseball Retail Factory Set contains 4-card packs of 1992 Donruss Update. The retail set has a red box.
1992 Donruss Baseball Hobby Factory Set contains 4-card packs of 1992 Leaf Preview. The hobby set has a blue box.
Keep in mind that this method of release makes for a very scarce find if searching for any particular card from either extended set. Let's dig a little deeper. So far, we've got an Update set that is made up of 22 cards. To obtain any cards from this set, you will have to buy a retail factory set of 1992 Donruss Baseball. When you do buy a set, however, you receive only 4 random cards from the Update set.
22 divided by 4 equals 5.5, which means that you'd have to buy 6 retail factory sets of 1992 Donruss just to have a chance at pulling this Lofton, which is the cornerstone card of the set. Also, that's only if each 4-card pack carried different cards each, which isn't a guarantee. So that means that you may have to buy more than just 6 sets to pull the Lofton. For those of us that buy retail, how many of us in 1992 bought multiple retail factory sets of 1992 Donruss? We're probably not talking about the majority here. While I don't have any statistical data to back that statement up, I'm at least partially confident in assuming that most retail shoppers aren't blowing paychecks on factory sets of anything. People with that kind of money could be considered serious buyers, and as such are much more likely to buy from reputable dealers at hobby shops. Again, I don't have data to back this up; it's just a hunch about buying patterns of affluent buyers.
Now, here's where it gets interesting. Retail. It's generally considered acceptable for Big Box stores to sell to wholesalers, repackers such as The Fairfield Company, or otherwise remove sports card products from shelves that haven't sold. So that means that deadstock isn't kept in the store for much longer after the selling peak for any given product. Further, if you didn't grab your retail factory set for a chance to pull the Update Lofton, unless you had access to these sets elsewhere you were pretty much out of luck.
Even today with eBay, search queries frequently turn up zero results for this card. I had to inquire through the grapevine to find a copy of this card and it was then delivered to me from a seller in Korea. I was surprised to learn that at one point in the early years of this card's existence, this card was worth a whopping $80! These days, if you're lucky enough to find a 1992 Donruss Update Kenny Lofton
, you'll likely pay much less than that but it still hails as an incredibly elusive card from the prime of the Junk Wax era.
To see what's currently on eBay from 1992 Donruss Update, click here.